Previews gives us a glimpse of what's to come. Here's the spotlight of new books coming out of November Previews for Marvel.
Marvel has around 256 books in the November Previews. Here's my small glimpse of the ones I'm looking forward to.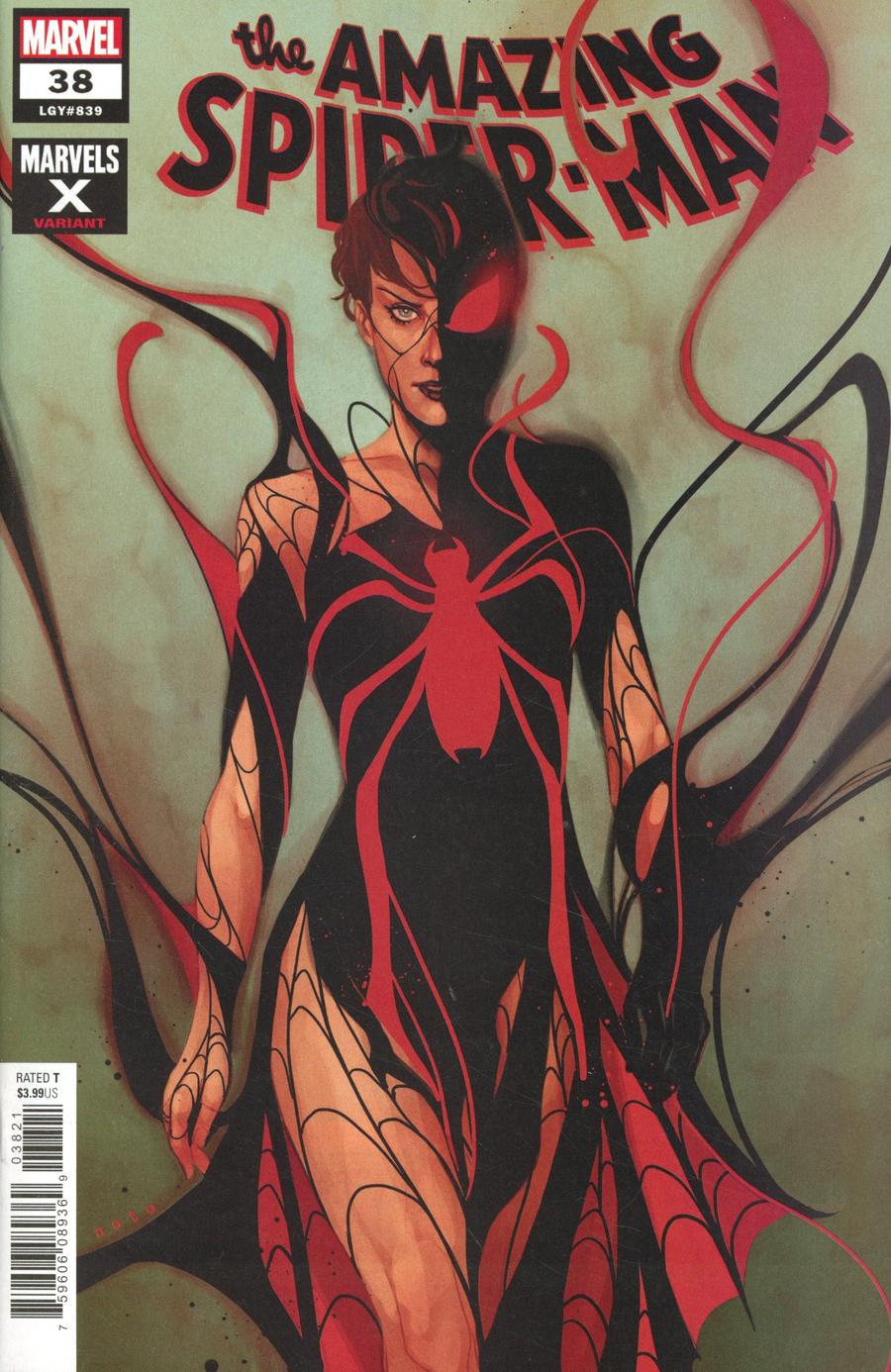 Amazing Spider-Man #38 Noto Marvels X Variant
J. Jonah Jameson kicks off his new life as a podcast host and his first guest? SPIDER-MAN!
JJJ and Spidey have been on pretty good terms for a while now, so it seems fitting that JJJ needs to sabotage it and put the entire city in danger, right? 
Don't miss 'My Podcast with Jonah'!"
Great looking Noto variant. I don't get into all of his covers but this one is pretty awesome.
A BRAND-NEW, SUPERSTAR CREATIVE TEAM TAKES THE KING OF ASGARD TO NEW REALMS OF GLORY!
The prince is now a king. All Asgard lies before Thor, the God of Thunder. And after many months of war, the Ten Realms are finally at peace. But the skies above the Realm Eternal are never clear for long. The Black Winter is coming. And the God of the Storm will be powerless before it.
Donny Cates on Thor. Yes please..
The Mr Garcin Collage Cover is pretty awesome as well.
'VENOM ISLAND' PART II
Donny Cates' VENOM epic continues in grand fashion after ABSOLUTE CARNAGE, joined by industry legend and celebrated VENOM artist Mark Bagley.
That's all you're getting out of us for this one, True Believers! After all, ABSOLUTE CARNAGE isn't quite over yet…
This is a must pick up to see where this Venom Island is going after Absolute Carnage.
'THE LAST AVENGER' PART 3: DESPERATE MEASURES
Two down. But time is running out, and there are Avengers left to kill.
Can Captain Marvel finish off her former friends before the clock runs down – and all is lost?
Gotta see which Avengers is next. We all saw the spoilers of the first kill, wonder who the second kill is for Captain Marvel with who's targeted as the 3rd kill.
BORN OF THE REALITY STONE, THE BREAKOUT CHARACTER FROM CAPTAIN MARVEL FLIES SOLO!
Ambitious reporter Ripley Ryan rocked New York City when she became the hero STAR, adored by everyone. But in truth she was Dr. Minerva's attempt at a Kree-human Super-Soldier.
Desperate for the strength to control her own destiny, she tried to kill Captain Marvel – and failed. Ripley was left, defeated and powerless, in the Raft…or so she thought.
The Reality Stone has found her, and now no prison can hold her. You thought you knew what the Infinity Stones were capable of. Think again.
An all-new epic adventure teaming the classic Earth's Mightiest Heroes with Marvel's premiere Non-Team by Alan Davis and Paul Renaud!
A strange and impossible lost memory from his days in World War II draws Namor the Sub-Mariner to his one-time compatriot Captain America—but the two heroes and their respective allies find themselves pulled into a labyrinth of pain, destruction and madness courtesy of the Infernal Ichor of Ish'lzog!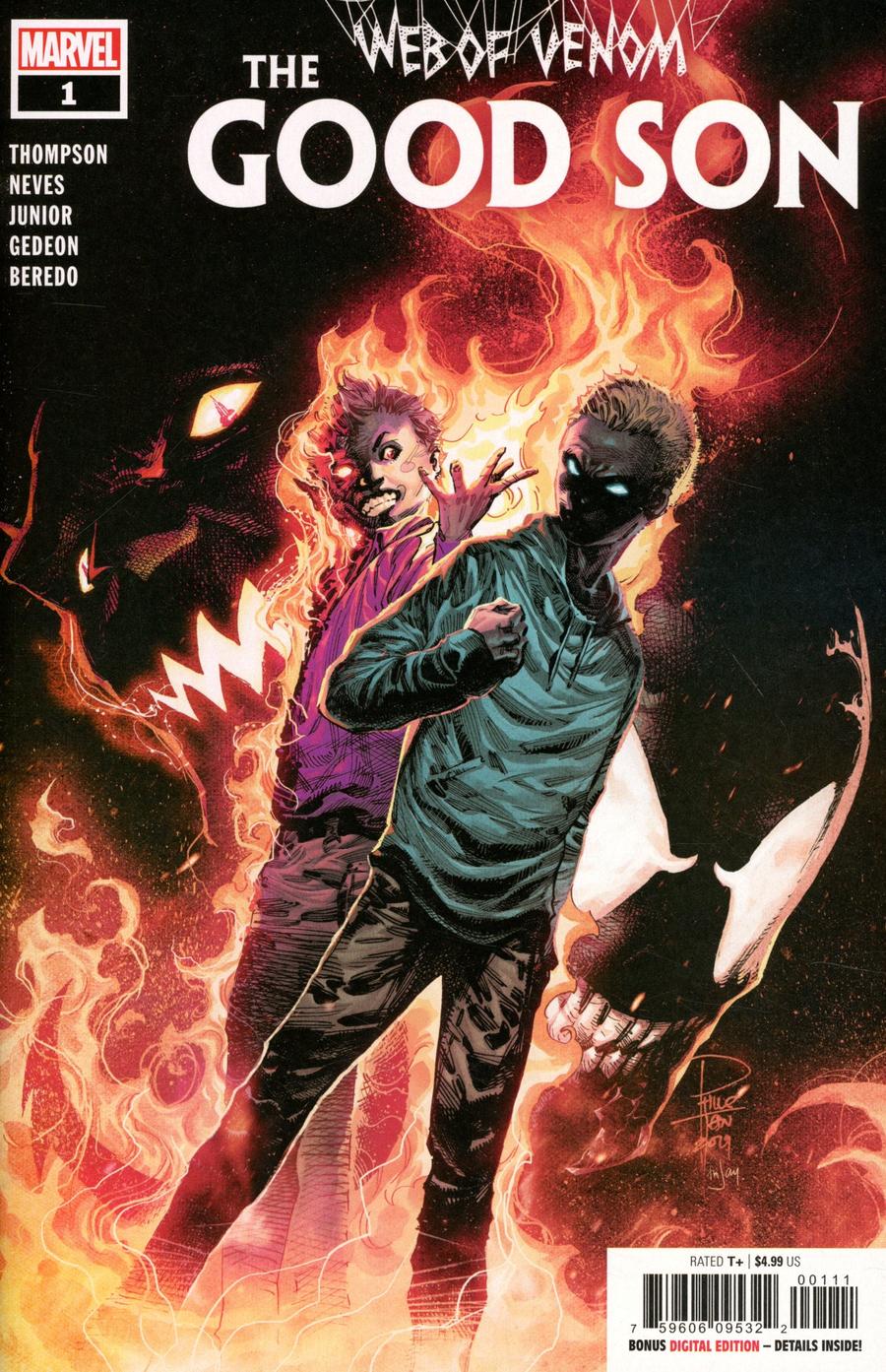 Web of Venom Good Son #1
WHILE VENOM'S AWAY, THE CHILDREN WILL PLAY!
Dylan Brock and Normie Osborn have survived the trials of ABSOLUTE CARNAGE, but what's next for the Goblin Childe and the Son of Venom?
This will be interesting and I think maybe we'll see the direction Marvel plans to go with these young new characters. Maybe see some more demand for their first appearances? We'll have to wait and see.
#5: The X-Men, the most powerful heroes on the planet, deal with an old nemesis' surprising return…"
#6: Mystique goes to extraordinary lengths to get what she wants…
WHATEVER KNOWS FEAR!
Biochemist Ted Sallis was developing a serum for military application, but was tragically killed in a freak accident before he could perfect it. Still, the data behind his formula remains property of the United States government and the Weapon IV Program to this day — Mutants aren't the only ones to have weaponized flora!
Marvel Comics proudly presents a sensational new hero ready to fight back against the new world order! No longer just a man… not a thing… he's All-American soil and he's reporting for duty… Benjamin Percy (Wolverine, X-Force) and Georges Jeanty (Weapon X) introduce… MAN-SLAUGHTER!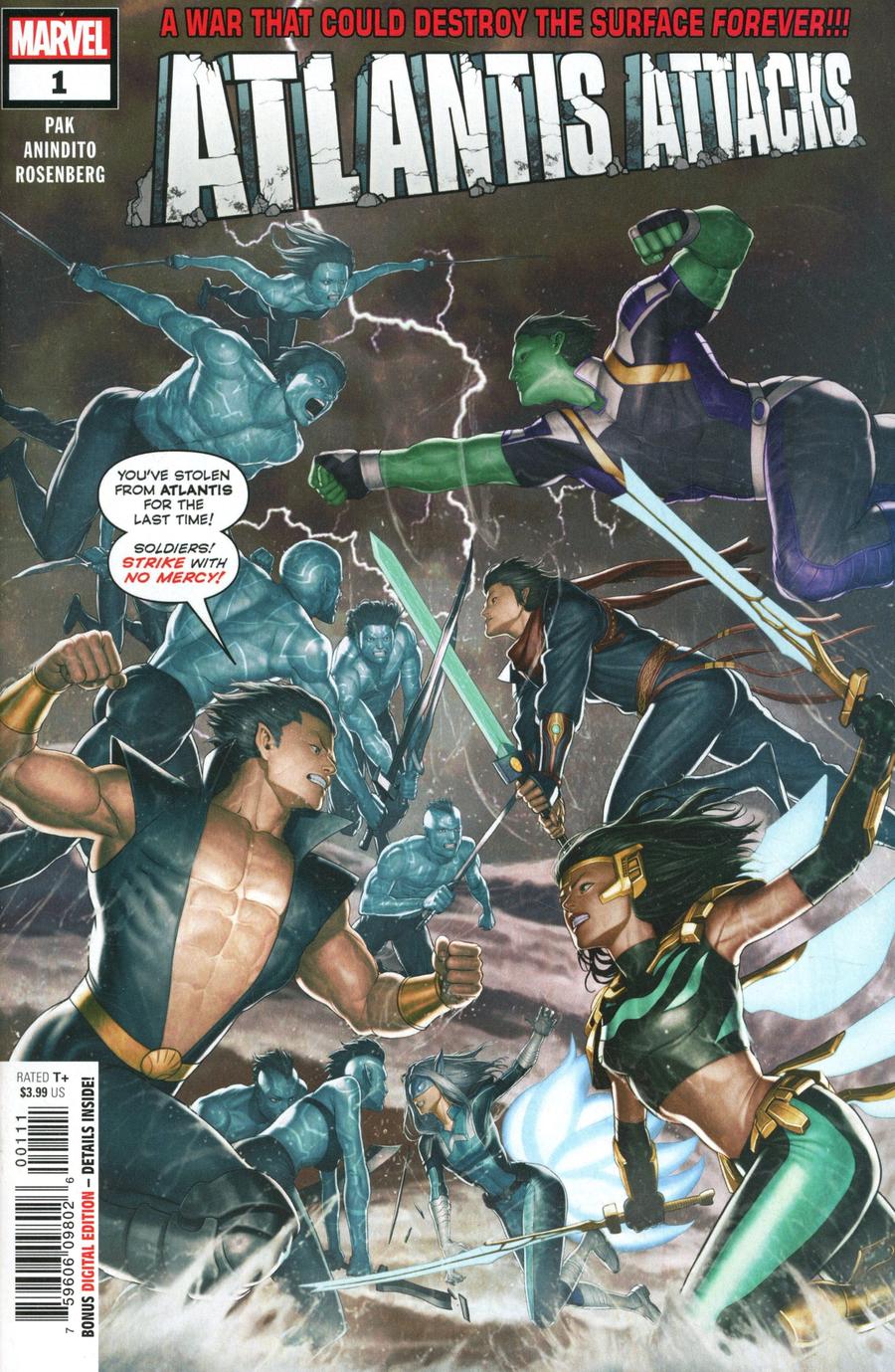 Atlantis Attacks #1
WAR WITH THE WATER KINGDOM! The armies of ATLANTIS face ATLAS in a showdown destined to shake allegiances and break hearts!
AMADEUS CHO- SILK- WAVE- SHANG-CHI- and all the heroes of the Atlas have bonded with each other after the challenges of WAR OF THE REALMS. But when a terrible secret incurs the wrath of KING NAMOR- who's the true friend — and who's the true enemy?
A titanic tale of love and betrayal- heroes and monsters- gods and underdogs — plus the shocking return of JIMMY WOO and the original AGENTS OF ATLAS!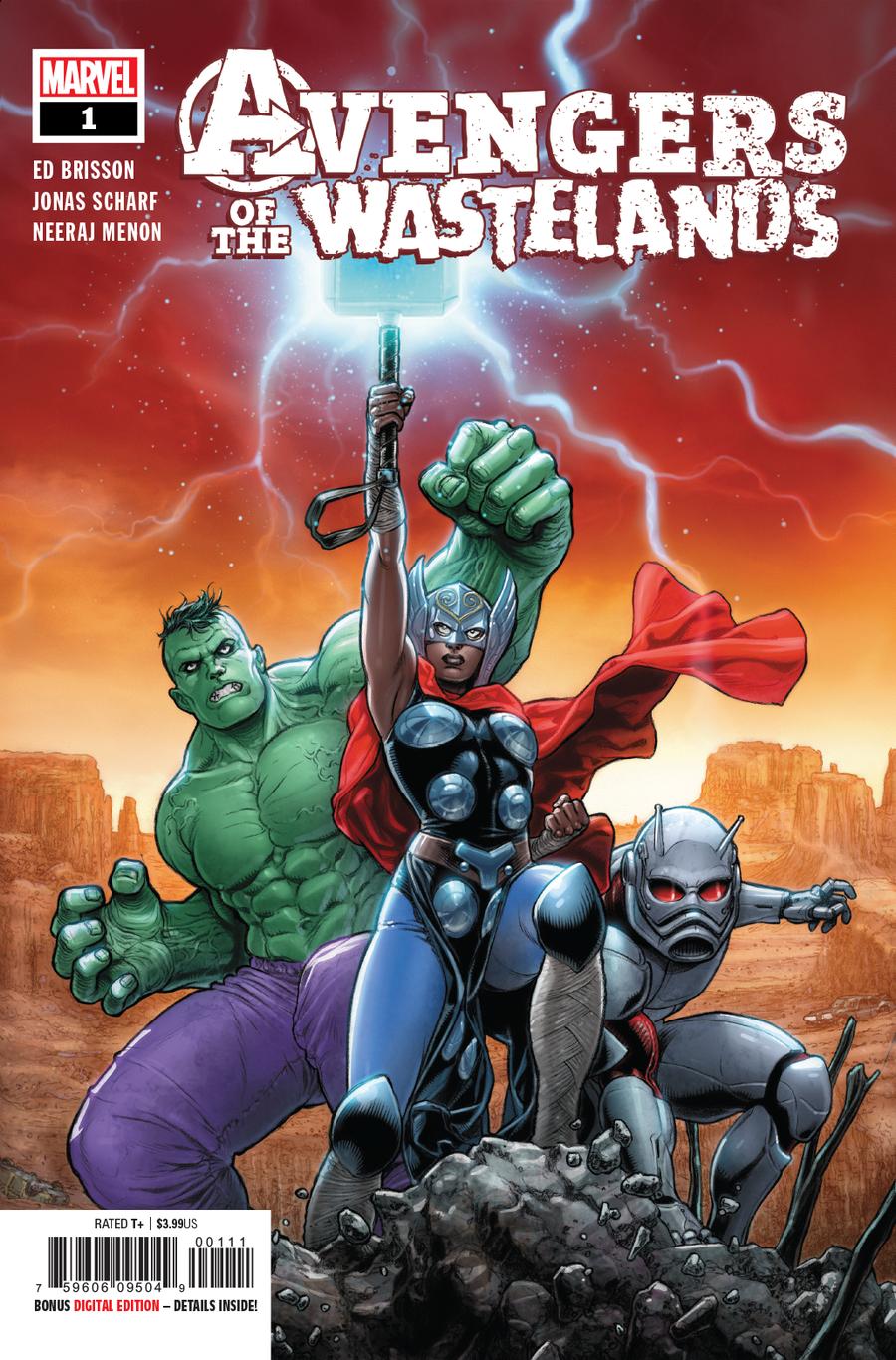 Avengers of the Wasteland #1
A NEW STORY FROM THE WORLD OF OLD MAN LOGAN!
In a world where most of the super heroes fell at the hands of the RED SKULL over fifty years ago, a new force rises in the Wastelands! DANI CAGE wields the mighty Mjolnir for the cause of peace, but when the brutal regime of DOCTOR DOOM forces DWIGHT (a.k.a. the owner of the surviving Ant-Man technology) to Dani and HULK in a last ditch effort to survive, the AVENGERS may ASSEMBLE once more! S
pinning out of the saga begun in OLD MAN LOGAN, and following up OLD MAN QUILL and DEAD MAN LOGAN, this is the can't miss premiere of Ed Brisson and Jonas Scharf's magnum opus!
People seemed to have bought in as Danielle Cage as Thor so this one is a title to keep an eye  on. I do like Brisson's writing so this could be entertaining and I could totally see this wasteland type of hero story turn into a movie or show. Ya never know right?
Once- they were a team of misfits. Now they're a family- and they've earned their peace. But the universe is not a peaceful place — and it's only getting worse. The Great Empires are in turmoil. The rule of law is dead. And amidst the chaos- the Gods of Olympus have returned — harbingers of a new age of war- reborn to burn their mark on the stars themselves. Someone has to guard the galaxy – but who will accept the mission?
And will they survive it? Al Ewing (IMMORTAL HULK) and Juann Cabal (FRIENDLY NEIGHBORHOOD SPIDER-MAN) bring you in on the ground floor of a whole Marvel Universe of action and suspense!
Another reboot already. Is this a yearly thing? I guess even with Donny Cates on the last volume, seems sales didn't really pick up. Perhaps Ewing has some Immortal Hulk style writing planned for this series to push them back up the list of books to read and care about.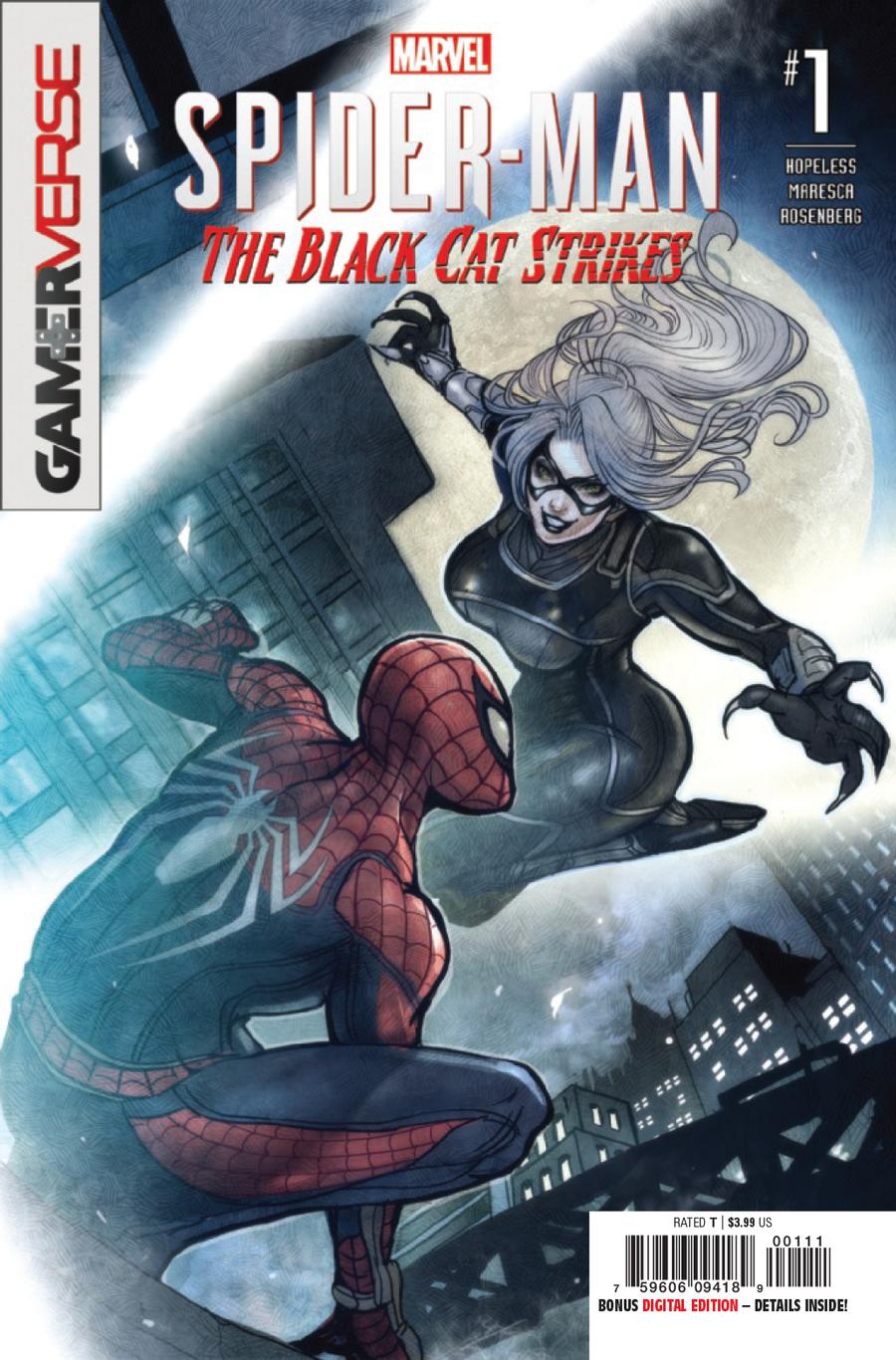 Marvels Spider-Man Black Cat Strikes #1
As if the events of MARVEL'S SPIDER-MAN: VELOCITY and CITY AT WAR weren't harrowing enough, Spider-Man finds himself in the middle of a gang war in New York City. But as he butts heads with the likes of HAMMERHEAD and the MAGGIA, the unexpected reappearance of old flame FELICIA HARDY, also known as the BLACK CAT, sets Spider-Man's world on fire!
Black Cat's heroic days are behind her, but what is the secret behind the treasures she's thieving? And why would Spider-Man let her go?!
Delve into previously untold tales of Spider-Man and Black Cat's relationship, and a shock ending that will make your webs spin! Don't miss the excitement as your favorite wall-crawler returns in the next GAMERVERSE series!
After the hellish horrors of ABSOLUTE CARNAGE, the Ravencroft Institute has received a much-needed facelift and is open for business with a new staff, including JOHN JAMESON, looking to atone for the part he played in ABSOLUTE CARNAGE.
But will Ravencroft return the mentally unstable villains of the Marvel Universe to upstanding citizens and give John the redemption he's looking for, or will they fall prey to the hospital's seemingly sinister nature?
When a mysterious and ruthless new Ronin starts tearing a destructive path through the city, suspicion immediately falls on Hawkeye, but Clint has more to worry about than who's wearing his old costume.
After a clash with the Hood ends badly, Hawkeye gives himself a new mission that will place him in the crosshairs of one of New York's most dangerous villains.
Hawkeye's mission and Ronin's secret plans will set them on a collision course that only one of them will walk away from. Fan favorite Clint Barton returns in a brand new series from Matthew Rosenberg (UNCANNY X-MEN, THE PUNISHER) and Otto Schmidt (Green Arrow).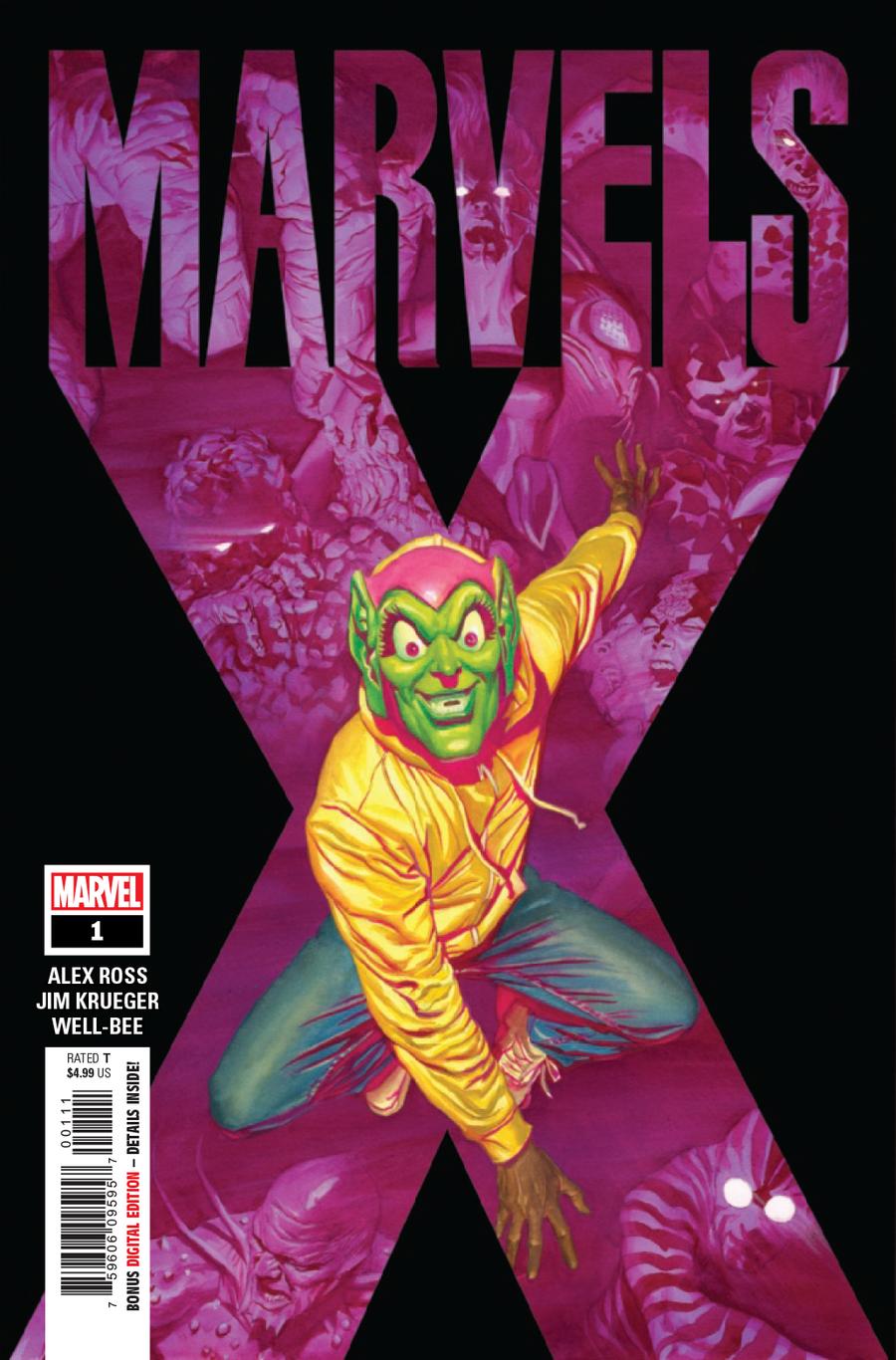 Marvels X #1
David has a problem. He lives in a world of monsters that would love to devour him. He's the last boy on Earth. The last human being on Earth. And these creatures that see him only as prey- they're his former neighbors.
He has one hope: to get to New York. To get to where Captain America and the rest of the heroes are.
Alex Ross and Jim Krueger combine their abilities with artist Well-Bee to tell a very uncanny prequel to the legendary EARTH X trilogy.
A classic tale of Wolverine from the powerhouse creative team of Chris Claremont, John Buscema and Bill Sienkiewicz – now in sensational 3D!
It's Logan's birthday in Madripoor – and as he does every year, he's reflecting on an earlier birthday and a crucial chapter in his long and bloody rivalry with Sabretooth!
Prepare for an early and iconic journey into Wolverine's savage past, from a time when his memories were gone and his history was shrouded in mystery – and featuring one of the most tense and personal Wolverine vs. Sabretooth fights you've ever seen! Only now, Logan and Creed will leap from the pages before your eyes – just watch out for their claws!
Polybagged with a pair of 3D glasses! Reprinting WOLVERINE (1988) #10.
This brings back childhood memories. It's a must pickup just because it's polybagged with 3D glasses..