Robert Kirkman has long said that no character is safe in The Walking Dead. However, Rick has pretty much been been untouched (well minus the hand, and the knee, well and the wife and daughter being lost too, but I digress.) But has his time come and the role of leadership pass on as a result of Rick Grimes death?
This is a simple one. Here is the cover of Walking Dead #127
: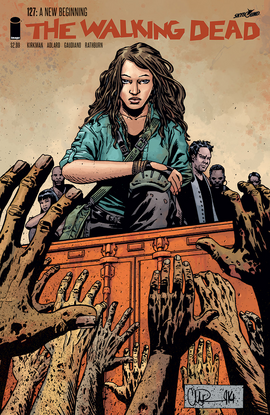 In the foreground we see walker hands reaching up. In the back ground we have the muted tan/brown color. In the center are our survivors sitting on a shipping crate looking over.

On the cover of Walking Dead #163 we have walker hands reaching up, as well as, Rick's prosthetic hand. The back ground color is very similar, and the only thing missing between the two covers is the middle with people looking over. It is not uncommon for unfinished art to be released through Diamond. So, is something missing from the released (possibly unfinished) cover art for Walking Dead #163? My guess is this could be incomplete art. It does seem incomplete, right?
If something is missing in the middle, and we see Rick's prosthetic sticking up from the middle of walker crowd, does this mean Rick's time could possibly come to an end?
In Walking Dead #161, out 12/7/16. we see Rick distrust the Saviors.

and also we see on the last page another reference to "I Believe in Rick Grimes". Could this be an omen?
Just seems like it is all leading up to something.
Chime in below and let us know what you think. For a quarter, Walking Dead #163 might be a really good pick up, especially if Rick dies at the end of Whisper War in Walking Dead #162