Bare with me, this may seem far fetched, but I am hearing rumors that Old Man Logan may be the one true future for the Marvel Universe proper. Not a what if, not an alternate dimension, but the real future.
This is hinged on a couple of things that come from within the art and cover released for Secret Empire. It is thin, but in talking to a retailer today that is kind of in the know, I figured I would run it up the flag pole, as they say.
First Up. Check out the cover:


We have Captain America's face turning into a red skull, or maybe, THE Red Skull. We have seen this before.
In Wolverine #72
, we see the Red Skull wearing Captain America's suit. We see it on the art pages and on the cover: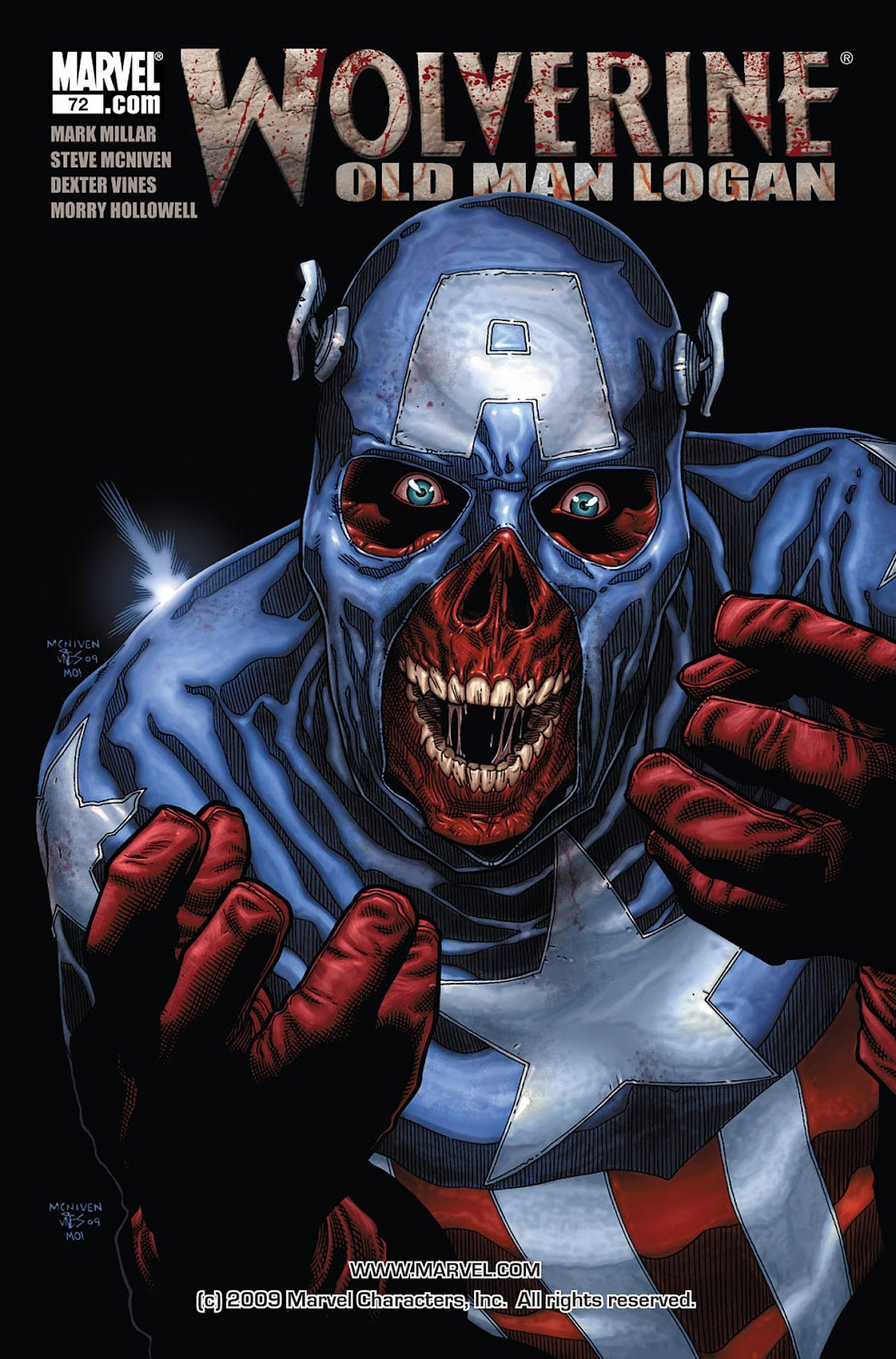 In the story, Red Skull wears Cap's suit and is president of the United States.
We do know that the Red Skull has mind warped Cap into being a Hydra Loyal in Steve Rogers Captain America #1

Steve goes on to be asked to lead SHIELD. Seems like a pretty good gig if one has political aspirations, like being president one day.
So the theory goes that the Red Skull in Old Man Logan is in fact Steve Rogers.
It doesn't end well for Bucky who is wearing the Cap Suit from when he took over the mantle….


But Logan ends up killing him all the same.
So that is one clue based on the cover, but now let's look at the creative team.
Written by NICK SPENCER
Art by STEVE MCNIVEN
Cover by MARK BROOKS
Art is done on Secret Empire by Steve McNiven, who worked on the Old Mn Logan run of Wolverine. Now McNiven is a popular Marvel artist. But can it be more than a coincidence that McNiven is doing the art on a book that could end up being the prequel to Old Man Logan? Nick Spencer did the story on Steve Rogers Captain America #1
, and got some heat for turning Cap into a facist. Could the end game be Cap Kills Red Skull and takes over the mantle?
 
Needless to say, the other thing I keep hearing is Marvel is rebooting. That is no surprise. Fans have been luke warm to all the changes for change sake, and Marvel has finally heard them. This book will lead up to the reboot of the Marvel Universe, and potentially, the future that is Old Man Logan.