Aftershock has been one of the most exciting new publishers in a while. Here are their full line up of comics for February 2018. 

Welcome to the future. Get ready to die.
COLD WAR #1
$3.99 / 32 pages / Color
writer: Christopher Sebela
artist: Hayden Sherman
colors: Hayden Sherman
letters: Hayden Sherman
cover A: Hayden Sherman
cover B: Juan Doe
New Series!
Panacea Cryonics offered its customers life after death by keeping their heads frozen until the day technology could rebuild them, free of disease and death. However, as these everyday people from the past are revived, they're not handed the keys to a new life, but a gun, body armor and an ultimatum. They must fight in a war against unknown opponents for unknown reasons, to secure their place in a brave new world that doesn't want them around.
From Christopher Sebela, writer of Blue Beetle, Kiss/Vampirella and Evolution, and Hayden Sherman, artist of The Few and John Carter The End, comes the story that HAD to be told at AfterShock!


You don't have to die to go to hell.
BLOOD BLISTER #4
(MR) / $3.99 / 32 pages / Color
writer/artist: Phil Hester
inker: Eric Layton
color: Guy Major
letterer: Dave Sharpe
cover: Tony Harris

Brand Hull finally comes face-to-face with the demon claiming his soul, unaware that the evil he's sown has already taken on a life of its own…and claimed the life of an innocent. The sophisticated, yet visceral horror story from Hester, Layton, Major & Sharpe continues!
"BLOOD BLISTER…is bursting with greatness." – Jason Bennett of popculthq.com
Opening a jarring window to a world of horror from the Eisner Award-nominated writer of The Coffin, Firebreather and Deathstroke. Covers by Ex Machina's Tony Harris!


The legends you think you know were the heroes you never imagined.
ROUGH RIDERS: RIDE OR DIE #1
$3.99 / 32 pages / Color
writer: Adam Glass
artist: Patrick Olliffe
color: Gabe Eltaeb
letterer: Sal Cipriano
cover: Patrick Olliffe w/ Gabe Eltaeb
Volume Three of the hit AfterShock Series! A great jumping-on point!
It's 1906 and Theodore Roosevelt is the sitting president when a familiar face from his past asks him once again to call upon the Rough Riders to save the world. But this time it's not anarchists or aliens—no, it's something from the great beyond. Something so ancient and inherently evil that the Rough Riders will need to add to their ranks in hopes of defeating it. Who will be the newest historical figure to have the honor to call themselves a Rough Rider?
Created and written by Adam Glass (executive producer of Supernatural and writer of Suicide Squad) with artwork by Patrick Olliffe (Untold Tales of Spider-Man).
"The story is exciting and fun, with the characters being faithful and fanciful, and the visuals are epic and thrilling. This is what comic books are all about!" – Patrick Hayes of scifipulse.net


There's a world of magic and madness just behind our own…
BACKWAYS #3
$3.99 / 32 pages / Color
writer: Justin Jordan
artist: Eleonora Carlini
colorist: Silvia Tidei
letterer: Marshall Dillon
cover: Eleonora Carlini & Silvia Tidei
As Anna and Coyote Bones continue to search for Slyvia in the Backways, they are being stalked by something dangerous—the Morning Wolf is on the hunt!
From Justin Jordan (STRAYER, Green Lantern: New Guardians) and Eleonora Carlini (Batgirl, Doctor Who) comes the BRAND NEW series of magic, mystery and mayhem that is sure to appeal to fans of Harry Potter and The Chronicles of Narnia!
"Horror and dark fantasy comics are thriving right now thanks to series like Wytches and Harrow County, and Backways sounds like it'll fit right in." -Matthew Jackson of SyFy.com


A girl and her robot set out to save Leonardo da Vinci from the world… or the world from da Vinci!
MONSTRO MECHANICA #3
$3.99 / 32 pages / Color
writer: Paul Allor
artist: Chris Evenhuis
colorist: Sjen Weijers
letterer: Paul Allor
cover : Chris Evenhuis
A new series starring Leonardo da Vinci, his female apprentice and their wooden robot!
Isabel and the Machine are separated during the Siege of Volterra! As Isabel races to find him in the carnage and chaos, the violence surrounding them affects the Machine in surprising and potentially terrible ways!
From creators Paul Allor (Teenage Mutant Ninja Turtles) and Chris Evenhuis (Wynonna Earp) comes this swashbuckling adventure story about war, identity and the birth of the modern world!
"MONSTRO MECHANICA" is a swashbuckling adventure story, filled with humor, pathos and giant wooden robots, that has something to say about humanity and society. It's also incredibly fun, and filled with absolutely gorgeous art. You're going to love it!" –Paul Allor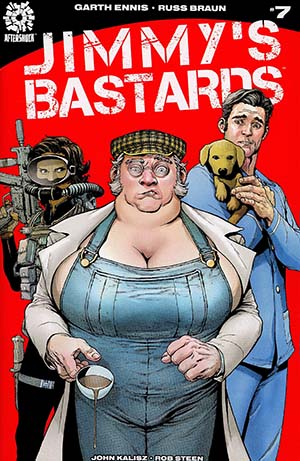 They're out to Get Daddy…and they're about to find out he's the biggest bastard of them all!
JIMMY'S BASTARDS #7
$3.99 / 32 pages / Color
writer: Garth Ennis
artist: Russ Braun
color: John Kalisz
letterer: Rob Steen
cover: Andy Clarke & Jose Villarrubia
Fresh out of the asylum, but on extremely shaky mental ground, Jimmy marshals his forces for the final battle with Junior and the Bastards. But Nancy is already launching her own one-woman assault on the enemy fortress—with no idea of the terrible secret that awaits her…
From the creator and writer of Preacher and The Boys comes the series that HAD to be told at AfterShock Comics.



Absolute power…kills brilliantly.
BRILLIANT TRASH #4
$3.99 / 32 pages / Color
writer: Tim Seeley
artist: Priscilla Petraites
color: Marco Lesko
letters: Marshall Dillon
cover: Mike Norton & Addison Duke
Lifespan, Inc. has Kennedy Avis in its clutches, and with her the information to privatize superhumanity. But as Jim Heller counts the days left in his life, will he allow the woman he just rescued to be made into a disposable corporate asset?
A sci-fi superhuman epic from Tim Seeley, the writer of Revival and Grayson, and breakout art sensation Priscilla Petraites!
"It's the story of the 'word of tomorrow,' torn directly from the headlines, about an America that might be waiting for us. It's cautionary, but it's also action packed and fun!" -Tim Seeley

The world's smartest boy is 120 years old…but he's just getting started!
FU JITSU #5
$3.99 / 32 pages / Color
writer: Jai Nitz
artist: Wesley St. Claire
color: Maria Santoalalla
letters: Ryane Hill
cover: Wesley St. Claire
Injured to the brink of death, Fu Jitsu stands against Wadlow and his army. Can Fu cheat the unstoppable icy claw of Death and discover a new form of Kung Fu to save the day? Or will our hero sacrifice everything when he has nothing left to lose but his life? Find out in the conclusion of our first story arc!
From Jai Nitz, the award-winning writer of El Diablo, Suicide Squad Most Wanted and Dream Thief, comes this action-packed new series with art from Teen Titans Annual artist Wes St. Claire!



Having a baby when you're sixteen can be tough. For Sadie…it'll be HELL!
BABYTEETH #8
$3.99 / 32 pages / Color
writer: Donny Cates
artist: Garry Brown
color: Mark Englert
letterer: Taylor Esposito
cover: Garry Brown
"Hey, friends, Donny Cates here. So here's the thing about this issue: if I were to write even a single true sentence about what happens in this one, it would spoil the whole thing. So instead of attempting some kind of vague "This issue changes everything!!, I'll just say that this issue is insane. Lots of reveals, lots of uncovered truths about the family and the cult and the assassin and the raccoon monster and the mom and the OTHER mom and…yeah, see? It's gonna get weird. Thanks, we'll see you on the stands!"
From Donny Cates, the writer of Buzzkill, Paybacks, Redneck and the breakout hit God Country, comes a pulse-pounding new series with art from THE REVISIONIST's Garry Brown!

Met with fear and prejudice, this new team can manifest spontaneous powers. And they will alter the world as you know it.
ALTERS #10
$3.99 / 32 pages / Color
writer: Paul Jenkins
artist: Leila Leiz
color: Leonardo Paciarotti
letterer: Ryane Hill
cover: Leila Leiz
Faced with the choice of losing her own child or losing her own life, the newest Alter on the team may find her career has ended before it ever begun. The is the climactic end to the story of No Damn Name, where the emergence of the most powerful and dangerous Alter yet may change the balance of power, or even lead to the entire destruction of Earth.
From Paul Jenkins, the writer of Wolverine: Origin, Sentry and Hellblazer, with artwork by AfterShock's very own Leila Leiz!