Each week, hundreds of new comics hit the shelves, each with potential. We pick the ones we feel have the best shot at heating up. Here are our picks of the week for delivery 6/6/18:

Returning Favorites
Batman #48 – Joker returns to Batman. Joker stories tend to be very collectible and go for more money than non-Joker issues around them. Plus, he is so damn cool. Glad that they don't use him as overkill, if this was Marvel he would be in 16 different books each week, but I digress. The regular cover is cool, so is the Frank Cho Art Deco variant. Pick the one you like.
Black Science #36 – Love this book. I cannot wait for the adaptation to come to fruition. Crazy mad science mixed with dimensional travel and some super heroics.
Paper Girls #21 – Awesome weird story by BKV. He has been doing such a great job with this story. It has gone in so many different directions.
Walking Dead #180 – Knocked down from having it's own line to returning favorites. I have been selling off my early Walking Dead books because I feel it is time, before Andrew Lincoln leaves and the eventual potential price drop off.
Malefic #7 – I like this book a lot. Very strange, sexy, fun book.
Small Press Gem
Sword Daughter #1 – A Viking homage to Lone Wolf and Cub? Yeah, I like vikings and love Lone Wolf and Cub. A must get for me.
For the Cover
Deathstroke #32 Francesco Mattina Cover – Hell yeah Mattina. Love this blood red cover.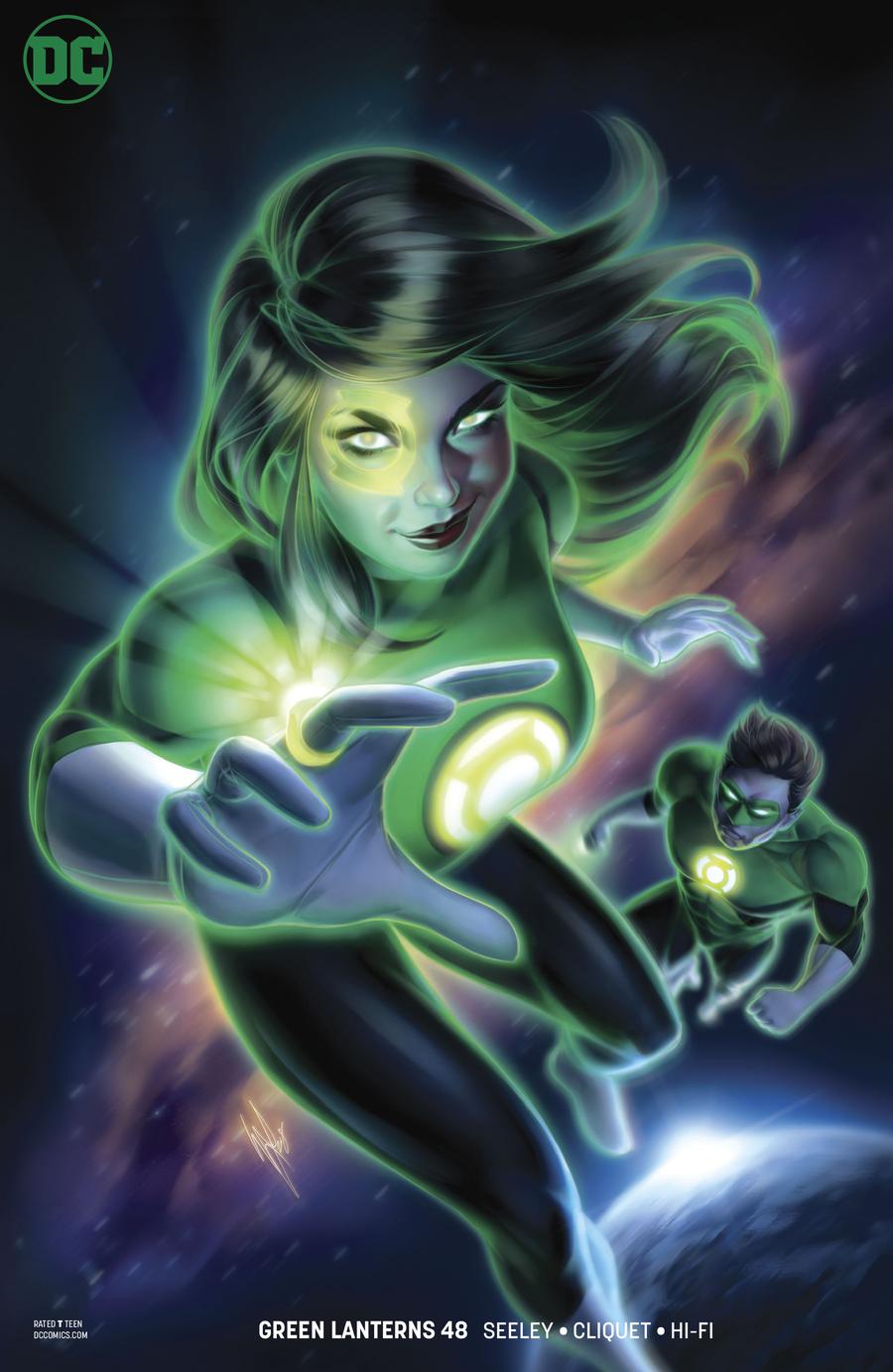 Green Lanterns #48 Warren Louw Cover – I love Warren Louw's covers. Have a double signed Harley exclusive he did. Something about the softness he gives the female form. Great eye candy. This one is the sneaky one this week as many people will not focus on him.




Harley Quinn #43 Frank Cho Cover – By now you know I love Cho art. This one is awesome with Harley asleep and the hyenas waiting to be fed.
Because, Scott Snyder
Justice League #1 – Snyder taking over Justice League with a new number one. Jim Lee doing covers… I am shooting for the pen and ink variant.
New Marvels
Dazzler X Song #1 – While I am not a fan of the writer, I do love punk rock and loved Dazzler. Through in a Bill Sienkiewicz Cover and I am buying.
The "This Could Be Good" one
Immortal Hulk #1 – Bruce Banner returns and this explores the fact that he cannot die….. Think about it. It could be good.
The Small Press Gamble
Aberrant #1 – This could be really interesting or go into obscurity. Doesn't have the "sexy female protagonists" like a lot of Danger Lab titles do, but it does have a Billy Dee Williams variant.
Small Press Pick of the Week
Brother Nash #1 – Very cool looking book. Big first issue with a huge cover price could scare off retailers. But, small print run and word of mouth could turn this into a win.
The Big Two Pick of the Week
Infinity Countdown #4 – Introducing new character Requiem. She is the focal point of the upcoming summer event, Infinity Wars. Now she could be someone we already have seen or someone totally new, we have to wait to find out. This one is a gamble compared to some of the other books, but I guess Shawn B. will tell us a year from now.
That is it for this week, let us know what you are spec-ing on. And if you haven't seen it, here is the New Comic Spec Review video for 6/6/18