Each week hundreds of new comics hit the stands, each with potential. We pick the ones we think have the best shot at heating up. Here are our picks of the week for delivery 7/11/18.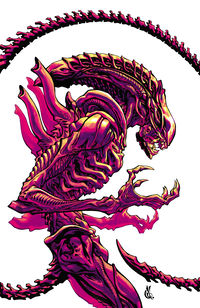 Anthony's Cover of the Week
My favorite cover of the week goes to Aliens Dust to Dust #2. I have always loved the Xenomorph design and this just looks kick-ass. Dark Horse has been using pink and purple on their Aliens covers lately and I am a fan.
New #1's
Farmhand #1
– great read, very fun Rob G. art and story. Of the two new Image series out this week, this is the better bet.
Outpost Zero #1 – Image's other new book. Very cool concept and worth the pickup.
Killer B's
Detective Comics #984 Mark Brooks Cover – this is one for the personal collection. Mark Brooks does great covers.
Flash #50 Mattina Cover
– again, for the personal collection and not for the flip. Cool cover.
Superman #1 Adam Hughes Cover – Tired of the constant reboots, but do like Hughes' work.
Suicide Squad #44 Mattina variant – My favorite one of the week. Awesome looking cover with a menacing Batman.
Marvel's Latest Reboot
Amazing Spiderman #1 – I was a legacy ASM collector until they kept rebooting and renumbering. Here they go again. I do like the new comic and the new character looks cool. One and done or long term villain not sure, but he know's Peter's secrets.
X-23 #1 – Always bet on X-23 seems to be the Marvel Mantra. I do like her and will not pass up another #1.
Indy Gamble
Ruinworld #1 – This new series from Boom is sold out in many places. Could be worth the pick up.
Midnight Task Force #1 – Very small press book, but if the demand is there, you never know.
Small Press Gem
Little Girl #1 – Very creepy cool looking book from Devil's Due. Devil's Due is actually a cool company, who has given me booze before. I like horror and this looks good. Creepy kid comic.
Small Press Pick of the Week
Metaphase #1 – $1.50 buy in. The trade paper backs of the comic did well. Now the single issues are coming out. Could be a great flip. First superhero with Down's Syndrome
Pick of the Week
Titans #23
– This will probably turn out more a quick flip than a long term spec, sold out everywhere. People are speculating on when Crush will come out. This is causing Titans related books to sell out.
And that is it for this week, in case you haven't seen it, here is this week' s New Comic Spec Review