The Diamond Comics Advance Reorder List is a great speculator tool. It shows what books retailers are going back to get more of, in advance of their release. They are actually putting their money up betting these books get big. These are the books people are talking about in shops, message boards, and websites. Here is the Diamond Comics Advance for 10/15/18:
Well, to be honest, we skipped last week. Mostly because retailers were gearing up for Halloween Comic Fest, and were ordering all the books for that in bulk, skewing the orders. But we are back this week, and a good week it is.
Cool covers, lots of reprints, and really, Marvel just dominating the reorder list.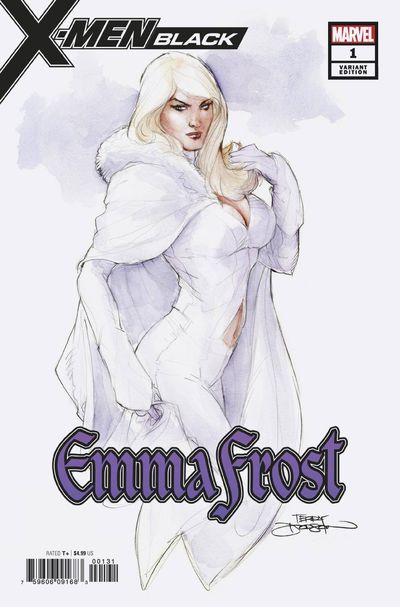 X-MEN BLACK EMMA FROST #1 DODSON VAR
INFINITY WARS IRON HAMMER #2
X-MEN BLACK EMMA FROST #1
JL DARK & WONDER WOMAN THE WITCHING HOUR #1 VAR ED
SPIDERGEDDON #0 2ND PTG CRAIN VAR
SPIDER-FORCE #1
BATMAN DAMNED #2
JUSTICE LEAGUE AQUAMAN DROWNED EARTH #1
ALL STAR SUPERMAN TP BLACK LABEL
VENOM #6 2ND PTG STEGMAN VAR
WYTCHES BAD EGG HALLOWEEN SPEC (ONE-SHOT)
OLD MAN LOGAN #50 DEODATO FINAL ISSUE VAR
AVENGERS HALLOWEEN SPECIAL #1 ZAFFINO VAR
EDGE OF SPIDER-GEDDON #3 2ND PTG ZONJIC VAR
AMAZING SPIDER-MAN ANNUAL #1 2ND PTG BROWN VAR
EDGE OF SPIDER-GEDDON #4 2ND PTG KUDER VAR
UNCANNY X-MEN #1
VAULT OF SPIDERS #1
EXTERMINATION #4
VENOM FIRST HOST #3 2ND PTG BAGLEY VAR
VENOM FIRST HOST #4 2ND PTG BAGLEY VAR
MMPR SHATTERED GRID #1 CVR K GONI EXCLUSIVE

VENOM FIRST HOST #5 2ND PTG BAGLEY VAR
SHAZAM POWER OF HOPE HC