Final Order Cut-Off is the last day that shops can guarantee their orders for comics. After Final Order Cut-Off, or FOC, these books will only be available to retailers on Advance Reorder. And that is not guaranteed. So here are the highlights for Monday, 4/15/19's FOC list.
Marvel

STAR WARS AOR BOBA FETT #1 – The Age of Republic series of one shots has focused on some of the most popular characters. Boba Fett appeared in the Jengo Fett issuers but here he stands on his own. (I will be shooting for the Concept Variant personally.)
DEFENDERS MARVEL FEATURE #1 FACSIMILE EDITION – Love the facsimile editions of classic comics. Another great book.
DC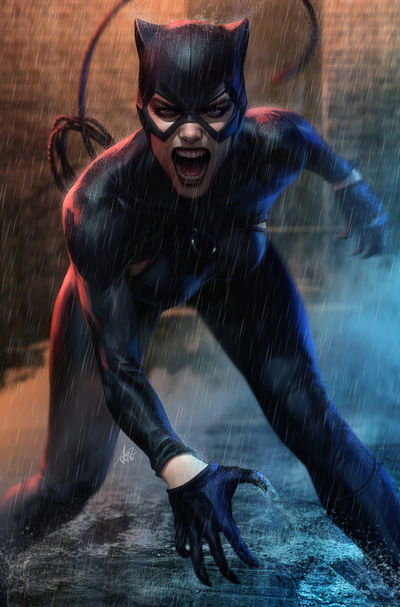 BATMAN WHO LAUGHS #5 VAR ED – Viktor Kalvachev cover. Not sure why the Batman Who laughs is white on the cover but it is pretty darn cool looking. I have been grabbing a lot of the artist B covers for the series.
CATWOMAN #11 ARTGERM VAR ED – Honestly the only reason I buy the series is for Artgerm's covers. He has some awesome ones still coming up.
WONDER WOMAN #70 VAR ED – Jenny Frison back on Wonder Woman! Yes, please.
JUSTICE LEAGUE ODYSSEY #9 VAR ED – Lucio Parrillo provides another killer B cover.
BATMAN AND THE OUTSIDERS #1 – Regular cover by Tyler Kirkham. Batman starts his secret team.
RED HOOD OUTLAW #34 VAR ED – Creepy looking Penguin on the cover with art by Yasmine Putri.
DETECTIVE COMICS #1003 VAR ED – Part 1 of a 2 part Mark Brooks connecting cover. More Arkham Knight.
Image/Indy

Unnatural #9 CVR B CAVAZZANO – This book is an awesome read and keeps getting better. It is more than just pig nudity. Great series, great read, and has some issues that have popped on the secondary market.
RED SONJA VAMPIRELLA BETTY VERONICA #1 CVR B FRANCAVILLA – A crazy cross over between Archie's Gal pals, Red Sonja the female barbarian, and Vampirella, the alien vampire…. wrapped in a Francavilla cover.
LAST STOP ON RED LINE #1 – supernatural and crime. Love the cross-over genre books.