Each week, hundreds of new comics hit the shelves, each with potential. Some live up to that potential. We pick the ones we think have the best shot at heating up. Here are our picks of the week for delivery 6/5/19:
Returning Favorites
DCeased #2 Francesco Mattina Cover – The first issue was good, better than I expected. This zombies out Mattina Superman cover is worth the grab. Very Bizarro.
DCeased #2 Yasmine Putri Horror Movie Cover – Even though I like the looks of the Mattina Superman, I am shooting for the Horror movie variant as it is an homage to Nightmare on Elm Street, one of the unholy trilogy of favorite horror movies.
New #1's
Incredible Hulk Last Call #1 – Up until recently, Peter David's run on the Hulk was on of the best ever. David revisits the character in this book.
Black Cat #1 – Yes, this will have a huge print run, there are a ton of store variants, all the same, fans of J Scott Campbell
and Artgerm will want to grab these covers.
Cover of the Week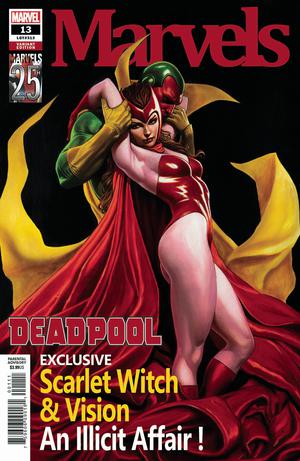 Deadpool #13 Adi Granov Marvels 25th Tribute Cover – hands down my favorite cover of the week. But throw in some goofy first appearances, people love goofy first Deadpool appearances, and this could be a win overall.
One to Watch
Thumbs #1 – Cool new Image series, I loved The Few, so looking forward to this: Imagine someone like, say, Mark Zuckerberg created his own army of tech-obsessed teens and directed them to take on the government. What would the fallout be? Charley "Thumbs" Fellows is a member of just such an army. Poor and raised by the influential MOM™ app, he finds himself in the center of a war. The Social Network meets Blade Runner in this big event book from the team that brought you the hit series THE FEW!
Small Press Gems
Category Zero #1
– New Scout series: Earth's entire population has become infected with an airborne virus, but only one percent have the specific gene required to activate it. These individuals begin to develop unusual abilities due to the rare gene. In most cases these abilities are harmless, but in a few isolated cases they become extremely dangerous. Because of this threat, all One Percenters are forced into isolated facilities for further testing. Under the guise of being a research company searching for a cure, Sanaxus carries out barbaric tests on One Percenters with their own secret agenda in mind – until a cataclysmic event at a minimum security camp involving One Percenter Lenard Higgs, a former college professor, triggers the start of a war between the government and the One Percenters.
Ignited #1
– New Super-hero universe from Humanoids Press. It's the first day back at Phoenix Academy High, but this year there's no back to school excitement in the air as returning students and faculty are haunted by memories of last year's horrific attack. So many friends and colleagues were lost, and some of those who survived underwent changes; they Ignited, gaining supernatural abilities they barely understand. Little do they know this is just the beginning!
Small Press Pick of the Week
Dead Sonja #1 – Cheeky mixup between Red Sonja and Zombie Tramp in a spoofish manner. $6.66 cover price may scare stores off from ordering, and readers from buying.
Pick of the Week
Walking Dead #192 – Damn. That is all. See spoilers in a bit.