Each week, hundreds of new comics hit the stands, each with potential. Some live up to that potential. We pick the ones we think have the best shot at heating up. Here are our picks of the week for delivery 6/12/19:
Returning Favorites
Amber Blake #4 – Great series. Great read. Find the variant if you can. These never stick around.
Immortal Hulk #19 – This is the Mighty Marvel Must Buy. Love the series. Have been signing it's praise since issue #1. (Poyo pointed out my comments in his recent post.) All the players are set for a big showdown, Hulk, Abomination, and Red Harpy. Cannot wait.
Cover of the Week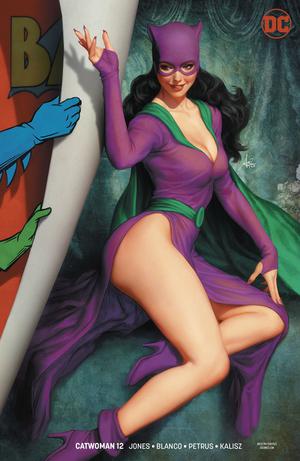 Catwoman #12 Artgerm Cover – Artgerm absolutely nailed it with this cover. Recreating a classic cover, with a twist. His retro style is a great homage.
Killer B's
Event Leviathan #1 Kenneth Rocafort Cover – DC has big things in store and they are coming out of Event Leviathan. This cover by Rocafort rocks it.
Justice League Odyssey #10 Lucio Parrillo Cover – One of those artists that you would pay a lot more for if this was a store variant or a ratio.
New Image #1's
Ride Burning Desire #1 – This is the second series for Ride, but that cover…. man. Hughes did a great job.
Sonata #1 – Hearing great things about this series. Cannot wait to read.
The One to Watch
Silver Surfer Black #1
– a lot of hype on this one. Cannot wait for spoilers tonight! Donny Cates turning his eye on Silver Surfer should be good. If there is a "Cates Twist" then this could blow up.
Indy Gem
Banjax #1 – Cool sounding new series. A wholly original and delightfully twisted deconstruction of the superhero genre by Hollywood screenwriter/Aberrant-scribe Rylend Grant. Liard Mason, a disgraced former superhero, is diagnosed with terminal cancer, brought on by years of using his powers. Defending what he has deemed an ungrateful and ultimately unworthy city is literally killing him. With just months to live and a legacy hanging in the balance, Mason launches a violent and misguided Death Wish-like campaign to purge the city of supervillains before he dies.
Small Press Picks of the Week
Gargantuan #0
and Gargantuan #1
– New Giant monster/ alien book from Amigo. Looking forward to reading this. Amigo puts out cool comics and they can be hard to find as so many stores do not order the really smaller publisher's comics.
Picks of the Week
Symbiote Spider-Man #3 Secret Variant
– Good luck on the hunt for these. Grab a couple and flip one and keep one if you collect the series.
Venom #15 Secret Variant
– Same as above. I am a fan of Venom so I am all over this one. Trying to grab two and will be in the shops around here trying to find more.