It's that time again, where I tell you what's really grinding my gears for the week of August 21st, 2019.
Some weeks it's mostly likes, other weeks it's dislikes.
So what's grinding my gears this week?
When Back Issues Become More Relevant
It's been leaked from multiple sources who had early Diamond access that the new Star that showed up in Captain Marvel #8 reveals that she is in fact the reporter Ripley Ryan from Captain Marvel #1
in the upcoming issue Captain Marvel #10.
FALL TO PIECES! It's official: New hero STAR is in and CAPTAIN MARVEL is out! As Carol struggles to deal with her changing role and unravel the mystery of what is happening to her powers, a risky new alliance she's forged may turn out to be even more dangerous than she expected. Will Carol be willing to make the ultimate sacrifice to save a world that has turned on her? Rated T+
Captain Marvel #8 2nd Print hits shelves this week too, which gives us Star's first cover appearance for those who missed out on the first printing.
The secondary market has cooled off a bit but now that we have her identity revealed, making her first true appearance in Captain Marvel #1, we could see that bump in  value.
And yes, it's a first appearance. I'm not saying it will be the overall winner in value but an appearance is an appearance whether it's a cameo, first, first full, first cover and so on. If Ripley is Star, then her first full as Ripley Ryan is in Captain Marvel #1. She's on 3 pages and many panes with dialogue and is named. It's a no brainer as a first.
Here's the pages from Captain Marvel #1 (1st and 2nd prints are hard to find but you can still find the Captain Marvel #1 (3rd Printing) still available):
If she sticks around as a villain, antagonist or eventually becomes a hero, Captain Marvel #1 and likely issue #8 are the books to own.
Either way, I love when back issues (even if they were more recent) become more relevant as the story unfolds. The next piece is another one I'm going to talk about that makes back issues relevant again.
New Demogoblin
Spider-Man Unlimited #1 from way back in the early 90's has a first appearance of Frances Barrison who is Shriek.
There are rumors circulating that she becomes the new Demogoblin (First Demogoblin was in Web of Spider-Man #86 while he first possessed Hobgoblin in The Spectacular Spider-Man #147, considered as a cameo, both are dirt cheap books for the most part) in the upcoming Absolute Carnage Lethal Protectors #2.
Demogoblin is featured on the cover. Not sure if there will be a cameo in Absolute Carnage Lethal Protectors #1 (of 3) but it's certainly a book to keep an eye on and definitely could throw some back issue love for Spider-Man Unlimited Maximum Carnage #1 from 1993.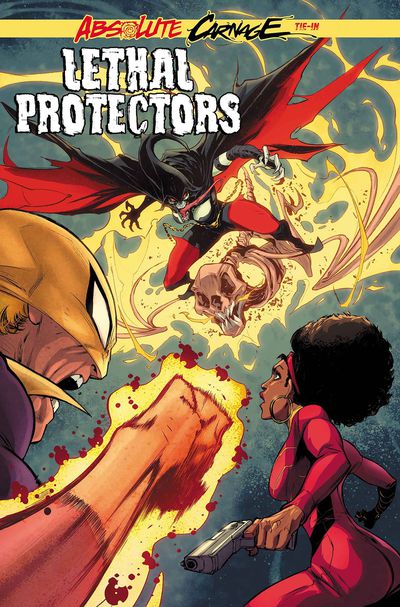 Absolute Carnage Lethal Protectors #2 (of 3)
Goblins are going to be around as villains and antagonists as long as there is Spider-Man and his other supporting cast characters. So for any Spider-Man fan, these firsts are a must.
Some might not like Donny Cates but I do like how he's making back issues more interesting and relevant, rejuvenating these characters most might not even bother with.
Evil Miles
It's the week of back issues that have potential for sure. The one that is already winning seems to be Spider-Men II #1. You can still find the 2nd printing at Midtown for around $4.
It's the first appearance of the Evil Miles Morales on Earth-616 that's been talked about with rumors of an appearance in the upcoming Miles Morales Spider-Man #10 set to hit store shelves this September.
So it's definitely another book to watch and see, but the real winner will be Spider-Men II #1 where he made his first appearance in.
Giveaways Again
I really do like doing giveaways. If you haven't come up with a cool symbiote name to win the Absolute Carnage 1 per store Black and White Deodato variant, click here to read the article that links to the forums.
And if you have created a symbiote name, don't forget to start going through all the others and clicking the
to vote for your favorites. That's who we determine who wins, the most
wins.
---
This week is nothing but likes. What's grinding your gears this week? Likes or Dislikes, tell us here or in the forums.