With these reviews, we find out how right or how wrong we were, what we missed and what you can likely still find at cover price, likely at the local comic shop or at online retailers.
July 2019 was a big month, with SDCC and a lot of book hitting shop shelves, lets start with the top 10 books top 12 books since Comichron changed how some of the DC books are listed. From the original list, now we got DCeased #3 and Batman #75 getting inserted into the top 10, er..  top 12.
House of X #1 – 185,630
Powers of X #1 – 167,840
DCeased #3 – 132,072
Amazing Spider-Man #25 – 113,272
Walking Dead #193 – 111,121
Batman Last Knight On Earth #2 – 105,012
Batman #75 – 100,161
Batman Curse of the White Knight #1 – 91,205
Batman Who Laughs #7 – 88,012
Black Cat #2 – 83,298
Immortal Hulk #20 – 83,059
Batman #74 – 78,544
July 17th Books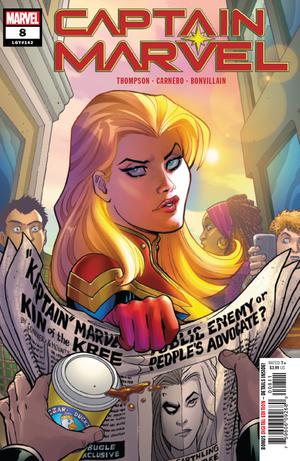 Captain Marvel #8
was the big book from this week in July.
Hard to find with reports of shops yanking them to list on the secondary.
The 1:25 variant was a $200 book at it's peak price while the regular and InHyuk Lee Carnegized variant were I'd say on average around $25 books.
Now after a month, they're still solid $15 books on a good day. If you missed out, retailers went heavy on the Captain Marvel #8 (2nd Printing) which is still available.
I think we'll have a few more surprised coming out of this title. I don't think Star is a one and done villain, antagonist or one that could turn good (still not sure what her role is to be honest). Star is Riply Ryan and she's been scattered throughout this title since issue one, her first appearance. I don't think they'd put this much effort into a new character only to toss them aside.
Vampirella #1 Jose Gonzalez Variant wasn't a huge winner but if you got this book at cover, it was initially reaching the $15 range, a bunch of sales in the $10-$12 range but has now settled in the cover price to $6 range with most recent sales.
Cool cover though for you Vampirella fans out there.
July 24th Books
House of X #1 is on average a $10 book. Hickman's hot new X-Men reboot is working, it's got people buying and talking.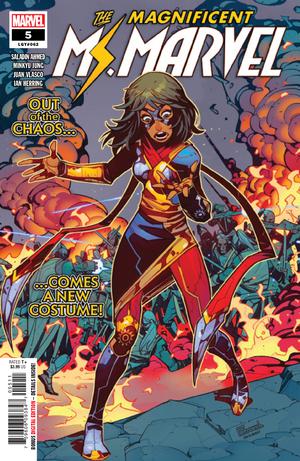 Magnificent Ms Marvel #5 reached a peak price of $25 (with free shipping), averaged around the $15 for a brief time but most recent solds now put it in the cover price range.
A 6 copy lot ended at a whopping 99 cents but maybe most didn't want to pay the $15 shipping tag the seller placed on the lot.
Either buy online if you missed out, apparently you can snag some deals on this book now or buy the 2nd printing coming out Sept 4th.
Marvel Comics Presents #6 2nd Print 1:25 started off hot, with sales over the $100 price point.
Prices still hitting the $100 range but a few recent auctions are putting this around the $80 range. So if you find it cheap, BIN might fetch you $100 or so, setting up an auction might fetch you a little less.
July 31st Books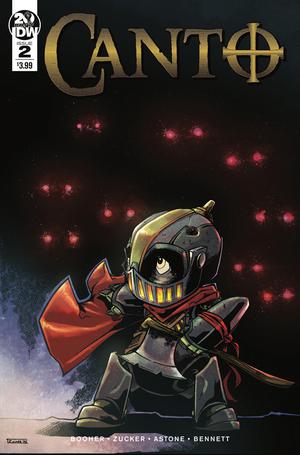 Canto #2 didn't take off like issue #1 did but there were a few early sales that flirted around the $20 range each for sets.
Seems the best sales are those who are combining issue #1 with #2 which are still selling around the $30 range.
The 1:10 variant started off hot as well, with an average selling point around the $40 but it's cooled off since then with a recent auction only fetching $6.50 while another BIN sold for $15.
Still a great series but I don't expect much heat in future issues. Pick them up to read, the story is great and the artwork is great. I can only perhaps envision the future 1:10 might make you money if you can grab at cover price.
TMNT #96 was a little hyped up due to the last issue #95 in hopes readers would get more of the new gal turtle.
This one was not as eventful, was easy to get and you can still find it for cover and online. This is still a book that should be on everyone's radar in upcoming issues since they're about to do the big #100.
Marvel Comics Presents #7 was another book on people's radars and retailers were prepared. You can still likely find this book at your local shop and online.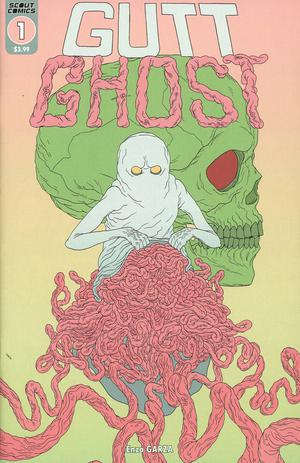 Gutt Ghost #1 was a winner in pre-sales and after it hit store shelves.
I don't think a lot of shops went heavy on this due to the silly name perhaps? It's a proven winner though with prices all over the place.
Most recents put the regular still as a solid $10 book but sales are all over the place with the different variants and incentive variants.
If you can find these and the secret skull variant, don't pass it up, easy money.
Love She Offered #1 was a ghost book I think in a lot of areas.
Sold out quickly online, low print run with some demand makes it a great flip.
Reaching a nice peak of around $20 initially, you can still find these in the $10 range, maybe $12 to $15 on a good day.
---
That's Part II of July in Review. If we missed anything or anything else seems worthy of mentioning, holler in the comments or in the forums.