Final Order Cut-Off is the last day that shops can guarantee their orders for comics. After Final Order Cut-Off, or FOC, these books will only be available to retailers on Advance Reorder. And that is not guaranteed. So here are the highlights for Monday, 1/27/20's FOC list.
Image/Indy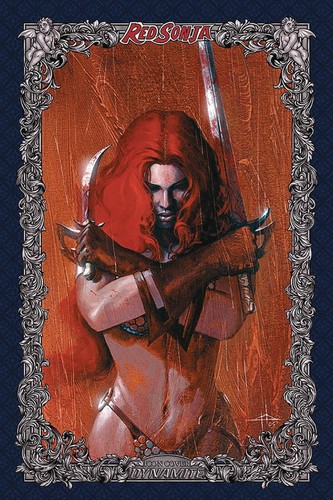 BANG #1 MATT KINDT VARIANT – New Matt Kindt series. Matt Kindt! Wilfredo Torres! A best-of-the-best secret agent with memories he couldn't possibly possess, a mystery writer in her 60s who spends her retirement solving crimes, a man of action with mysterious drugs that keep him ahead of a constant string of targeted disasters, a seemingly omnipotent terrorist organization that might be behind it all . . . And they're all connected to one man: a science-fiction author with more information than seems possible, whose books may hold the key to either saving reality or destroying it. * A mind-bending story that ties in with past Kindt works (Revolver). Action, mystery, and altered reality!
RED SONJA AGE OF CHAOS #2 – a couple of sweet cover on this one including a variant by Derrick Chew and a ratio by DellOtto
ON THE STUMP #1 – an alternate history story mixing fighting and politics. Sees about right.
DOCTOR TOMORROW #1 – New Valiant series featuring Doctor Tomorrow. For the Valiant fans and collectors.
GODKILLERS #1 – Pretty kick ass new Aftershock series. Abdul Alhazred is an Arab-American folklore professor-turned-soldier whose fear of death stems from uncertainty about the existence of an afterlife. Then he joins THE GODKILLERS, a special forces unit tasked with ?ghting insurgents who use mythological creatures as weapons of mass destruction. Now that he knows that the supernatural exists, he'll have to decide which is worse – death or the nightmarish monsters he thought were mere legends. From writer Mark Sable (Grounded, Fearless, Supergirl) and newcomer artist Maan House, THE GODKILLERS is a monster story for the modern age.
PLOT #1 B&W DELUXE EDITION – Cool and creepy series getting a deluxe black and white edition.
CROW LETHE #1 CVR A MOMOKO – Peach Momoko has an increasing fan base. Her variants go for decent money. Here is a regular cover by her worth grabbing. He is NULL NARCOS- popular performer in the FREAK-CHIC CIRCUS SIDESHOW- able to endure horrific violence on his body without pain. But outside his nightly shows- Null is a blank slate- with only faint but disturbing memories of who he was before revealed. When other performers begin dying mysteriously- Null is haunted by a golden-eyed stalker and begins to remember a life he'd thought long gone… a life of murder- terror- and black wings.
TMNT JENNIKA #1 – Trying to acclimate to life as a mutant, the newest Turtle Jennika embarks on a solo adventure that will force her to come to terms with both her troubled past and conflicted present. Not to mention a brand new villain! Brahm Revel (Guerrillas) returns to reveal more of Jennika's backstory from his acclaimed TMNT Universe tale 'What is Ninja?'!
DC Comics

AQUAMAN #57 – Solicitation makes it look bad for Mera. Stunning cover art as well. In this issue- Mera and Aquaman welcome their very own Aquababy! In the wake of Black Manta's attack on Amnesty Bay- Aquaman encounters a new crisis when Mera unexpectedly goes into labor and things don't look good for the queen of Atlantis. Don't miss this historic- emotional issue that kicks off a bold new era for Aquaman!
BATMAN #89 CARD STOCK FRANCESCO MATTINA – Just a sweet looking Mattina Cover. Batman must stop Deathstroke from killing the mayor of Gotham City! But to do so he has to figure out who ordered the hit in the first place. If his four main suspects aren't 'fessing up to the crime, then is there someone even more sinister lurking in the shadows waiting to deliver the coup de grâce? Whoever it is, one victim will fall under their attack!
DCEASED UNKILLABLES #1 CARD STOCK MATTINA VAR – Another great looking Mattina cover. Really like this one. The Horror Cover is pretty rad as well.
PLUNGE #1 GARY FRANK CARDSTOCK – New Joe Hill Hill House book. Great shark cover.
Marvel


MARVELS VOICES #1 – THE WORLD OUTSIDE YOUR WINDOW! Marvel's acclaimed podcast series focusing on telling the stories of diverse creators and their unique perspectives becomes a one shot of brand new adventures! The X-Men find their place in the world after declaring a new nation! Killmonger strikes! Moon Girl and Devil Dino return!
WOLVERINE #1 – New series for Wolverine. (Again). No heat claws this time I hope.
VALKYRIE JANE FOSTER #8 MOMOKO GWEN STACY VAR – Peach Momoko provides cover art on this one. Again, popular artist with growing fanbase.