In what could be a crushing blow for the comic market, especially small press publishers, Diamond has halted payments to comic book publishers as announced today.
From Newsarama:
In a letter from Stan Heidmann, the president of Diamond's parent company Geppi Family Enterprises, the distributor explains to its vendors that they are "no longer receiving consistent payment from our customers" and that as a result, they will "hold payments to vendors previously scheduled to release this week."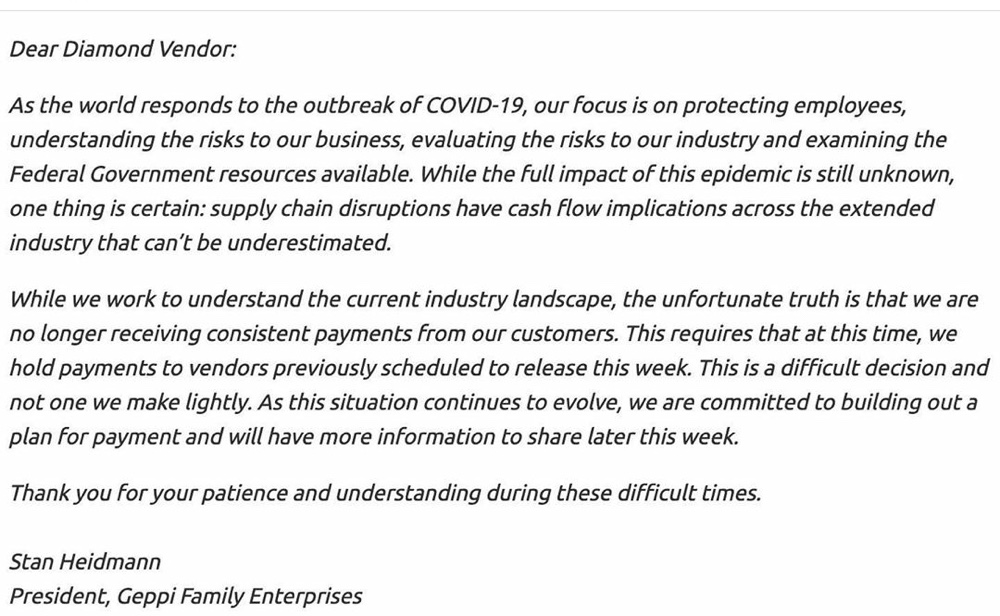 So, in other words, stores are not able to pay their Diamond invoices as many are month to month with income, some week to week, Diamond has gotten into a cash crunch, and as a result, Diamond is not paying the publishers.
Diamond does extend credit to some stores, however, many of Diamond's customers are cash on delivery, meaning Diamond has already been paid for some of the books that they shipped out.
With no new comics coming out, Diamond's cash flow has been disrupted in part because they have no new cash coming in from the COD customer's but also because the credit customers have no income to pay what they already owe. Diamond has already extended out credit terms for retailers to help them get through the shut down.
The real problem comes in for small publishers. One publisher mentioned Diamond owed them multiple thousands of dollars. Which was payable to them in 30 days. The publisher already sent the books, they had been distributed, but now they are not getting paid. This means the artists and writers do not get paid, but also means that the printers, who are also on 30 days payable schedule, are not getting paid. A ripple effect that could take down many small publishers.