Every week, hundreds of new comics hit the stands, each with potential. We pick the ones we think have the best shot at heating up. Here are our picks of the week for comics delivering 11/11/20:
Kind of small week. Here is what is on tap:
Covers of the Week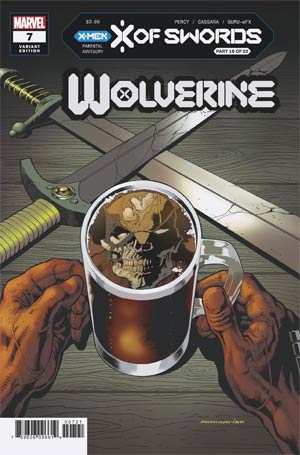 Hellboy And The BPRD Seven Wives Club Black and White Adam Hughes Variant – Hellboy plus Adam Hughes. We have seen these types of covers before and they have done ok. Personally I like the art on this.
Wolverine #7 Kevin Nowlan Cover – Just an awesome looking cover. Endurance. Survival. The true lesson of pain, and Wolverine's skeletal face reflecting back from his beer.
The DC Ones
Dark Nights Death Metal Infinite Hours Exxxtreme One Shot – We get a very Frank Frazetta looking Batman in this issue. There is also a 1:25 Ratio Variant featuring Lobo that is doin ok on this one.
Punchline Special One Shot Frank Cho Card Stock Cover – Punchline takes center stage in her own one shot. Love Frank Cho's art and he combines his great looking female forms with his penned line work in the back ground.
Returning Favorites
Star Wars Darth Vader #7 – Will Ochi get his full first, or will it come in a later issue. I am hearing a new character appears though.
Strange Academy #5 – great story and unlimited future potential for character use. Available in the Regular cover, the Character Spotlight cover, and for those like me that can relate, the Remote Learning Cover.
New #1's
Taskmaster #1 – The fan favorite villain takes center stage. Great cover on this as well.
Cutting Edge Sirens Song #1 – New Titan series that is a great read. Tomb Raider meets The League of Extraordinary Gentlemen in brand new series by renowned fantasy author and award-winning Italian artist. Brought together by a clandestine corporation, the world's greatest minds are set a challenge of epic proportions: the dodecathlon. Unlikely alliances are made in order to fulfill the quest, and uncover the mysterious truth behind it all. But as the conspiracy is unveiled, how many will survive…?
Hot Valley Days And Cocaine Nights #1 – cool sounding new true crime story. The TRUE STORY of a 15-year-old streetwise girl named Janie XXXXX. Back in 1978, Janie left behind her abusive past in small-town Ohio and hitchhiked to L.A. There she soon found out neighbor's business was all about cocaine. For the next eight years, Janie worked to hustle cocaine for the Cartel at clubs and parties, selling to the rich, famous and powerful. Then she decided to stop selling, and the trouble started.
Terminal Punks #1 – New small press book from Mad Cave. Four greasy gutter punk teens are en route to their big show in the Big Apple, but when things go monstrously wrong and mutant animals are unleashed in the airport, our heroes must put on their combat boots, fly their Black Flag, and survive a viral genetic mutant nightmare. Terminal Punks is a blaring love letter to the music and attitude of rebellion! Looking forward to this.
Reprints of Interest
X-Men #4 Facsimile Edition – First appearance of Scarlet Witch gets the facsimile treatment. I love these as readers and place holders for future greatness.
Something Is Killing The Children #9 2nd Print – I have been doing well selling the second prints, also stacking them for later. This series is just hot.
Spawn has several reprints coming out: Spawn #308 2nd Print, Spawn #309 3rd Print, Spawn #310 2nd Print. They all have the same art from previous printings with new color logos.
Pick of the Week
Miskatonic #1 – New Aftershock series that is a mix of historical crime fiction and Lovecraftian-horror that dives deep into the American nightmare. There was a Peach Momoko Kickstarter variant that may be difficult to find, none listed so far.