Every week hundreds of new books hit the stands, each with potential. We pick the ones we think have the best shot at heating up. Here are the picks of the week for delivery 2/24/21
New #1's
Stray Dogs #1 – new Image series, called Lady and the Tramp meets Silence of the Lambs. Actually a really good read, worth checking out.
Two Moons #1 – Another new Image series, a Civil War horror book. This issue starts the long journey of a young Pawnee man named Virgil Morris – a.k.a. Two Moons.- fighting for the Union during the Civil War. When he is suddenly confronted with his shamanic roots, he discovers horrors far worse than combat as the ghosts of his past reveal the monstrous evil around him!
By The Horns #1 – Interesting new Scout Comics series. Elodie hates unicorns. For nearly a year, she's dedicated her life to tracking down and killing them all for trampling her husband, Shintaro. Now exiled from her farming village of Wayfarer for selfishly neglecting her duties, Elodie and her half wolf/half deer companion, Sajen, search the continent of Solothus for clues to the whereabouts of unicorns. When they discover a lead in the port city of Lycus, their revenge mission suddenly takes a dangerous turn.
Chasing The Dragon #1 – New Heavy Metal series with art by Menton3. In Chasing the Dragon, New York Times-bestselling writer Denton J. Tipton and acclaimed painter menton3 explore a dark fantasy world ravaged by the rampant abuse of a drug made from the blood of dragons. When two young slaves discover a terrible secret that could change the course of the world, will a meek alchemist's apprentice and a drug-addled concubine survive long outside their cages? For fans of Game of Thrones and Breaking Bad
Paranormal Hitmen #1 – Sopranos meets Ghostbusters featuring Gene Rizzo and Devon Grace, two hitmen working for the infamous mobster, Alfonso Carboni. After being recruited into a mysterious Government agency not only will Gene and Devon have to hunt and kill ghosts, they will have to dodge Alfonso Carboni and his men.
Reprints of the Week
Daredevil #25 3rd Print – the first appearance of Elektra Daredevil goes back for a black and white 3rd print cover.
Star Wars Doctor Aphra #7 2nd Print – One of those, well its Star Wars, a hot property, and a 2nd print, which reprints have been hot, and worth throwing one in your cart.
Ones to Watch
Generations Forged One Shot – Sets up the future of DC. Higher priced, will still probably be ordered heavily, but if you are a DC fan you will want this book.
For the Cover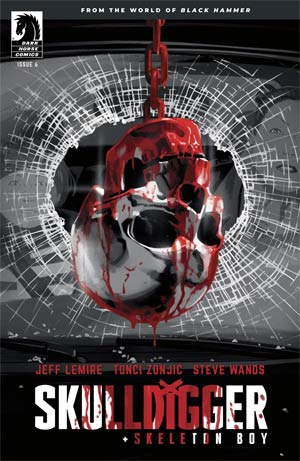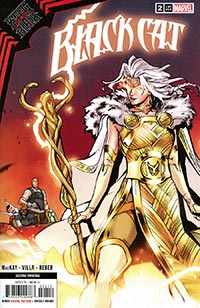 Skulldigger And Skeleton Boy From The World Of Black Hammer #6 – The book itself is really good, and there have been some great covers, but the A cover on this book is just sick. Love it.
Black Cat #2 2nd Print – Asgardian Black Cat takes center stage on the reprint cover.
Small Press Pick of the Week
Nuclear Family #1 – The preview of this was fantastic. New Aftershock book. America, 1957. Elvis dominates the airwaves and apple pie is served after every meal. But, with the dark cloud of nuclear holocaust looming, Korean War vet Tim McClean's major concern is taking care of his family in the atomic age. When the first bomb does drop on an unexpecting Midwest city, Tim and his family find themselves plunged into a strange new world, where what's left of the Unites States has gone underground while continuing to wage war on Russia with unthinkable tactics. Based on Philip K. Dick's short story Breakfast at Twilight.
DC Pick of the Week
Batman Black & White #3 Joshua Middleton Cover – The Joshua Middleton cover is boss. The book sold out early at most big online retailers. Cheap copies sold on eBay and now the asking price has pushed to $15 and up. The DC flips usually happen quick and come back down, so if you can grab one it could be a good quick flip. Check Mycomicshop to see if they have cheap copies up.
Marvel Pick of the Week
Marvels Voices Legacy One Shot Olivier Coipel Cover – another one with sales above cover this week. Good looking cover. Worth the grab. Another one to check Mycomicshop for tonight.