Every week hundreds of new books hit the stands, each with potential. We pick the ones we think have the best shot at heating up. Here are the picks of the week for delivery 3/10/21
Odd week because I do not think there are many regular issue heavy hitters. A couple of variants worth noting, and grabbing if you can find them. A new horror series I am looking forward to. And a fan favorite creator takes the Pick of the Week spot. So here is what is on tap.
New #1's
Maria Llovets Eros Psyche #1 – New series from creator Maria Llovet (Faithless, Heartbeat, Loud) bringing a surreal, bewitching tale of love, magic, and tragedy in Eros/Psyche.
Superman Red & Blue #1 – New Superman series that presents fresh new visions of the Man of Steel in his two signature colors of red and blue!
Invincible #1 Amazon Prime Video Edition – new cover and new printing for Invincible #1. Kirkman needs that money. But it is coming to Amazon and this cover features art from the show.
Nocterra #1 Glow-In-The-Dark Cover – Awesome new series from Scott Snyder and Tony Daniel. I really enjoyed it. They are releasing the glow-in-the-dark cover for it this week.
Black Knight Curse Of The Ebony Blade #1 – Picking up where the KIB oneshot leaves off.
Bequest #1 – New Aftershock series that they have been previewing pretty heavily. Welcome to the high fantasy world of Tangea! A land where wizards and warriors battle dragons in dark dank dungeons! Where thieves pillage ancient ruins and priests answer the au-dible words of their great gods! Welcome to Chicago, Illinois! Where the magical items from Tangea are being traded on the black market and are messing everything up. Now, a group of Tangea adventurers must go undercover in our modern world to stop artifacts and monsters from falling into the wrong hands. But how will they fare in a world without wizards and warriors? A world without heroes? From Tim Seeley (DARK RED, BRILLIANT TRASH) and Freddie E. Williams II (HeMan/Thundercats, Batman/Teenage Mutant Ninja Turtles) comes BEQUEST, a real-world fantasy tale.
Ultramega By James Harren #1 – Higher priced new Image/Skybound book. (The 1:5 Variant is still available for cover price) A cosmic plague has spread, transforming everyday people into violent, monstrous kaiju. Only the Ultramega – three individuals imbued with incredible powers – hold the line against this madness. Their battles level cities and leave untold horror in their wake. Now, the final reckoning approaches for the Ultramega… but is this a war they can even win? Fight monsters and stand with humanity in this new Skybound original from the greatest artist of his generation, JAMES HARREN (RUMBLE, BPRD) and Eisner Award-winning colorist DAVE STEWART. Each issue is extra-sized, with a 60-page debut that can barely contain its giant heroes, creatures, and devastation!
The high-impact adventure of EXTREMITY, but with the kaiju-esque monster action scenes of Pacfic Rim.
Reprints of the Week
Star Wars High Republic #1 4th Ptg – Man, they just do not stop with High Republic. Cool looking 4th print cover.
Maniac Of New York #1 2nd Ptg – I love this series. A Jason type serial killer stalking the streets of New York. He is a force of nature.
Teenage Mutant Ninja Turtles The Last Ronin Directors Cut #1 – Cool thing is, this features a black and white version of the 1:10 variant that was hot. Featuring never-before seen layouts from Eastman, story notes that date back decades, character designs, script pages and more, this is a must have for any TMNT fan who wants to discover the story behind the story
One to Watch
Justice League #59 – New Direction for Justice League, plus a villain from Naomi's home world.
Variants of the Week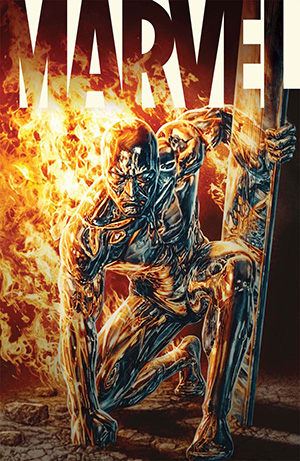 Captain Marvel #27 Stephanie Hans Variant – Just a stunner of a cover.
Marvel #6 Lee Bermejo Variant – Beautiful Silver Surfer cover. Sold out pretty much everywhere, Midtown sold out of this 1:25 at $90 a copy, if that tells you anything.
Small Press Flip
Hot Valley Days And Cocaine Nights #3 – I have been picking up copies of this series and selling them well. One local shop opened one up and said they wouldn't carry it any more. But still, it sells well.
Small Press Pick of the Week
Horror Comics Black And White #1 – Black and white horror comics are what I love. this has an awesome cover and 32 pages of gory black and white horror goodness.
Pick of the Week
Orphan And The Five Beasts #1 – this is a big yes for me. Anything James Stokoe is a must pick up. Even if this doesn't go anywhere with spec, you still end up with a cool story and awesome art. A brand-new kung-fu epic from James Stokoe, the creator behind Orc Stain and Aliens: Dead Orbit! Spurred on by her master's dying words, the adopted warrior "Orphan Mo" seeks to find and kill five former disciples who now threaten the land with corruption from their demonic powers. Part Five Deadly Venoms and part surreal grindhouse, James Stokoe brings his knack for ultra-detailed fantasy imagery and over-the-top violence to this classic tale of revenge.