Fan favorite artist David Mack (Kabuki) provides the cover art for the upcoming Moon Knight #1 exclusive cover for Things From Another World.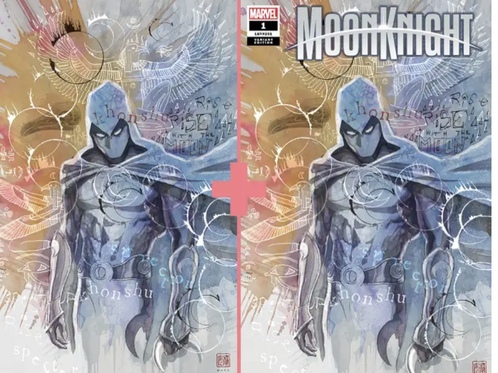 Both a Trade Dress and Full Art Variant are up for pre-order with the Virgin being part of a bundle.
This TFAW exclusive variant for Moon Knight #1 was created by David Mack, and is available only on TFAW.com and in Things From Another World stores. The trade dress version is an edition of 2500, and the full art version is an edition of 1000. It ships bagged and boarded. I AM MOON KNIGHT! The mysterious Mr. Knight has opened his Midnight Mission, his people petitioning for protection from the weird and horrible. The Moon Knight stalks the rooftops and alleys marked with his crescent moon tag, bringing violence to any who would harm his people. Marc Spector, in whichever guise he dons, is back on the streets, a renegade priest of an unworthy god. But while Khonshu languishes in a prison that Moon Knight put him in, Moon Knight must still observe his duty: protecting those who travel at night. Let it be known – Moon Knight will keep the faith.