Every week, hundreds of new books hit the stands, each with potential. We pick the ones we think have the best shot at heating up. Here are the picks of the week for delivery this Wednesday
New #1's
Unbelievable Unteens From The World Of Black Hammer #1 – New Black Hammer! After signing at a comic book convention, Unbelievable Unteens artist Jane Ito finds herself visited by one of the characters from her own creation–but was it her own creation? Were the Unteens an actual school of teenaged misfit superheroes who battled supervillains under the lead of the mysterious Dr. Miles Moniker? And if so, who wiped their memories and why? As Jane's world is turned upside down and she learns the true nature of her identity she discovers a sinister plot leading her to assemble a team she had suspected was purely fictional.
Batman 89 #1 – Stoked for this one. The continuation of Tim Burton's 1989 Batman Movie.
Avengers Tech-On Avengers #1 – New Mech-Avengers series. When the Red Skull wields a strange new power that strips heroes of their powers and threatens the entire world, the Avengers turn to Tony Stark's experimental new technology to save us all. Here come the Iron Avengers – Avengers Tech-On! Sleek high-tech power suits bristling with energy and amped-up attack power face off against super villains enhanced to match. It's mechs and mayhem in the Marvel Mighty Manner! Avengers Tech-On is a sentai-inspired action-adventure series produced in partnership with Bandai Namco of Japan
Cinnamon #1 – New Behemoth series. Here we have the evolution of Cinnamon from a normal Cat to a Bad@$$ Cat Biker.
Defenders #1 – New team series featuring Doctor Strange, Silver Surfer, Harpy, and the Masked Raider
Djinn Hunter #1 – Ne small press series from Black Box. The cosmos is in chaos! The elder council of Djinn must stop their rogue member, Abyss and his minions from granting wishes to mortals, resulting in untold horrors. Their only hope is Zara, the Djinn Hunter. Will she hunt down the mad Djinn or doom the realms to destruction?
Variant of the Week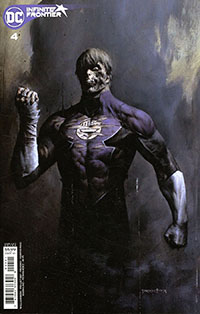 Infinite Frontier #4 Puppeteer Lee Card Stock Variant – Not going for crazy money or anything, but just a damn cool Black Lantern cover.
Notable Reprints
Nice House On The Lake #1 3rd Ptg – If you can grab one cheap, look for the 1:25 Variant as they are selling for up to 2 to 3 times ratio.
Black Cat Vol 2 Annual 2nd Ptg – Second printing of the first full appearance of Tiger Division
Daredevil #31 2nd Ptg – Second printing of the cool Bullseye with angel wings cover.
Small Press Pick of the Week
Never Never #2 – This is a no-brainer. First issue popped, second issue has sales of $25 already with listings about the same.
Pick of the Week
Star Wars High Republic Adventures Monster Of Temple Peak #1 – New High Republic Star Wars book kicks off here. Sure to be a bunch of first appearances.