Every week, hundreds of new books hit the stands, each with potential. We pick the ones we think have the best shot at heating up. Here are the picks of the week for delivery this Wednesday
Small week this week. Some good books, but need to wait and see how everything shakes out.
New #1's
I Am Batman #1 – New Jace Fox Batman book with new Batsuit.
Harley Quinn The Animated Series The Eat Bang Kill Tour #1 – tie in to popular Harley Quinn animated streaming show.
Titans United #1 – Kickoff issue of new Titans' series
Eternals Thanos Rises #1 – New series focusing on Thanos and the Eternals. • Eternals are created, not born. They have families, but their families make no new children. • It's simply not what Eternals do. • Some of them thought they could find a way to change that and believed it would be for the best. • They were terribly, terribly wrong.
Maw #1 – New horror series from Boom Studios. Dragged by her sister Wendy to a feminist retreat on the remote island of Angitia, Marion Angela Weber hopes to gain some perspective and empowerment… that isn't at the bottom of a bottle. But everything is horribly derailed after an assault on their first night there. The violent encounter awakens something in Marion she never imagined, triggering warped mutations in her body, and awakening a hunger she can't bring herself to name. When the townsfolk react with suspicion and violence, what unforgivable act will transform Marion into the very monster they've made her out to be? A provocative five-issue horror series
Notable Reprints
Eat The Rich #1 2nd Ptg – The book has a lot of potential and is off to a good start.
One and Done
Star Wars War Of The Bounty Hunters Boushh #1 One Shot – The first appearance of the true Boushh, before Leia got the armor. Can't pass up first appearance.
Because Sharks


Fight Girls #3 – Its stupid, but I collect shark covers. I like sharks. People collect things for lots of dumb reasons. Also, it is a great story. But, I was really happy with the Frank Cho shark cover. (clearly not telling people to run out and grab copies, but always like to show off something I like)
For the Cover


Future State Gotham #5 Rose Besch Cover – One of the questions I get almost every time I put up a Peach Momoko cover on my Whatnot stream is, "Do you have any Rose Besch". Usually the answer is "no, I have sold them all." Its a theme. I am grabbing some of these as a result.

Marauders #24 Betsy Cola Cover I like this cover a lot. It is sold out on Midtown and TFAW, check Mycomicshop tonight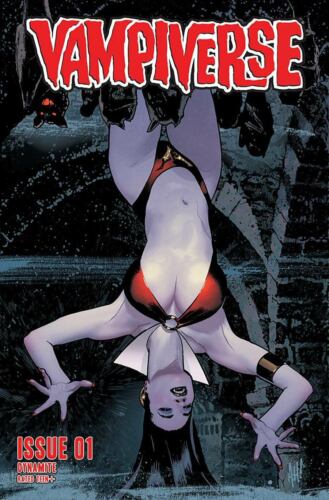 Vampiverse #1 – This one won't be for everyone, but a pretty good Adam Hughes cover kicks off this book about someone killing Vampirellas off over the multiverse.
One to Watch
Kang the Conqueror #2 – Rumore has it Moon Knight fans will want this one. Spoilers later.
Small Press Pick of the Week
Primordial #1 – There are a bunch of regular covers, as well as a ton of store covers, but I cannot pass up new Jeff Lemire. Mind-bending sci-fi collides with Cold War thriller in this six-issue miniseries by the bestselling and Eisner-winning creative team behind GIDEON FALLS! In 1957, the USSR launched the dog, Laika, into Earth's orbit. Two years later, the USA responded with two monkeys, Able and Baker. These animals never returned. But, unbeknownst to everyone, they did not die in orbit…they were taken. And now they are coming home.
Pick of the Week
Iron Man #12 Rahzzah Miles Morales Cover – If you see these, grab these. Copies are selling in the $18 range on eBay