Every week, hundreds of new books hit the stands, each with potential. We pick the ones we think have the best shot at heating up. Here are the picks of the week for delivery this Wednesday
Returning Favorites
Black Hammer Visions #8 – Scott Snyder guest writes this issue about a new character named Horseless Rider.
Screaming Horror #2 – More awesome Fantacor horror. Fantaco was the 80's gore and horror comics to grab.
New #1's
Frontiersman #1 – New Image series. Classic Green Arrow-style adventure blends with the thoughtfulness of Concrete in a super-hero odyssey for mature but uncynical readers! Frontiersman is coaxed out of retirement by an environmentalist group, only to find that being a spokesperson makes him a target for old and new enemies alike! For the super-hero reader looking for me.
Death Of Doctor Strange #1 – Ben Reilly is back as Spider-Man and Dr. Strange is dead. My guess is all the Mephisto stuff that has been brewing comes to fruition here, meaning Peter is dead, Dr. Strange dies to go save him, and we get a very Multiverse of Madness style lead-in story. But that is just a hunch.
He Who Fights With Monsters #1 – New Ablaze series. On All Hallows' Eve, a community struggles under the boot of the Nazi war machine when supernatural forces come to play a part in the conflict! From the artist of the bestselling Something is Killing the Children comes a Halloween tale that will send shivers up your spine… It's World War 2 and the struggle between good and evil is in full force. In Prague, the great Bohemian city is being oppressed by the Nazi occupation and the population lives in terror, while the resistance forces try to organize themselves in the shadows. It is an almost impossible task. With the ruthless SS tightening their grip on every street and neighborhood with overwhelming might, only one hope feeds the struggle. A crazy hope, which rests on the fragile foundations of an ancient, monstrous legend…
Notable Reprints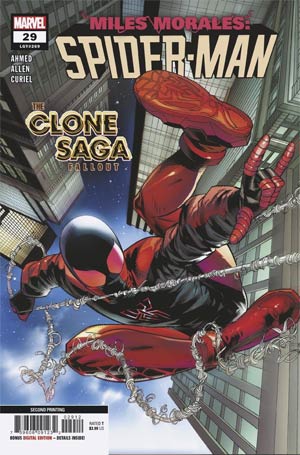 Miles Morales Spider-Man #29 2nd Ptg – sold out at Midtown and featuring the new costume on the cover. Could be a great long term hold. Check Mycomicshop if TFAW is out too.
Cold Dead War #1 2nd Ptg – Three covers on this one two "sexy" one zombie. Great looking covers. Regulars selling for $10 and sets selling for up to $80.
Small Press Picks of the Week
Shudder Magazine #1 – Creeps magazine has done Warren style horror comics well. Creeps has ended and in its place is Shudder. With a great Creepy #1 homage cover. Creeps #1 has been a good $20+ book for a while.
Weird Magazine #1 Facsimile Edition – I have collected horror comic mags for a long time. Weird has been one of those series with great colorful covers. Here we get Vol.1 #10 (dont ask it really was the first issue) reprinted in its entirety. Really excited about this one.
Pick of the Week
Moon Knight #3 – People are calling this the first full appearance of Hunter's Moon. I'd first full costume, but who am I to argue. The smaller print run (than #1) could boost this one up in price long term. Anyway, still picking it up because it is new Moon Knight. The regular cover is his first cover appearance and is approaching $10 on eBay already.