Every week, hundreds of new books hit the stands, each with potential. We pick the ones we think have the best shot at heating up. Here are the picks of the week for delivery this Wednesday

New #1's
Nubia And The Amazons #1 – Nubia takes center stage in new Wonder Woman spin off series.
Refrigerator Full Of Heads #1 – Continuation of Basket Full of Heads. New Hill House horror comic.
Catwoman Lonely City #1 – New Black Label Catwoman centered series.
Ant #1 – Mario Gully's character Ant returns now being done by Erik Larson
Gunslinger Spawn #1 – The fan-favorite character returns in his own book.
Hellcop #1 – the return of the 1998 Image series. When mankind first broke through the walls between dimensions, nothing could have prepared them for what they would find in Known Reality Plane 1301-A: it was absolute Hell. Literally. A covert security force was quickly assembled to patrol the Hellplane and ensure that none of the nastier denizens made their way Earthside. They were dubbed the Pan-Dimensional Security Corps.
Phoenix Song Echo #1 – New series that focuses on the recently transformed Echo, who now carries the Phoenix Force.
One to Watch
Superman Son Of Kal-El #4 – This series is starting to heat up with recent news. Might not be a bad jumping on point especially if something happens.
For The Cover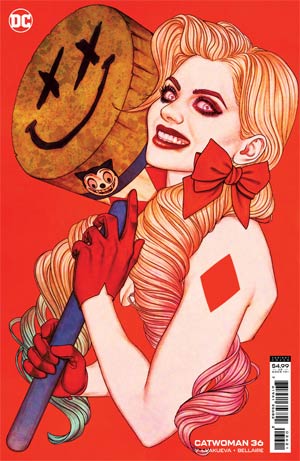 Catwoman #36 Jenny Frison Cover – Just an awesome looking Harley Quinn from Jenny Frison.
Small Press Pick of the Week
Howling Snow A Kung Fu Fable #1 – Small press one shot that looks awesome. For one hundred years, Fox roamed the land in human form! Once a formidable swordsman and a master of the mystic arts, now he is a disenchanted soul, in constant search of pleasure and distraction. But all that changes when Fox encounters a demon wolf, fueled by an intense rage that threatens to shatter Fox's fragile peace. Now Fox must reawaken his slumbering fighting spirit and find balance between the animal, human and supernatural realms, in this beguiling and gorgeous one-shot comic!
Pick of the Week
Nita Hawes Nightmare Blog #1 – Rodney Barnes has done well on Killadelphia, I love that book, so it comes as no surprise that he would be spinning off another series focused on monsters. Excellent long term chance of characters making it on screen either through Killadelphia or on its own option. Jimmy Sangster might have left Maryland for the vampire-infested city of 'Killadelphia,' but there is still untold evil lurking the streets of Baltimore. The demon Corson has surfaced from the underworld to possess a once-wronged man, and his vengeance will come at the cost of humanity's despair! But Jimmy's former lover Nita Hawes – a woman with demons of her own – has begun a quest to root the evil out of her city. Guided by the ghost of her dead brother, she must come to terms with her own past, lest she join her brother in a state worse than death!
No Brainer Pick of the Week
Gun Honey #1 2nd Ptg – With literally none on eBay at the time of writing this, and sales as high as $15 already today, this one seems like the no-brainer of a pick. These were allocated and may be tough to come by. Series has already been optioned, so there is upside to this book.