Every week, hundreds of new books hit the stands, each with potential. We pick the ones we think have the best shot at heating up. Here are the picks of the week for delivery this Wednesday

Returning Favorites
We Dont Kill Spiders #2 – cool new horror themed series from Scout Comics.
Black Widow #12 the Regular Adam Hughes Cover is awesome, most of his covers as of late have been. Book has been pretty good too.
Moon Knight #4 – Love the homage to Stephen Platt's art style on the regular cover. The B cover (Stormbreaker) is not too shabby either
New #1's
Hellboy Silver Lantern Club #1 – Love Mike Mignola's work, especially when he is writing Hellboy.
Cross To Bear #1 – I am a huge Jack the Ripper fan. This Aftershock books looks so good. Jack the Ripper was never caught because no one was looking for him in the Wild West…No one accept The Order. An organization made up of the descendants of Crusaders sworn to eradicate the unnatural, The Order will stop at nothing to fulfill the pledge their forefathers made, even if it means crossing the ocean or a line or two…
Winchester Mystery House #1 – Small Press Source Point book about the Winchester House!! Thought to be one of the most haunted places in the world, The Winchester Mystery House is much more than an architectural wonder. It's a labyrinth full of secrets. Come step inside and hear the house's whispers… Inspired by true events, this masterfully crafted horror tale written by Joshua Werner and beautifully illustrated by Dustin Irvin takes you into the non-stop construction of 'the house that spirits built' and its brilliant and mysterious owner, Sarah Winchester. Chapter One: The Heart of the House The year is 1886, and after suffering the loss of both her only child and husband, Sarah Winchester has come to California, bringing with her a massive inherited wealth. After buying a small farmhouse on a large plot of land, Sarah sets to work expanding it like a woman possessed. The construction crew's first task will be to build a room that will later become legendary. But something is waking up…
DC vs Vampires #1 – actually looking forward to this. DC Heroes VS vampires.
Task Force Z #1 – Zombies in the DCU, second of two horror themed DC comics. In life, they've terrorized the people of Gotham. Now, they are Gotham's last hope. Task Force X saw villains working their way to freedom. Task Force Z will see dead villains working for a new chance at life! On A-DAY, the attack on Arkham Asylum left hundreds of Gotham's most cunning and deranged criminals dead…now, a mysterious benefactor has activated the government's TASK FORCE clause to bring them back as the ultimate army of the night! To lead this team of the undead, only a person who knows exactly what it feels like to be brutally murdered and brought back to life can handle the job…enter: RED HOOD. But when Jason Todd unravels the mystery surrounding Task Force Z's creation, will he try to destroy it…or embrace it?
Gunslinger Spawn #1 – Supposed to be out last week, ut had to put it back on here again.
Nita Hawes Nightmare Blog #1 – Last week's pick of the week, but some shops didn't get them, so we are putting it on here again.
Pop Star Assassin #1 – The year is 1977. The King is dead. The world mourns. But… When a mysterious briefcase turns up in his dressing room, Bruce– a coke-addled Elvis impersonator finds himself wedged between a Mob boss out for revenge and a government conspiracy with far-reaching, world-ending ramifications; all in an attempt to discover the true identity of his father's killer. It's sex, drugs, rock n robots 70's style in this all-out action adventure. The year is 1977. The KING IS DEAD – LONG LIVE THE KING! And who the f*ck is Molly?
Swamp Dogs House Of Crows #1 – New Scout horror series that looks fantastic. Black Caravan Imprint. They came from the swamp… the scummiest squad of Confederate soldiers, brought back to life by powerful Voodoo magic. They crave power, carnage, and female flesh! They are the Swamp Dogs! Now, young lovers Ayana and Violet, and their friends from the goofy stoner metal band The Grunch, will unknowingly fall into their ghoulish nest. Bear witness to a rollicking gorefest straight out of the shocking grindhouse and revengeful blaxploitation of the 1970s, and the cult horror classics of the 1980s… with a modern twist.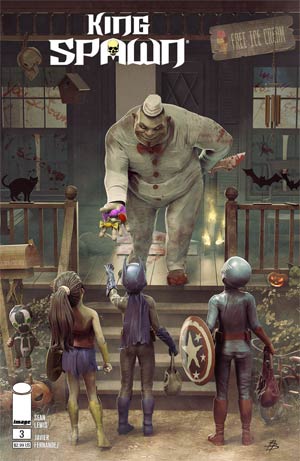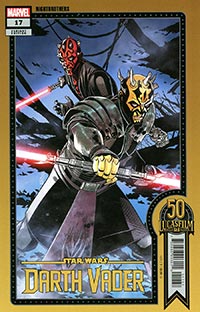 King Spawn #3 Bjorn Barends Cover – Just a great looking cover.
Star Wars Darth Vader #17 Lucasfilm 50th – Darth Maul and Savage Opress cover that can't be missed!
Notable Reprints
Phantom Starkiller #1 4th Ptg Glow-In-The-Dark Cover – awesome glow in the dark action figure variant.
Halloween Pick of the Week
Nocturnals Omnibus HC – I absolutely love the Nocturnals and Brereton's art. Collects Nocturnals (1995) #1-6, Nocturnals: Witching Hour (1998), Nocturnals: Carnival of Beasts (2008), and Nocturnals: Troll Bridge (2000). The Nocturnals revolves around the mysterious quest of underworld enforcer and occult figure, Doc Horror; his supernaturally-gifted daughter Evening (aka Halloween Girl) who carries a pumpkin full of haunted toys; the Gunwitch, a silent, two-gun revenant with an itch to kill monsters; the lissome wraith Polychrome, and a host of hard-boiled inhuman players battling hidden evils lurking on the outskirts of human knowledge.
Pick of the Week
House Of Slaughter #1 – James Tynion is an indy force. Sure this will have large print runs, but so have some of his other books that are doing well. Grab and hold.
No-Brainer Pick of the Week
Batman Fortnite Foundation #1 – New Batman Fortnite crossover that comes with a Batman Who Laugh Skin for the game. Selling at between $10-$20 on eBay