Every week, hundreds of new books hit the stands, each with potential. We pick the ones we think have the best shot at heating up. Here are the picks of the week for delivery this Wednesday

This is going to be one of those weeks where something sneaks up on you. Big week for indys, lots of new #1's. Check out what is on tap below.
New #1's
Dark Knights Of Steel #1 – A brand new DCU. The DCU in medieval times.
Human Target #1 – Tom King has done right by smaller niche characters. This time he sets his sites on the Human target AKA Christopher Chance.
Guillem Marchs Laura And Other Stories #1 – Love Guillem Marchs art, going back to Gotham City Sirens.
Heathens #1 – New Aftershock series. When evil men and women escape from the depths of the eternal abyss, the Pirate Queen Lady Shih is sent to retrieve them. But when one of history's most notorious killers breaks free, even she needs help. Enter the Heathens: Shih, Lucky Luciano, Bumpy Johnson, Sofia the Golden Hand, and Billy the Kid. From Hell they came to mete out a justice as dark as their own tormented souls. From the wonderfully wretched imaginations of AfterShock horror-alum Cullen Bunn (EDEN, PIECEMEAL, DARK ARK) and Heath Amodio (SuperCLEAN), and illustrated by superstar Sami Kivelä (UNDONE BY BLOOD), in THE HEATHENS, evil meets its match – five of them, to be exact.
Magic Order 2 #1 – Not saying this is a buy. Millar's TV record and spec hasn't been stellar, but, still one to keep an eye on since the trailer for show has come out.
Newburn #1 – EASTON NEWBURN is a private detective without loyalties, investigating conflicts between rival crime factions while collecting enemies along the way. In this DEBUT ISSUE, a man is murdered after stealing from his own mafia family, but they aren't the ones who ordered the hit… This new ONGOING SERIES from CHIP ZDARSKY (Daredevil) and JACOB PHILLIPS (THAT TEXAS BLOOD) features a riveting backup story, 'BROOKLYN ZIRCONIA,' by rising stars NADIA SHAMMAS and ZIYED YUSUF AYOUB!
Knighted #1 – New twist on the Batman archetypal character from AWA Studios. AWA recently brought on some film and TV guys to their staff so I can see them making moves on optioning their books.
Rush #1 – New horror series from Vault. This Hungry Earth Reddens Under Snowclad Hills. 1899, Yukon Territory. A frozen frontier, bloodied and bruised by the last great Gold Rush. But in the lawless wastes to the North, something whispers in the hindbrains of men, drawing them to a blighted valley, where giant spidertracks mark the snow and impossible guns roar in the night. To Brokehoof, where gold and blood are mined alike. Now, stumbling towards its haunted forests comes a woman gripped not by greed — but the snarling rage of a mother in search of her child… From Si Spurrier (Way of X, Hellblazer) and Nathan Gooden (Barbaric, Dark One) comes THE RUSH, a dark, lyrical delve into the horror and madness of the wild Yukon.
Digger #1 – Jack Digger is a Gravedigger, a formerly legendary secret society of monster hunters who make sure the dead they bury stay six feet under. But after the most recent encounter with the supernatural, Digger's mentor hangs up the shovel and moves to Las Vegas to gamble away his Golden Years. Now, Digger must train a new Gravedigger: Emily Spade, a college burn out and mild alcoholic who is the only applicant willing to do the dirty job. Her life is falling apart and Digger's is already broken, but together they might be their small town's best hope of staying monster free!
Undying Queen #1 – Small press horror book from ARH. Some great covers have come out from them in the past. Mesopotamia, 3000 BCE. It is the dawn of mankind and the age of Arkhalla, the Undying Queen of Ur. In this distant past, the lands of Sumer are ruled by Arkhalla – cursed by the demon god Asag with immortality and feeding on human blood, she rules the world of with an iron grip at the price of her soul and humanity.
Notable Reprints
Hard Case Crime Gun Honey #1 3rd Ptg Adam Hughes Metallic Ink – Already optioned series has been selling well. This time the gorgeous Adam Hughes cover gets the metallic ink treatment.
One and Done Halloween
After Dark #1 (One Shot) – New horror one shot from Aftershock. Tales from the Crypt meets The Twilight Zone-four tales of horror, lost souls and things that go bump in the night. A prestige format 'One-Shock' featuring top creative talent just in time for the most horrific month of the calendar year, AFTER DARK is a collection of tales you'll want to read with the lights on! A disparate tale from a possible future; a chance encounter with a mythical Black-Eyed Kid, a children's fable gone awry; and a gut-wrenching last meal at the local diner.
Chilling Adventures In Sorcery #1 (One Shot) – With Archie horror returning (Sabrina just came back a week or two back) we get a new one shot. THE FUTURE OF ARCHIE COMICS STARTS HERE IN AN ALL-NEW ANTHOLOGY-STYLE ONE-SHOT! Madam Satan is our tour guide into this horrific world exploring the underbelly of Riverdale and its surrounding areas! Madam Satan is trying to escape Hell. She goes through the circles of Hell in reverse. Along the way she meets lost/tortured souls who tell their stories-like that of Archie Andrews, who accepted a seemingly normal job as the nighttime security shift at Riverdale's local pizzeria and children's mascot entertainment venue. Only to learn that the venue harbors a deep, dark, robotic, monstrous secret! And then there's Jughead Jones, a teen who never met a food he didn't like. Until now. What is that eerie noise coming from the kitchen…? All that plus more bonus frightful content sure to delight all Archie horror fans!
For the Cover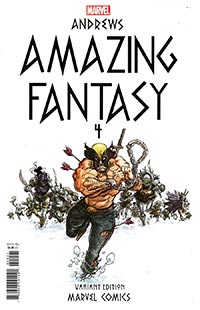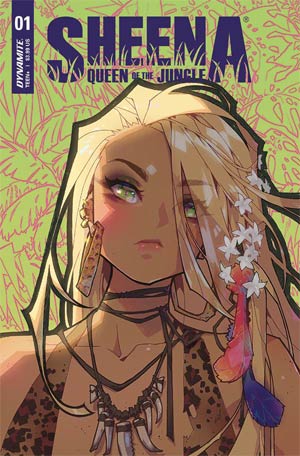 Amazing Fantasy #4 Kaare Andrews Cover – its driving me nuts that I cannot remember what cover this one reminds me of, however, looks like something Frank Miller put out in the height of his work.
Sheena Queen Of The Jungle #1 Rose Besch Cover _ Rose Besch is hot. Super easy to pick up some of these Dynamite covers and hold.
Indy Gem
Tangled River #1 – Michael Cohen, co-creator of Strange Attractors, launches his new series, a heartfelt coming-of-age tale, set against a science fiction backdrop. Tanya is an artistic teen, living on a distant Earth colony, where all technology has mysteriously stopped working. One day, she sees a mysterious object in the sky, and finds herself thrown into an adventure that transforms her entire life.
Pick of the Week
Star Wars Bounty Hunters #17 Chris Sprouse Lucasfilm 50th Anniversary Cover – Sold out online pretty much everywhere. As Drunk Wooky said, Thrawn collectors are fanatical. Give this one time. Should be a great grab and hold.