Every week, hundreds of new books hit the stands, each with potential. We pick the ones we think have the best shot at heating up. Here are the picks of the week for delivery this Wednesday

Fairly small week but a couple of big books are coming out.
New #1's
Joy Operations #1 – New Dark Horse series from Brian Michael Bendis. There is also a LCSD cover for this one. Fifty-five years from now. Joy is an EN·VOI. A special agent of one of the JONANDO TRUST. Trusts are corporate-owned cities that are the centerpiece of modern society. She rights wrongs for the trust. She is excellent. Perfection. Hard on herself. Driven. Almost legendary in some parts. Until one day a voice pops in her head trying to get her to betray everything she has ever believed. This meticulously-designed Akira meets All of Me journey shows us a new future like only comics can.
Grrl Scouts Stone Ghost #1 – New Jim Mahfood Grrl Scouts Series. Trippy fun. Love Mahfood's art. If you can find the Momoko 1:25 grab it as it is going for 2x ratio. Superstar artist and comics-makin' weirdo JIM MAHFOOD returns to his creator-owned GRRL SCOUTS universe for a brand-new six-issue miniseries! Join DIO, TURTLENECK JONES, and GORDI as they face off against the sinister and unpredictable evil of THE TEETH! Hilarious, over-the-top, psychedelic adventure will ensue, you guys! Packed from cover to cover (no ads!) with completely unique and eye-poppin' MAHFOOD art, including bonus comics and behind-the-scenes fun! Plus, an absolutely stunning variant cover from our good friend PEACH MOMOKO! Feel the Funk!
Black Panther #1 – Academy Award-winning writer John Ridley and Stormbreaker artist Juann Cabal launch an all-new BLACK PANTHER series with an action-packed espionage story that will upend everything in T'Challa's life and have ramifications for the entire Marvel Universe! Secrets from T'Challa's past have come back to haunt him! Fresh from returning from his travels in space, Black Panther receives an unexpected and urgent message from a Wakandan secret agent! Now T'Challa must race the clock not only to save his agent, but also to keep his true agenda under wraps. Because if the truth comes out, it could cost T'Challa everything.
Tales From The Dead Astronaut #1 – Quirky new Source Point Press book. Space Monks on living on a tree in space! A shapeshifting Rockstar conducting the most explosive press conference you've seen yet! A megalomaniac man of steel who leaves horror in his wake! It's amazing the things you'll see in space when you're a slowly decaying astronaut with nothing tethering you to the earth
Wild Bullets #1 – Second of three quirky Source Point Press books worth looking at. The deeply dysfunctional Bullet family has reluctantly agreed to meet up for Thanksgiving. And, of course, there's a murder. Who's behind it, and can the Bullets get along enough to save their skin? What will the Bullets do? No spoilers, but their solution involves gunfire. Lots of it. Since each of the Bullet siblings grew up to be a different kind of pulp adventurer – a detective, an archaeologist, a mad scientist, and a monster hunter – when they each take a turn telling the story, a different artist takes over in a different style and genre. So the murder mystery explodes into a pulp mashup of crime, science fiction, horror, and adventure.
For the Cover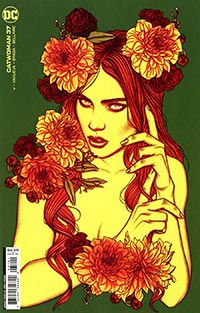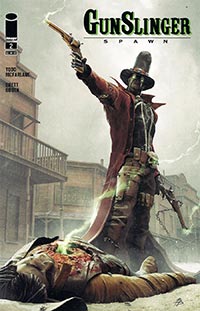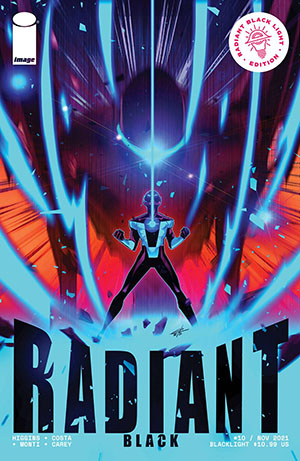 Catwoman #37 Jenny Frison Cover Frison covers Ivy on this Catwoman cover. Funky coloring but awesome overall.
Gunslinger Spawn #2 Bjorn Barends Cover – Barends has quickly become a fan favorite and his covers are just killing it. Spawn has long been famous for some pretty cool covers and this is just another to add to the list.
Radiant Black #10 Blacklight Edition – I already love this series, but this issue features a cover and interior that has black light reflective ink. I know it is a gimmick but love it
One and Done
Star Wars Life Day #1 – Once upon a time, the Star Wars Holiday special wa released and featured the Wookie holiday "Life Day". This makes that holiday cannon.
Turkey Day #1 (One Shot) – Third of three Source Point books worth looking at. The yearly Thanksgiving pageant in Pilgrim Point, IL is a town highlight telling the absolutely 100% true story of how benevolent white settlers brough civilization and home cooked meals to the savages. This year, the pageant is interrupted by a group of turkeys from the local farm that are controlled by alien visitors. Much like the settlers, these folks are just here to spread love, joy, and recipes…right? Wink. Wink. Nudge. Nudge
Small Press Pick of the Week
Good Boy #1 – What if John Wick's dog was John Wick. Cool indy series featuring anthropomorphic animals.
Picks of the Week
Hulk #1 – Donny Cates taking over Hulk. You know there is going to be some twists and turns. Yes, it is going to have a large print run and a bunch of store exclusives but still worth the pickup. Spoilers later.
Thor #19 – Book is selling out everywhere. Starts the God of Hammers storyline. Spoilers later.