Every week, hundreds of new books hit the stands, each with potential. We pick the ones we think have the best shot at heating up. Here are the picks of the week for delivery this Wednesday

Small week, but a crazy good week. Lots of potential money to be made this week. Check out what is on tap.
New 1's
Cowboy Bebop #1 – Classic Anime and Manga that was brought over for a Netflix live action series that was subsequently canceled. Anyway, spin off comic series surrounding the show.
Ghoul Agency #1 – Meet Shay Melendez, a hard working creative for a unique advertising agency, one that caters to clientele ranging from mad scientists to creatures of the night. Can Shay land an account that her micro-managing literal demon of a boss, Sandy, is sure to fumble?
New Men #1 – New Action Lab series. Small press goodness. It's the near future, and those who face death without fear are given the abilities of gods – superpowers! People are tying themselves to train tracks and running into burning buildings to gain these powers. Few succeed. Most die. Those that succeed are 'New Men', but they're hunted down by the badass bounty hunter, Shade! Dive headfirst into the mind-blowing world of bio-punk superhuman action.
Returning Favorites
Saga #55 – Saga is back and retains its original $2.99 price tag. Thank you BKV.
Variants of the Week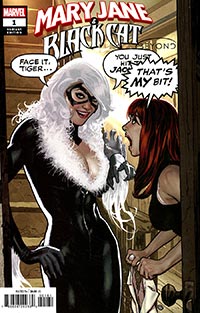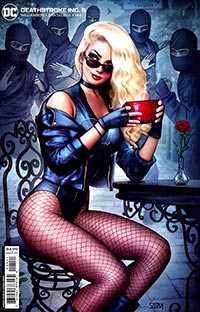 Mary Jane & Black Cat Beyond #1 Adam Hughes – 1:50 selling for $120 on eBay . Not bad if you can grab one. Loving the regular J Scott Campbell cover as well.
Deathstroke Inc #5 Nathan Szerdy 1:25 – Another DC variant that is booming in pre-sales. Szerdy has a following and the end result is this 1:@5 is selling for $45 and up.
Small Press Pick of the Week
Duel (Bliss On Tap) #1 – Regular covers have sold out in several places. Small Press book from Bliss on Tap. Are you ready to duel? In the first issue we meet an FBI Agent tasked with investigating the mysterious deep website Duel.global, which pits its growing number of subscribers against each other in real life, in a race to stop a high schooler who has challenged the site's highest ranked dueler in a match to the death.
Picks of the Week
Black Panther #3 Run don't walk on this one. Cover A going for as much as $55 in the past two days, under cutters are bringing that down a bit, but still a hell of a flip if you can grab them. Check Mycomicshop tonight.
Thor #21 – A big Marvel two-for this week. Regular cover selling for $30 as people are saying first full God of Hammers appearance. Sketch Cover selling for $11 and 1:25 selling for $75 and up.