Every week, hundreds of new books hit the stands, each with potential. We pick the ones we think have the best shot at heating up. Here are the picks of the week for delivery this Wednesday

Pretty good week this week with lots of flip potential.
Returning Favorites
Daisy #3 – Not sure if I am the only one reading this, but it is a crazy cool story of missing kids, fallen angels, and giants.
Apache Delivery Service #2 – Matt Kindt's new book has started off very cool. Native American soldier in Viet Nam with a horror element.
New #1's
Cover Of Darkness #1 – New Source Point Press book. How far would you go to find your family? On an epic journey, five heroes will travel unfathomable distances, make unlikely allies and encounter horrific, villainous creatures they never knew existed, all in a desperate attempt to reunite with each other. 'Moving and dark in all the right ways.' – CBR
Cult Of Ikarus #1 – New Scout Comics book. Tossed out by her foster family after one-too-many rides home in the back of a cop car, Hunter packs up and sets out on a mission to find out who she is. A mysterious book – her only link to her parents – leads her to discover a covert world of magic and danger running parallel to our own. One punk rock show, two whiskeys, and three vicious vampire assassins later, Hunter's on the run from the ancient, deadly Cult of Ikarus. Hunter came looking for answers.
From Blood #1 – Small press book from Cosmic Times. The story of a super powered mental patient. From Blood is an action packed tale that follows the mysterious Patient 27 as he discovers the truth about who or what he is. For years he has kept silent, a hulking indestructible mountain of a man, but after a visit from Doctor Reese the door has been opened and all hell breaks loose.
Life Zero #1 – Where were you when the cloud arrived? Where were you when the world changed forever? Where were you when people started dying? Ablaze is proud to present Life Zero by Stefano Vietti and Marco Checchetto. At the limits between science fiction, action and horror is LIFE ZERO!
Shelter Division #1 – Another new Source Point Press book. A mastermind is plotting to conquer our very existence… The government has recruited the most abnormal beings to fight this abnormal threat, and those who were the investigated have been given shelter and became the investigators. Chaplin, Biggs, and Roswell take on a mission that runs deeper than they could've imagined. Action-packed from beginning to end
One and Done
Horror Comics Nightmare Gallery One Shot – They say you can't tell a book by its cover, but we think the shivers crawling down your spine at these images would beg to differ! Chill with the chills from this shiver-filled showcase of our most fearsome frontispieces, sure to make you relive your fondest nightmares!
One to Watch
Amazing Spider-Man #88BEY – Did you think BEYOND only had ONE hero on their payroll? Slingers Return. Hobie Brown ascends to new heights as THE HORNET!
Notable Reprint
Edge Of Spider-Verse #2 Facsimile Edition – Currently the cheapest way to grab a copy of Spider-Gwen's first appearance. I mean first prints of the original are selling for as much as $600 raw and $1800 9.8 you can imagine why people would want to grab one for their collection.
For the Cover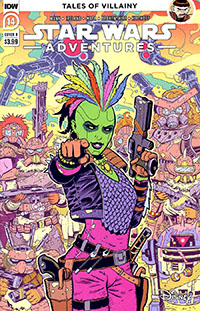 Star Wars Adventures #14 Nick Brokenshire Cover – The B cover features a pretty cool cover featuring Deva Lompop.
Variant of the Week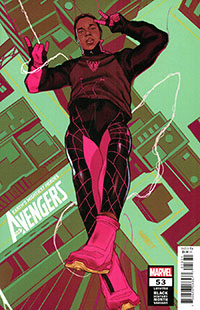 Avengers #53 Sway Swaby Black History Month Cover – Lots of heat behind this cover already. An Open to Order B Cover hitting $25-$30 on eBay. See it, grab it, flip it. It is a cool cover.
Small Press Pick of the Week
Land Of The Living Gods #1 – Sold out at Diamond and pretty much every online store. New series from Aftershock by South African writer and producer Isaac Mogajane, his first comic work but has had Netflix work already. Sales on this one are already pushing $20 for the regular and $75 for the 1:15 variant. Pretty awesome little flip if you can find it. Make sure to check Mycomicshop for these tonight.
Picks of the Week
Avengers #53 – Pink Panther, I mean, Red Panther Costume makes its appearance. Needless to say, Marvel, week after week, has been knocking it out of the park with something interesting that ends up popping. This regular cover is selling for $14.99 in pre-sales.
Star Wars Darth Vader #20 Chris Sprouse Lucasfilm 50th Anniversary Variant – This Mando and Grogu cover has been popular and sought after. Selling for $10 and up in presages today. As a fan of the show, I cannot wait to get this in my collection. Another one to check Mycomicshop.com for.