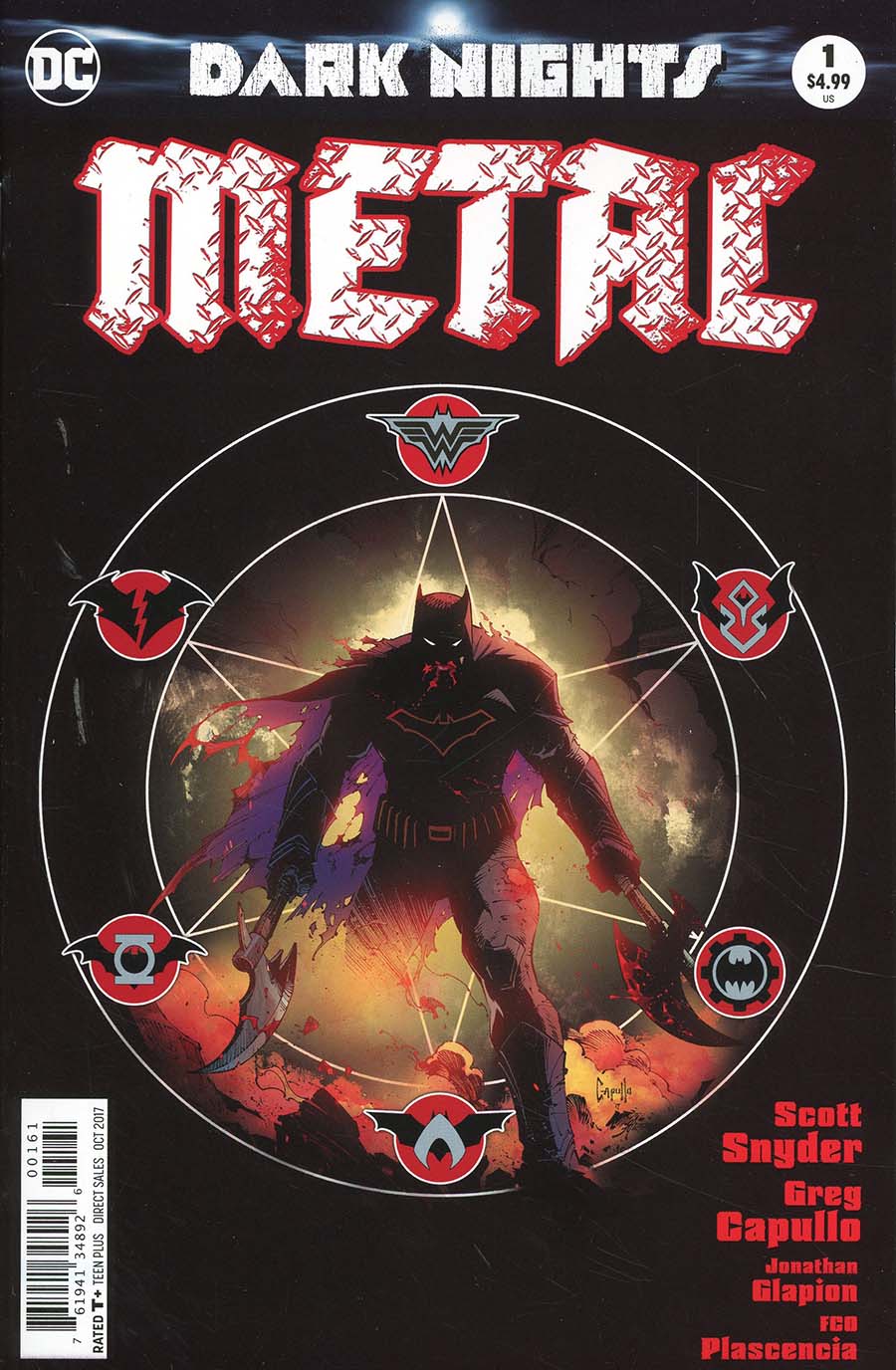 Dark Nights Metal #1
is out this coming Wednesday. I can honestly say this is one of the coolest DC books I have read in a while. It is sold out at Diamond already, in advance of being released. Online shops are already selling out, TFAW I am looking at you, and I imagine that the other sites will start to limit them, Midtown I am looking at you. The book focuses on Nth Metal, as the Forge and Casting did before hand, and uses a lot of heavy metal imagery such as the Devil's Horns regular foil stamped cover
or the Pentagram (style) Midnight Release Variant
. There are a ton of exclusives too, such as the Midtown Comics Simon Bisley cover, the blank sketch or the Mattina variant over at The Comic Mint, Tim Bradstreet Terrificon Variant
, just to name a few. But lets get on with the spoilers. Let's just say there is a big surprise at the end of the issue wth a massive character return. 
Spoiled images are obscured under the spoiler warnings. Accompanying text is not spoil protected. Click on the spoiler warning to see the spoiled images.
The story starts off with a familiar image, the three tribes we saw previously.


Flash to now where Mongul has taken the Justice League hostage.


But how does he keep such powerful heroes in place?


All of this seems to be filler, a fun distraction that leads up to the Justice League returning to Earth. Batman gets a call from Alfred telling him to return to Gotham.


Where they find


They try to find a way in


That symbol looks familiar…


Inside, they meet…


But she cannot talk there, so she takes them to…


Who shows them..


She also shows them a map of the Multiverse!


She explains that there is more to the Multiverse than what is seen on the map..


And the reveal of the other side of the map..


She explains about the creature, which we saw in Casting, and who will release him into the world.


Just then…


Which was just a big distraction for Batman to abscond with the Nth Metal sample


Also turns out that Hawkman's diary has been hidden in stately Wayne Manor all this time.


Wait, that text box looked familiar… Almost gives you Vertigo…. Wait, is that Metallica playing in the background? Oh yeah because, Enter The…..