Scout Comics and Entertainment is proud to announce that its critically-acclaimed crime/thriller series SMOKETOWN
by writer Phillip Kennedy Johnson (AQUAMAN, POWER OF THE DARK CRYSTAL) and artist Scott Van Domelen is now in development with writer/director Vaughn Stein. Vaughn's most recent film, TERMINAL, starring Margot Robbie, Simon Pegg, and Mike Myers, is currently in post-production.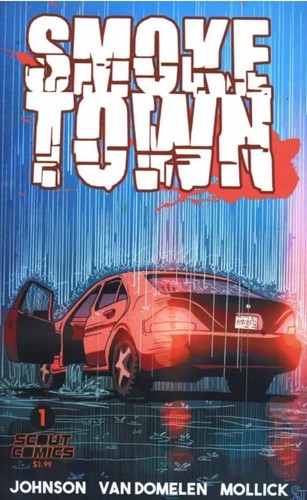 SMOKETOWN is a Tarantino-esque story that revolves around an American soldier in the days leading up to his murder. Jumping around in time, each chapter reveals a new facet of the soldier's life (and death), and the many people he affected, before his time in the Middle East, during, and after. The characters and series first appeared in SMOKETOWN #1
. There was also a SMOKETOWN #1 Con Exclusive
. The total print run according to James Pruett is 3,000 total copies for issue #1, including variant.
Vaughn Stein says, "SMOKETOWN totally gripped me from the moment I first read it. It's an incredible story; dark, twisted and utterly brilliant. I am extremely proud and excited to be bringing SMOKETOWN to the screen with Scout Comics. It's going to be a stunning movie.'"
Phillip Kennedy Johnson says, "After seeing and reading Vaughn's other work, I couldn't be happier to have him on board. SMOKETOWN is a story with intensely flawed characters, people who fell between the cracks, and Vaughn gets that. He's the perfect choice to tell a story like this. I can't wait for people to see his vision of our story."