Each week hundreds of new comics hit the shelves, each with potential. Some live up to that potential. These are our picks of the week for delivery 4/25/18:
Interesting week this week. Lot's of good books coming out. Not sure how many will pop and sell for above cover initially, more of a growth week. Let's look at what is coming out.
Returning Favorites
Harrow County #30 – One of the best ongoing horror series around. I love Cullen Bunn's work and would love to see the option on this book come to life.
Beef #3 – Very strange, fun, comic. It is a weird take on the Hulk archetype. Check it out if you haven't.
Ice Cream Man #4 – another weird fun comic. I am shooting for the virgin cover on this one.
The Reader Pick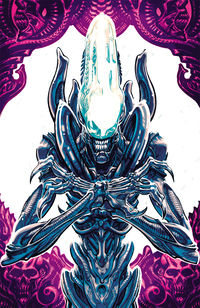 Aliens Dust To Dust #1 – Newer Aliens comics do not pop, but, they make awesome reads. From the classic design of the Alien, to the psychological terror it brings, the stories are worth the price of admission.
The B cover for this by Carlos D'Anda shows off just what I am talking about.
The Ones for the Cover Art
Justice League Of America #29 Francesco Mattina Cover
  (available on eBay)- Not hard to see why these are so collectible. Retailers had plenty of notice on these so they will not be rare. Great for the personal collection.
Suicide Squad #40 Francesco Mattina Cover
– I like this one more than the Justice League just for the Harley. This one has the better shot of the two. But same as above, these should be readily available.
The Horror Pick
Jeepers Creepers #1 – Written by Marc Andrekyo. Established horror franchise. These horror books appreciate over time. Regular cover features art by Kelly Jones, who has done some awesome Batman overs in the past, as well as sone awesome horror themed covers.
The Marvel's
Avengers #690 – the final chapter of the 16 week long weekly storyline. This has been pretty awesome with some of the books popping. The Mark Brooks' regular covers have been fantastic. The In-Hyuk Lee variant is brilliant. Will make a nice set.
Thanos Annual #1 – Donny Cates, finishing up his epic run, and more stories of Cosmic Ghost Rider, a fan favorite character, plus smaller print run's on annuals, and this one is a win.
The Cheap One
True Believers Carol Danvers #1 – Reprints the first appearance of Carol Danvers from Marvel Super-Heroes #13. with the Captain Marvel movie coming, and the $1 cover price, you cannot go wrong picking this up.
The Indy's
Stabbity Bunny #4 – Richard Rivera's hit indy book. I have had great success selling the comic.
Deep Roots #1 – New Vault series that looks really interesting.
Small Press Gem
Hidden Blood One Shot – Not a bad gamble because even if it doesn't pop, you get a cool series on a really small print run book.
Large Press Gem
Moon Girl #30 – All New All Different Fantastic Four. This book is fun and has been getting a lot of heat over the past few issues. Throw in the fact an animated series, and the back issues could see some much needed love.
The Small Press Pick of the Week
Mighty Morphin Power Rangers 2018 Annual #1 – Power Rangers books have been on fire lately. This continues the Shattered Grid storyline and features more deaths.
The Pick of the Week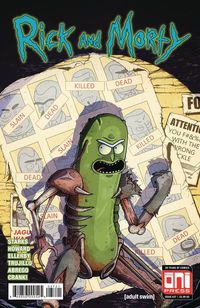 Rick And Morty #37 Pickle Rick Cover – Sure it is not the first, but this one will be sought out by non-comic Rick and Morty fans.
That is it for this week.
In case you haven't seen it, here is the New Comic Spec Review video for 4/25/18: