Each week hundreds of new comics hit the stands, each with potential. Some live up to that potential. We pick the ones we think have the best shot at heating up. Here are our picks of the week for delivery 8/15/18:
DC's Killer B's
Batgirl #25 Middleton Variant
– has an incredible Joshua Middleton variant. The Batgirl is selling in the $5-7 range, but has a $4.99 cover price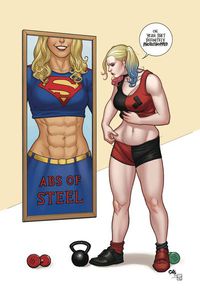 Harley Quinn #48 Frank Cho Cover – I like Cho's black and white one art covers, however, the ones where Harley is poking fun at her self and full of self doubt also are favorites of mine. Shawn B always hits me on the One Year Later posts for not including these as they have a strong track record of going up in value.
The New DC #1
Pearl #1 – Brian Michael Bendis brings his creative talents to DC now that he has made the leap over. His first new original character since Jessica Jones. Three Covers on this one.
The New Image #1
Crowded #1 – new series from Image. We mentioned this a couple of times, it has been optioned for a movie and Rebel Wilson is attached to the project. It has been called a pulse pounding thriller for fans of Black Mirror.
For the Art
Tony Stark Iron Man #3 Moebius Cover
– Growing up I had this poster hanging on my wall. It is long gone but still one of my favorite images from the master, Moebius
The Hot Property of Late
Mighty Morphin Power Rangers #30 – Seems like the change in status quo in Rangers comics heat up of late. This is the last issue of the Shattered Grid storyline where the surviving Rangers battle before an all new team takes over in issue #31
For the Read
Volition #1– Aftershock comics don't seem to heat up recently, however they are great reads. Fans of Descender may take note of this one. Artificial Intelligence has spawned a race of robots, and are considered second class citizens. A virus called rust is wiping them out and an unlikely hero sets out to find a cure.
Small Press Pick of the Week
The Rejected One Shot – Small press book with a high cover price that many stores may not order. Could be hard to find and worth watching for.
Pick of the Week
Aquaman #39 Middleton Variant
– Joshua Middleton provides an awesome Mera cover for the issue. Already selling for multiple times cover price on eBay. If you are flipping, move quickly with listing as these tend to lose steam as more copies hit the markets.
That is it for us this week. Let us know what you are spec-ing on. And in case you missed it, here is our New Comic Spec Review video for 8/15/18: