Each week hundreds of new comics hit the stands, each with potential. Some live up to that potential. We pick the ones we think have the best shot at heating up. Here are our picks of the week for delivery October 3, 2018:
All treats no tricks this week. Pick of the week is already selling for over 10x cover price on eBay. Rread on.
Returning Favorites
Cosmic Ghost Rider #4 – Donny Cates writing one of the most enjoyable characters around. Awesome.
Walk Through Hell #5 – Great Garth Ennis mind-blowing horror.
Killer B's
Batman #56 Mattina Variant – Always on the list, Mattina has a good following. Probably wont make a quick flip but will be a good long term hold as these covers are pretty sick.
Harley Quinn #51 Frank Cho Cover – Another stalwart on the list. I just like the way Frank draws her.
Nightwing #50 Jonboy Meyers Variant
– Limited to one per customer at Midtown, follows up on the whole Nightwing being shot in the head thing.
The Cover of the Week
Deadpool #5 – Garbage Pail Kids homage in time for Halloween.
The "I like Shiny Things one"
Batman #56 Foil – Sure, its a gimmick and there several foils coming out, but Batman foil is on my list of pick ups.
The New Image #1's
Blackbird #1 – very interesting concept and nicely executed. Good first issue. Girl thinks there is a magic world under the streets of LA. People think she is crazy, but she is not.
Jook Joint #1 – Underground Jazz joint in the 1950's populated by monster women. Keep your hands to yourselves…. or else.
Small Press Gem
Lollipop Kids #1
– Cool new Aftershock book about immigrants bringing their traditions to the new world, and their monsters.
Small Press Picks of the Week
Mobster Graveyard #1 – Antarctic has had some hits lately and this is a good week for them.
Barack Panther #1
– Mixing a well liked president with a popular movie/comic character is pretty much gold. selling out online.
The Pick of the Week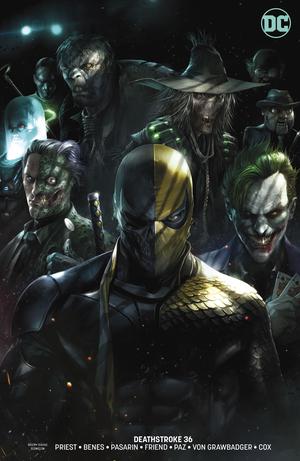 Deathstroke #36 Mattina Variant
– We have these on here every month. However, cover image not released until after FOC caused potential for stores to under order and copies are selling for as $49.99
And in case you missed it, the New Comic Spec Review Video for 10/3/18