The Diamond Comics Advance Reorder List is a great speculator tool. It shows what books retailers are going back to get more of, in advance of their release. They are actually putting their money up betting these books get big. These are the books people are talking about in shops, message boards, and websites. Here is the Diamond Comics Advance for 11/06/18: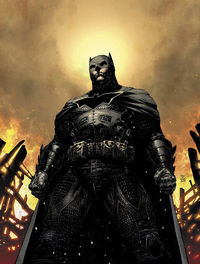 Big book of the week IS Donny Cates' Web of Venom Carnage Born. Really sounds like a great story.
Batman Damned #2 Jim Lee variant also pops up high, well top of the list, but not surprising.
West Coast Avengers features features a Jimmy Kimmel cover. Check out the full list below:
BATMAN DAMNED #2 VAR ED
WEB OF VENOM CARNAGE BORN #1
WEB OF VENOM CARNAGE BORN #1 BEDERMAN VAR
BATMAN #59 VAR ED
WEST COAST AVENGERS #4 NAKAYAMA VAR
SPIDER-MAN ENTER THE SPIDER-VERSE #1
DC NUCLEAR WINTER SPECIAL #1
VENOM ANNUAL #1 2ND PTG STOKOE VAR
SHAZAM #1 VAR ED
UNCANNY X-MEN #2
JUSTICE LEAGUE DARK #5 VAR ED
MIDDLEWEST #1 CVR A HUDDLESTON
JUSTICE LEAGUE #12
X-MEN BLACK MYSTIQUE #1 2ND PTG FAILLA VAR
SPIDER-GEDDON #4 IN HYUK LEE CONNECTING VAR
X-MEN BLACK JUGGERNAUT #1 2ND PTG CRYSTAL VAR
SPIDER-GEDDON #1 2ND PTG MOLINA VAR
ASTONISHING X-MEN #17 ROSS UNCANNY X-MEN VAR
SPIDER-GEDDON #4
JUSTICE LEAGUE #12 VAR ED
COSMIC GHOST RIDER #4 2ND PTG BURNETT VAR
SHURI #1 2ND PTG ROMERO VAR
IMMORTAL HULK #9
SHAZAM #1
MARVEL KNIGHTS 20TH #1 2ND PTG FOREMAN VAR