Here we are, 2019, with a whole year of new comics in store for us. Here is a peek at what is on our radars coming up in the next few months.

Exciting Comics #1 – Antarctic Press – February 27, 2019
For the first time in over 70 years, Exciting Comics returns to stores! In this premiere title, Antarctic Press introduces the Superverse, a new shared universe that combines classic public domain characters such as Black Terror and the Heap with a host of new, original heroes!
Why we like it: I mentioned Black Terror in this week's New Comic Spec Review video. This is a new Antarctic Comic and they have been on fire lately. Going to see if it continues into the new year.

Tainted Love #1 – Antarctic Press – February 27, 2018
Arthur Bellfield, writer of War's Chosen (OGN) (Arcana Comics) and God Cell: Gate of the Gods (Advent Comics), shows us that some girls really DO prefer bad guys. Chloe Anderson is a troubled woman who dates super villains and often calls upon them to help her solve cases as a crisis manager for superhuman millennials. Her life has led her to give up on love, so now she dates only men to whom she won't form an attachment. Then she meets the one: American One, a superhero. In the middle of a date, he gets into a superhuman fight and disappears. Chloe discovers he's been taken to a secret military complex and been shot!
Why we like it: Same as above. New Antarctic series, company has had spec hits lately.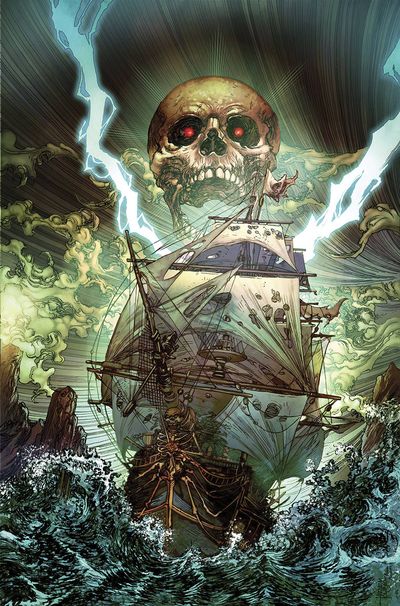 Vessel #1 – Zenescope – February 27, 2019
Experience a mesmerizing series that spans centuries! From the reign of the Mayans to the swashbuckling days of pirates, to future space travel, there is one thing that has tied various time periods together… and it is absolutely terrifying. For thousands of years a strange vessel has been passed down or discovered by many generations and it has unleashed unspeakable horrors upon those who dare open it. But what does it contain?
Why we like it: Strange right, a Zenescope book on the list. However, Zenescope has been doing more than their traditional boob books with some success. The story sounds amazing and the cover on this is fantastic.

Sharkey Bounty Hunter #1 – Image Comics – February 20, 2019
MINISERIES PREMIERE Set in a brilliant new sci-fi universe, Sharkey is a blue-collar bounty hunter who tracks criminals across the galaxy in his converted, rocket-powered ice-cream truck. Aided and abetted by his ten-year-old partner, he's out for the biggest bounty of his career.
Why we like it: No denying Mark Millar's deal with Netflix is a big deal. If this gets picked up it could be a secondary market hit. Check out how people are talking about Bird Box and Black Mirror Bandersnatch. Now insert a comic behind it.
Stronghold #1 – Aftershock Comics- February 20, 2019

Our planet is actually a prison designed to both trap and shelter an amnesiac alien entity of incalculable power. Now known as Michael Grey, this cosmic angel of destruction currently believes himself to be an ordinary, midwestern insurance underwriter, who belongs to a global secret society dedicated to making sure he never discovers the truth about his past. To make matters worse, our hero has fallen in love with Michael Grey. And for their love to be born, Earth must die. Phil Hester (The Coffin, Deathstroke, The Darkness, SHIPWRECK) and Ryan Kelly (The Wicked & The Divine, Lucifer, Saucer Country) weave a tale of cosmic horror, high adventure and tragic romance unlike anything else in comics.
Why we like it: Cosmic Horror… I am in.

Army of Darkness Bubbahotep #1 Dynamite Entertainment – February 12, 2019
Two cult classics clash for the first time in an epic crossover miniseries: ARMY OF DARKNESS VS. BUBBA HO-TEP. Ash embarks on a soul-searching road trip to Texas on a hunch that Elvis Presley may still be alive and kicking (and supposedly vanquished a mummy)! What follows is a series of universe-spanning events that involve an Elvis jumpsuit with special time-travel abilities, a trip to 70's Vegas, plus the reveal of an evil new Book of the Dead, the Necronomicon Ho-Tep. Has Ash met his ultimate match when trading barbs with a 4,000-year-old, foul-mouthed mummy who sucks souls? Can his idol Elvis mentor him through a mid-life crisis before it becomes his final crisis? Join the adventure in a road-tripping, time-hopping groovy tale!
Why we like it: A little meta in your comic book, Bruce Campbell meets Bruce Campbell for comedy horror.