Each week hundreds of new comics hit the stands, each with potential. Some live up to that potential. We pick the ones we think have the best shot at heating up. Here are our picks of the week for delivery 5/8/19:
Cover of the Week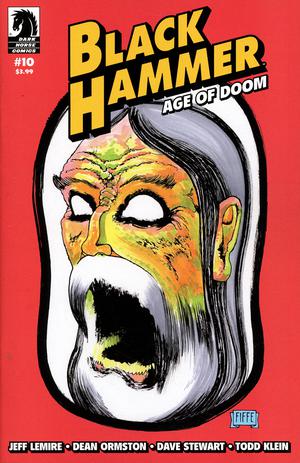 Black Hammer Age Of Doom #10 Michel Fiffe Cover – Looking at it, you may not understand why this is my favorite cover this week. However, I am a huge fan of Michel Fiffe's work. Copra is one of the coolest indy books ever. Plus, it looks like an oversized Garbage Pail Kid sticker, just needs the name on the bottom. The disembodied head against the red background pops. Add in the fact that Black Hammer is one of my favorite books on the stands and this is a win/win/win for me.
Killer B's
Wyrd #3 Gabriele Dell Otto Cover – Wyrd is a cool book in it's own rights, throw in a Dell Otto B cover and this is a must pick up.
Catwoman #11 Artgerm Cover – Catwoman looks fierce. No one puts kitty in a corner. Artgerm rocks. That is all.
Justice League Odyssey #9 Lucio Parrillo Cover – If this was a ratio people would be going nuts for it.
New #1's
Batman And The Outsiders #1 – Outsiders kicks off its third volume with a new #1. Batman has put together a pretty formidable team. Throw in some new characters, spoilers later, and it is a must pick up.
Excellence #1– New Image/Skybound series from Brandon Thomas and Khary Randolph. Worth a look.
Star Wars Age Of Rebellion Boba Fett #1 – Boba Fett is one of those characters people love, even though he got such little screen time. I have always been a fan of the Mando merc and have met Jeremy Bulloch in person randomly (nice guy). Shooting for the Character Design cover, just love how the original characters were first envisioned.
New Character Alert
Friendly Neighborhood Spider-Man #6 – Spider-Bite makes his first appearance. He is a 9 year old Spider-Man. People are saying this one has heart. Check it out.
One to Watch
Marvels Annotated #3 Gabriele Dell Otto Cover
– this one could be a great long term pickup. In demand cover art on a classic story, with a high price point which could be under ordered.
Small Press Gems
Druids Path One Shot – I love Amigo comics, this one shot is pricey so not many stores will be picking it up. Plus Amigo puts out great comics, so it will be a great read.
Jungle Comics #1
– Antarctic Press has put out some winners lately. This one could be as well. I love the jungle girl genre and this fits. Reusing golden age characters.
Metalshark Bro #1
– New Scout comic, another company I love. Fun new series, said to be perfect for fans of Aqua Teen Hunger Force, Tenacious D, and Rick and Morty.
Afterburn Crossfire #1 – Movie coming out soon. New series starting up. Potentially a great pick up.
Marvel Pick of the Week
War Of The Realms New Agents Of Atlas #1
– Kind of hard to pass up this book considering how much international press it got for all the new characters. Will be picking this up.
The Pick of the Week
Detective Comics #1003 – last issue Arkham Knight started to unmask. This issue we get the identity reveal. It's crazy, not someone you would know, but the name is familiar.