Each week, hundreds of new comics hit the stands, each with potential. Some live up to that potential. We pick the ones we think have the best shot at heating up. Here are our picks of the week for delivery 5/15/19:

Killer B's
Nightwing #60 Warren Louw Cover – I love Louw's style. I like his female characters best but this is still a great cover.
Teen Titans #30 Alex Garner Cover – The best cover Graner has done yet. After the last issue of Deathstroke, Red Arrow became much more interesting.
Batman #71 Frank Cho Cover
– Cho is another artist that I just like his female characters. Picking this up for Catwoman alone.
Amazing Spider-Man #21 Marvel Battle Lines Cover – Black Cat looks awesome on this Battle Lines variant. Just liking the depiction.
Black Widow #5 Marvel Battle Lines Cover – Black Widow gets the Battle Lines treatment. I really like these covers.
Guardians Of The Galaxy #5 Marvel Battle Lines – Donny Cates continues his awesome run on Guardians. Need to see what the follow up to last issue's star lords events are. The Gamorra cover is pretty sweet.
One to Watch
War Of The Realms Strikeforce War Avengers #1 – Sold out early at Midtown. Keep an eye out on it.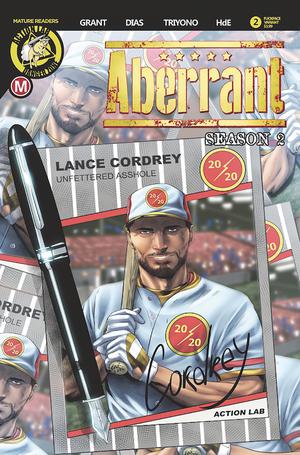 Cover of the Week
Aberrant Season 2 #2 _ growing up in Baltimore, the legend of the Billy Ripken FF Car
is legendary. We all got these at one point in our lives. Cal was a saint but Billy got pranked on his baseball card. This book is an homage to it.
Small Press Gem
Devils #2
– Enjoyed the first one. Looking forward to the next issue. Smaller print run on the second issues usually.
Small Press Pick of the Week
Last Stop On The Red Line #1
– Supernatural/Crime book from Dark Horse. Dark Horse just signed a first look deal to have titles optioned. Book sounds awesome.
DC Pick of the Week
Naomi #5
– DC's big book right now. Problem is retailers are boosting there orders on this book so expect a higher than normal print run.
Marvel Pick of the Week
Immortal Hulk #17 – Ran spoilers for this earlier. First cameo of new version of a classic villain.
That is it for this week. Let us know what you are spec-ing on.