So you have planned out a whole series, fleshed out characters, scripted plot lines, pencils to ink to color, and you are all ready to publish. You just need a name that is catchy. One that sells the series. Except there is already another comic with the name out there. What is one to do? If you are Vault Comics, you publish it anyway.
The Mall
 is the Scout Comics book by James Haick, Don Handfield, and Rafael Loureiro, about three kids in the 80's who find out they are related to a mob boss and each inherit stores in a mall that act as fronts for the mob. The book was optioned by Ivan Reitman's Montecito Pictures. There were press releases out and a simple Google search on The Mall comic would pull up numerous stories.
Then there is The Mall coming out from Vault Comics in August. A post apocalyptic series by Michael Moreci, Zak Hartong, Gary Dauberman.
Here is the story synopsis:
Here in the heartland of the U.S. of A., the world has ended! But worry not, because the mall still stands. And within the walls of this consumeristic mecca lies a new world order: box store tribes and name brand gangs, all vying for limited space and resources. So, actually…you can worry! Especially for poor Andre Reed, who—after the assassination of a tribal leader—has to navigate the mad haven to prove his innocence, and prevent the end of world, again!
So it is very odd a comic would be released with the exact same title as another already published comic. Especially one that several issues have already been released, was featured as a Free Comic Book Day title and that has been optioned for a movie by Ivan Reitman. You would think a company would simply search to see if the title of their new comic could conflict with another one. Dead Rabbit from Image was recently canceled because of a similar conflict (and a rumored lawsuit).
Sure, one could argue that the Scout book is called "The Mall" while the cover to the Vault Book simply says "Mall". However, if you Google "The Mall Vault Comics, Vault is advertising the book as "The Mall" on their own site. Also, if you check Diamond, neither the Scout comic or the Vault comic come up, both come up as "Mall" in the Diamond database.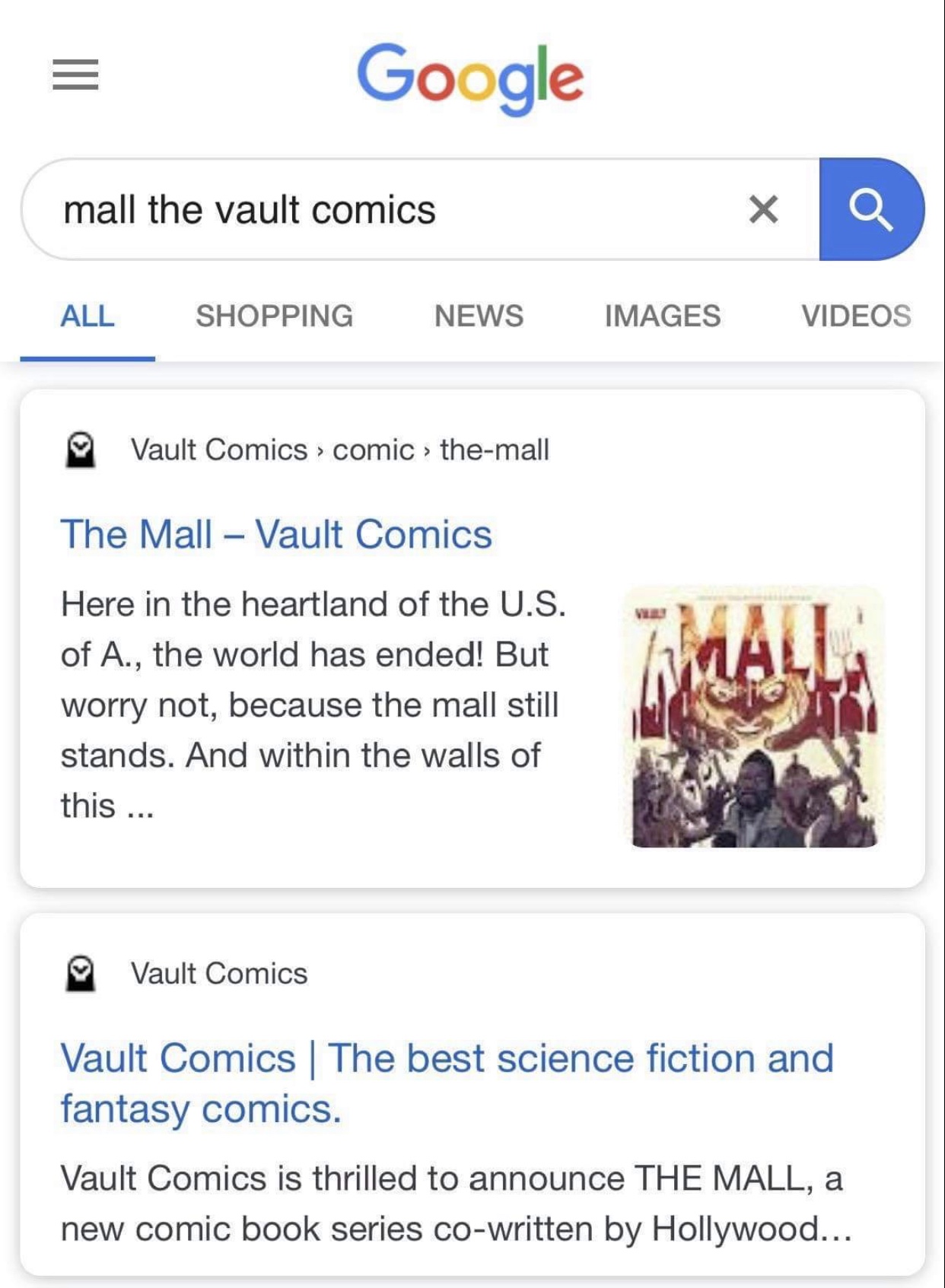 Seems like retailers, fans, and people searching out The Mall could easily get confused in why there was a new #1 from a new publisher.
All very messy.
Hopefully this gets straightened out before the release of the comic.