April 10th Books
Batman Who Laughs #4 Kaare Andrews Variant – 103,645
Batman Who Laughs #4 was or is a great cover, huge print run. Easy to get. Can still find this one online and likely at your local retailers.

Detective Comics #1001 – 66,743
We saw Arkham Knight make the first appearance in the regular ongoing DC title with a brief appearance in the giant #1000 issue.
Everyone was likely expecting the same character behind the mask but we all got a surprise when it was revealed to be an entirely new character named Astrid Arkham (which occurred in Detective Comics #1003).
This issue saw the first full appearance
. Despite a decent size 66k print run, this one saw a Detective Comics #1001 (2nd Printing).
Faithless #1 – 12,596
This 12,596 was the total print run for the Lotay Variant
, almost as big as both Cover A and C combined which had a print run of 16,308.
Reaching a peak of around $15 early on and it seems sets of all 3 covers were selling well, this is now a $5 or so book. I think once this was released, we found out how easy they were to obtain.
Obviously I won't be posting a picture of this one as it was pretty raunchy if you ask me.
Immortal Hulk #2 4th Printing – 5,698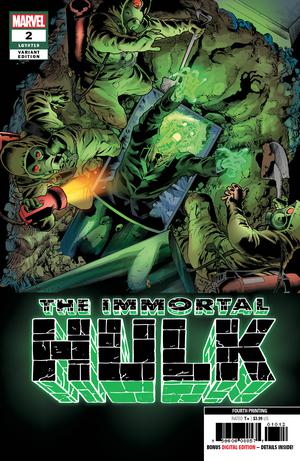 Immortal Hulk dominates the weekly headlines it seems. If it's not a new printing of a new monthly issue it's a reprint.
Seems like these new additional printings are gonna keep on coming. Immortal Hulk #2 4th Printing
is not the end either. There was a 5th printing with another 1:25 virgin ratio printing as well. Can still find these online as Midtown still has them available.
There's a Immortal Hulk Directors Cut #2 (of 6) coming this August. Usually these director cuts are for first issues but apparently they're making an exception for this title.
I beginning to think Marvel is taking this series a bit too far. It's a great read but they're really going overboard I think.
Marvel Tales Thanos #1 Bartel Virgin Cover – 11,840
Marvel Tales Thanos #1 Bartel Virgin Variant
is that impossible variant. With the hefty $7.99 price tags these carry, most shops weren't going to order a book to qualify and sit on so many books with almost a trade paperback price tag.
This one is still a solid $100 book on the secondary market. Unless you found for cheap though, not a lot of wiggle room for profit if you grabbed to flip.
---
That's Part I for April 2019. Hopefully we'll have Part II up soon to conclude this month in review.