We shouldn't just collect or flip books, we should also read them. A good story can make your purchase well worth the money spent if you ask me. After all, we buy books to read for entertainment right? Even if you can't flip them, reading is just as rewarding.
We tend to focus on mostly the floppy copies each week and kind of ignore the trades and hardcovers that come out week after week.
These can be one off books, collected editions or special editions.
---
This first pick looks interesting. I'm a sucker for books that look like they're cut directly from an artists sketchbook.
This one is out from Source Point Press.
Release Date: June 26th, 2019
For as long as there have been worlds, there have been stories to fuel them.
Through time, new worlds are birthed, born of the legends on which they were based.
We too become stories. Some lost to time, and some rooted in its soil. Here are ten tales of a vanished world. Of a people like us. Stories of their aspirations, tragedies, terrors and joys. Of their lives and of their deaths.
Welcome to TerraQuill.
---
This next pick is a Netflix series that everyone keeps telling me that I need to watch.
Altered Carbon Download Blues HC
Release Date: June 26th, 2019
In the distant future, the human body is a temporary and interchangeable commodity – if you can pay. For the interstellar elite, bodies are swapped out and reused without a second thought. You never grow old; you never die. However, some bodies are more temporary than others… Takeshi Kovacs was once a member of the Envoy Corps, stormtroopers for the Interstellar Earth Protectorate, ultra-lethal adepts in switching bodies across the stars. While he served, he was known by a variety of names – Mamba Lev, One Hand Rending, the Icepick–all testament to his capacity for rapid response and extreme violence in whatever flesh he wore. Now he's out of the service and trying to live a different life. But the Protectorate hasn't changed its spots, no matter what world Kovacs drifts to, and with that old combat rage still burning deep inside him, will he ever really be able to walk away? Created by Richard K. Morgan, Altered Carbon was previously adapted as a Netflix television series. This original graphic……
This has my interest. Maybe I'll read this before watching the show..  if someone has some copious amounts of spare time they can allocate to me for Netflix shows, please do share.
---
This next pick is the highlight of the picks for this week.
Are you an Jim Starlin fan? I am myself and this next one hitting shelves in the coming weeks is not only a probably but it is a must buy, since it's also autographed. Can't beat that!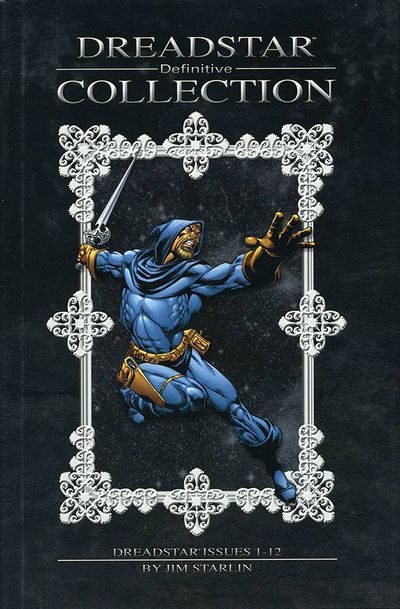 Dreadstar HC Wizard Rare Limited Ed Starlin
Release Date: July 3rd, 2019
From the Dynamite Archives comes the 'Wizard' Edition of our ultimate Dreadstar Collection! Rejoice, fans of Jim Starlin's space opera masterpiece DREADSTAR! Dynamite's bringing you a Rare, Limited, and Definitive Edition, signed by the Progenitor (That'd be Jim Starlin.) himself!
Collecting the first 12 issues of Vanth Dreadstar's epic, space-based journey, which make up the complete first arc of Starlin's story, this beautiful hardcover edition contains close to 400 pages of story, art, and more! Each page is masterfully reproduced digitally from the original film, with a new, wrap-around cover design from Mr. Starlin.
---
Not a huge week for graphics, trades and hardcovers but definitely some potential winners I think.