Sorry for getting this one out late but here's this months Indie Previews and Spotlight books for June 2019.
These are some of the new indie titles coming soon to a comic book shelf near you..  unless you pre-order online. Don't know about the rest of you all but I usually pre-order, none of my local shops offer such discounts.
---
This first one could go either way. It's either going to be great or a dud which results in not bothering with the second issue. But hopefully, it's a great slasher horror story because we can all use one of those in our reading lists.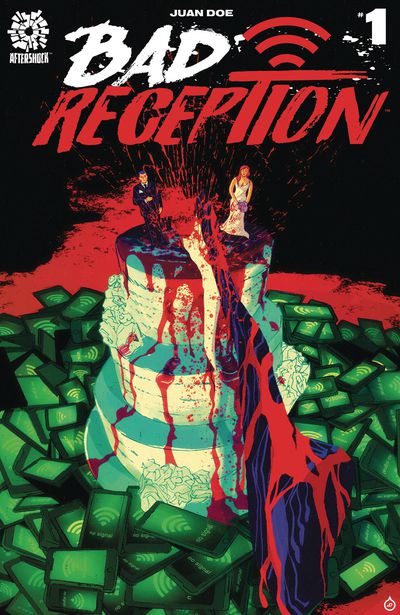 Bad Reception #1 (Cover A – Doe)
It's the celebrity wedding of the century, set in an undisclosed, remote location, with no access to wifi, cell phone reception or the outside world. But the dream wedding becomes a nightmare when, one by one, the guests are brutally slaugh-tered by a serial killer who brands his victims with a hashtag.
BAD RECEPTION is a searing horror story that doubles as a topical, satirical critique on society's obsession with technology, social media and the cult of celebrity. Written and drawn by AfterShock's very own Juan Doe (DARK ARK, AMERICAN MON-STER, WORLD READER)!
---
This one caught my attention cause the cover reminded me of the first issue of Paper Girls.
It's a headless horseman story. It's a definite check out book.
Salem, Massachusetts: 1987. Two teenagers have been found dead, brutally murdered, but not by a man. When gruesome murders become a common occurrence in this sleepy town it is evident that the Headless Horseman has returned!
Two brothers, having recently arrived in Salem, find themselves in a centuries-old battle between the Knights Templar (whose task it is to banish all magic from Salem) and the Headless Horseman, the one originally responsible for turning the women of Salem into witches. All Hell breaks loose when the brothers discover they are closer to his true identity than they realize…
---
This next one is more of a nostalgic throwback for me. I absolutely loved this movie as a kid.
I love the retro art on the cover as well.
Journey with us back in time to the groovy era of the '70s when magazine sized graphic novels roamed the Earth and fans thrilled to the Edgar Rice Burroughs' film, The Land That Time Forgot, in theaters!
Tyler Bowen is lost in a world of prehistoric terrors and creatures of legend. But he's not alone, for a submarine of German soldiers has also become stranded here, bringing modern monsters into the primeval world.
The incredible story is collected here in beautiful black & white for the first time in over four decades!
---
Rebellion puts out some great books from time to time that don't get the due credit they deserve at times.
Many years ago, a team of strange, super-powered beings were brought together by the original Dr. Sin in order to stop a reality-spanning apocalyptic event known as 'The Blood Rapture.'
That incarnation of The Vigilant were successful in their mission, but it came at a great cost. Years later, the evil Nazi genius Von Hoffman is now searching for dangerous artifacts which will enable him to kick-start Armageddon once again. While the new Dr. Sin and his fresh team of ragtag heroes are tested by new threats and interpersonal conflicts, Hoffman creeps closer to achieving his diabolical goal. With the complete unraveling of all reality on the line, the stakes have never been higher for The Vigilant!
Click the next page to see the remaining spotlight books.