We shouldn't just collect or flip books, we should also read them. A good story can make your purchase well worth the money spent if you ask me. After all, we buy books to read for entertainment right? Even if you can't flip them, reading is just as rewarding.
We tend to focus on mostly the floppy copies each week and kind of ignore the trades and hardcovers that come out week after week.
These can be one off books, collected editions or special editions.
Tank Girl TPB Vol 01 Action Alley
Tank Girl and the gang are back in the first ever Tank Girl ongoing series!
Tank Girl sets off to find her ailing mother, in a road trip through the insane, irradiated wastes of Action Alley! Meanwhile, Booga takes in a stray kangaroo. A proper one. It can't talk or anything. Weird.
Buckle up with co-creator Alan Martin and artist Brett Parson, in this rip-roaring collection of Tank Girl #1-4!
Tank Girl has her fans and this is a great way to check out Tank Girl without touching all those floppies out there to read.
Buy to read and then share, that's the beauty of some trades.
---
For the hardcore Marvel fans out there that want to read a bit on the origins of some of the most popular firsts in Marvel's Universe.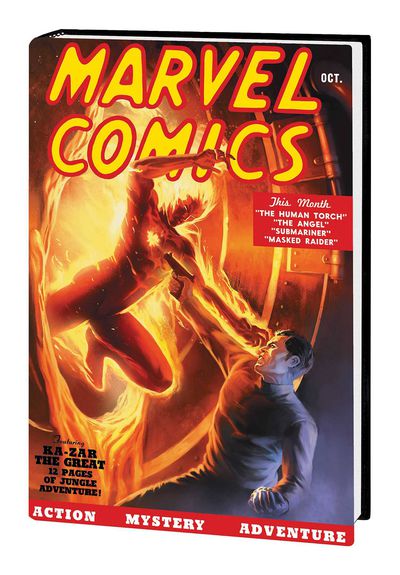 Marvel Comics 1 HC 80th Anniversary Edition
The book that kicked off the Marvel Universe back in 1939 – presented in glorious hardcover, with an extensive array of special features!
MARVEL COMICS #1 promised action, mystery and adventure – and it delivered! The original android Human Torch blazed his way into readers' hearts, and Namor the Sub-Mariner made a big splash! Golden Age pulp star Ka-Zar swung into comics, and costumed detective the Angel made his debut!
Plus: Western adventures with the Masked Raider – and terror in the jungle! From this one issue, published 80 years ago, grew the entire Marvel Universe! Now, MARVEL COMICS #1 is collected along with retrospective stories, bonus artwork, insightful essays and more!
Collecting MARVEL COMICS #1, SAGA OF THE ORIGINAL HUMAN TORCH #1, MARVELS #0 and MARVEL COMICS #1 70TH ANNIVERSARY EDITION. All Ages
---
If you've never read about Alan Turing, you should. This next pick is a definite checkout for me.
The Imitation Game – Alan Turing Decoded
English mathematician and scientist Alan Turing (1912–1954) is credited with many of the foundational principles of contemporary computer science. 
The Imitation Game presents a historically accurate graphic novel biography of Turing's life, including his groundbreaking work on the fundamentals of cryptography and artificial intelligence.
His code breaking efforts led to the cracking of the German Enigma during World War II, work that saved countless lives and accelerated the Allied defeat of the Nazis. While Turing's achievements remain relevant decades after his death, the story of his life in post-war Europe continues to fascinate audiences today.
---
The last pick is for all you Snow White and Neil Gaiman fans.
A chilling fantasy retelling of the Snow White fairy tale by New York Times bestselling creators Neil Gaiman and Colleen Doran!
A not-so-evil queen is terrified of her monstrous stepdaughter and determined to repel this creature and save her kingdom from a world where happy endings aren't so happily ever after.
From the Hugo, Bram Stoker, Locus, World Fantasy and Nebula Award-winning, and New York Times bestselling writer Neil Gaiman (American Gods) comes this graphic novel adaptation by Colleen Doran (Troll Bridge)!