Previews gives us a glimpse of the upcoming books each month. Let's dig into the upcoming DC solicitations that are now available in the August Previews.
Clark Kent, defender of the truth!
The Daily Planet is under siege as the streets of Metropolis prepare for a gang war!
The invisible mafia is invisible no more-and the streets of Metropolis will burn if the truth does not get out.
All this, and another dive into the secrets of DC's newest teen sensation… Naomi!
Great looking cover and the bonus is an appearance by Naomi.
Perhaps we'll see her solo series start to climb back up the heat charts the more issues we see make appearances in.
We'll need to pay attention closely to Action Comics and Superman for these Naomi appearances.
---
Action Comics #1017 (Card Stock Variant)
'Invisible War' part one!
It's one of the biggest creator reunions in years as writer Brian Michael Bendis and artist John Romita Jr. join forces for the first time since their blockbuster turns on Avengers and Avengers Vs. X-Men.
In this issue, it's all-out war on the streets of Metropolis-and at the end of this epic there will be a huge change to the status quo of the world of Superman-you do not want to miss this!
It's a card stock variant but it's still a pretty cool cover art by Parillo. Pre-order to save money on these card stocks so you're not paying that extra dollar for the ones you do want at the local shop on release day.
---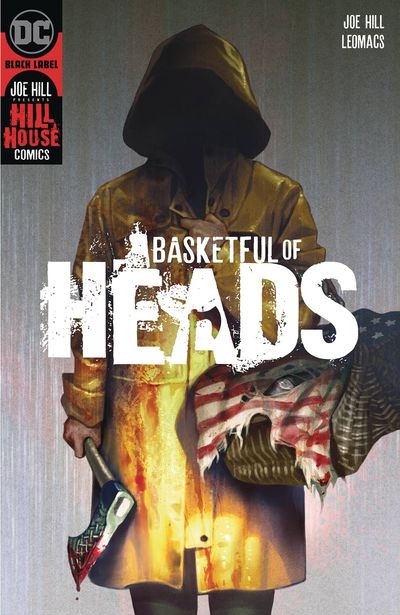 The rain lashes the grassy dunes of Brody Island, and seagulls scream above the bay.
A slender figure in a raincoat carries a large wicker basket, which looks like it might be full of melons⦠covered by a bloodstained scrap of the American flag.
This is the story of June Branch, a young woman trapped with four cunning criminals who have snatched her boyfriend for deranged reasons of their own.
Now she must fight for her life with the help of an impossible 8th-century Viking axe that can pass through a man's neck in a single swipe-and leave the severed head still conscious and capable of supernatural speech.
Each disembodied head has a malevolent story of its own to tell, and it isn't long before June finds herself in a desperate struggle to hack through their lies and manipulations… racing to save the man she loves before time runs out.
Plus, in the premiere chapter of the backup story 'Sea Dogs,' which sails across all the Hill House Comics titles!
This one has my attention, being on the new DC Black Label and a Joe Hill book.
The Middleton variant B is a pretty sweet cover despite it being a card stock cover, which I find odd since this is a Black Label book. Figured the card stocks were limited to the YOTV and even then not all of those are card stocks.
---
Oracle makes her move to confront the creator who abandoned her… Batgirl! But first she must get our hero's attention, and she's got her sights set on Burnside.
With the help of her new minions, the Terrible Trio, Oracle's plans for revenge could mean the end for this hip Gotham neighborhood!
I love Giandomenico's cover art.
It's underrated if you ask me.
I'm digging this cover, makes me what to pick up the issue to see what the hell is going on.
---
After a disastrous defeat at the hands of Oracle, Batgirl must find a way to pick up the pieces of her shattered life.
But all the while Babs must ask herself how she can defeat a nemesis who knows her every move before she makes it!
This is just another cover that draws me in. It's a Dustin Nuygen which is an extra bonus for me being a fan of his work.
I just hope the final artwork dressing displays Batgirl on the cover instead of the huge Year of the Villain and Oracle dressing. I really hate when covers don't have the actual title of the book on them to easier identification.
---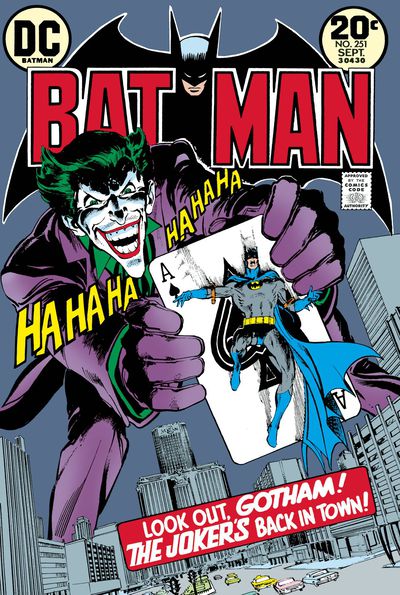 It's 'The Joker's Five-Way Revenge'-and it will take everything Batman has to stop the Clown Prince of Crime's homicidal rampage!
Don't miss this 1973 classic in this new facsimile edition!
This is a class issue.
I might not be a huge fan of Neal Adams cost of his signature nowadays but his artwork was pretty awesome.
Marvel made these facsimile's winners and now DC is following suit with some key books of their own that make them the next best thing to owning the real thing.
---
'Who are the Secret Six?' part three!
Is Superman the newest member of the Batman Who Laughs' Secret Six?
It certainly looks that way, and Batman may be powerless to stop the Man of Steel and his own demented doppelgänger.
The Dark Multiverse's most dangerous Bruce Wayne is loose in our world, and he has our world's greatest superhero at his side.
Who do you turn to when there's no one to trust?
I like the idea of an evil Superman. The artwork isn't anything ground breaking but it caught my eye because yes, evil looking Superman.
Click the next page to continue reading….