We shouldn't just collect or flip books, we should also read them. A good story can make your purchase well worth the money spent if you ask me. After all, we buy books to read for entertainment right? Even if you can't flip them, reading is just as rewarding.
We tend to focus on mostly the floppy copies each week and kind of ignore the trades and hardcovers that come out week after week.
These can be one off books, collected editions or special editions.
---
I'm a huge Joker fan and since I don't have a DC app to read the old classics like I do with the Marvel Unlimited app, I have to read some of the classics by picking up the hardcover and trades. So this fist pick this week is on the want list..
Joker the Bronze Age Omnibus HC
The Joker's greatest tales from the 1970s are collected in one massive hardcover featuring appearances by Batman, Robin, Catwoman and many more!
This amazing collection includes the never-before-published The Joker #10!
Collects Batman #251, 260, 286, 291-294, 321, 353, 365-366, 400; The Brave and The Bold #111, 118, 129-130, 141, 191; The Joker #1-10, Detective Comics #475-476, 504, 526, 532, Wonder Woman #280-283, DC Comics Presents #41 and 72 and more!
---
Being a War Junkie that I am, this next pick is another must. I'm kind of fascinated by the code talkers stories from World War II.
Amazing World War II Stories GN Navajo Code Talkers
During World War II U.S. forces had to keep battle plans and other top secret information out of the enemy's hands. Coded messages were often used, but secret codes could be broken.
To solve this problem, the U.S. military turned to an unexpected source to create an unbreakable code. The Navajo people spoke a complex language that few outsiders knew how to speak. Several Navajo soldiers were recruited to develop a code based on the Navajo language. The result was a complex code that could not be solved by the enemy.
Learn all about the brave Navajo Code Talkers and how their unbreakable code helped defeat the enemy and win the war.
---
Nothing beats some crime and suspense stories. This pick is all about reading the classic tales.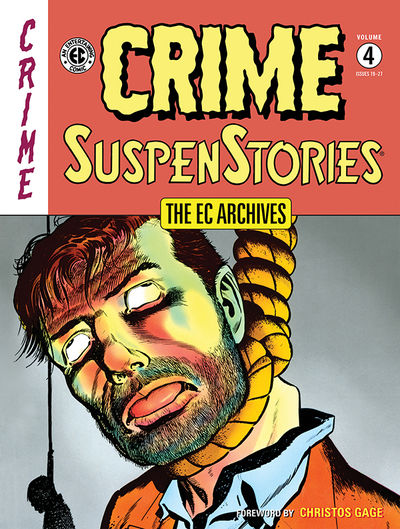 EC Archives: Crime SuspenStories Volume 4 HC
Shocking pulp stories of crime and intrigue!
This deluxe hardcover volume collects classic tales from Crime SuspenStories issues #19-#27, from the hands of legendary creators Al Feldstein, Harvey Kurtzman, Johnny Craig, Jack Davis, Joe Orlando, and more!
I reallly enjoy these old EC Archived hardcovers. They go great on the bookshelf.
---
This last pick is a pick because it's not just science related but because we need more women like Marie Curie.
Marie Curie Life of Discovery GN
In her intensely researched, inventively drawn exploration of Marie Curie's life, Alice Milani follows the celebrated scientist from her time as a struggling governess to her years in France making breakthrough discoveries.
Curie was the first woman to win a Nobel Prize and the only person to win a Nobel Prize in two different sciences. With skill and care, Milani traces Curie's flight from Russia-controlled Poland, her romance with fellow scientist Pierre Curie, and Marie and Pierre's stunning discoveries of the elements radium and polonium.
Throughout this distinctive graphic work, Curie defies doubt and double standards to make an enduring impact on the scientific world.
Marie Curie made some very significant and important contributions to our world and we should celebrate those achievements. Looking forward to this and learning more about her in graphic novel style.