This week I take you back to 1974, where dead men become reanimated as living again with cybernetic technology.
His name is Deathlok and he debuted way back of August 1974 in the Astonishing Tales #25
.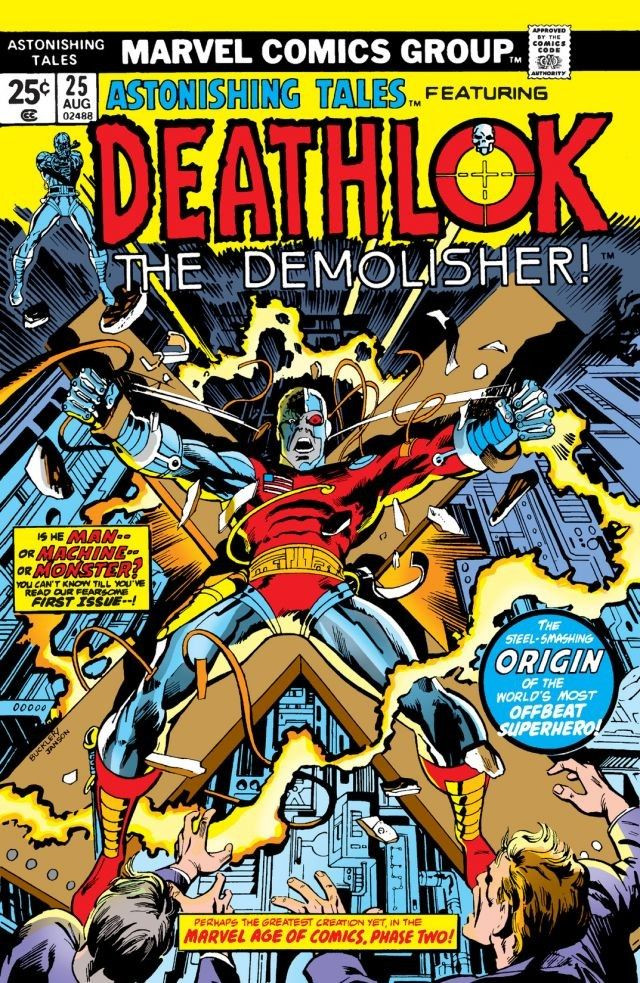 There have been a total of 3 men who carried the Deathlok name (Can you tell me why the 4th isn't really referred to as Deathlok?). The first being Luther Manning who was killed in combat. They used his body in Project Alpha Mech, replacing the left side of his face and his missing arm (hmm.. Cyborg from DC who debuted in 1980 had his left side of his face replaced and limbs as well… ).
Originally meant to be completely controlled by computer until Manning's remaining memory slowly takes over control (sounds an awful like Robocop).
The next man to carry the name Deathlok was Michael Collins (no, not the astronaut) and this was in the mini-series Deathlok back in 1990. This poor guy was working for the Cybertek corporation in the cyborg division, when he was shot with a sedative, then his brain was transplanted into a cyborg.
Henry Hayes was the last Deathlok to bear the name, first appearing in the Original Sin story line. As a doctor, he lost a leg in a suicide bomber attack that setup his stint as Deathlok, after they did some mind control to create him as an assassin.
---
Any Deathlok fans out there? Anyone think Cyborg who seems to be more popular in the DC world is a complete ripoff of Deathlok? Regardless, that's this weeks Throwback Thursday.