Previews gives us a glimpse of what's to come. Here's the spotlight of new DC comic books coming out of September Previews.
This is a series I'm really looking forward to as a fan of Federici's artwork.

Last God #2 from TFAW
Last God #2 (MR) from pymccomics.com
Beyond the edge of creation lies the Black Stair. And beyond it, amid the void, he waits. Mol Uhltep, the Last God. This is the tale of those who claimed to slay him, and the world they doomed with their lies.
As the horrifying forces of the Last God descend upon the city of Tyrgolad, our intrepid heroes-Queen Cyanthe, Eyvindr, and Veikko al Mun-must either defend or escape their crumbling stronghold and contend with dark legacy left behind in King Tyr's wake. But with every second, the undead army of the Last God adds more bodies to their numbers. None are safe. In the past, we witness the tragic and violent beginnings of the first fellowship, as young Tyr and Cyanthe meet under terrible circumstances. All this and more in the second chapter of DC's dark fantasy epic The Last God.
Last God #1 is still available for pre-order from: TFAW
---
Jeff Lemire on a DC Black Label book? Yes please. This is a must for any Jeff Lemire fan.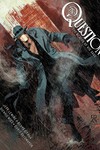 The Question: The Deaths of Vic Sage #1 (of 4) from TFAW
The Question: The Deaths of Vic Sage #1 (of 4) from Pymccomics.com
For years, Vic Sage has worn the faceless mask of the Question to clean up the streets of Hub City by sheer force of will. He knows right from wrong. He knows black from white. But what happens when he is drawn into a conspiracy that reaches from the heights of Hub City power to the depths of its underground tunnels? What happens when things stop being black-and-white and start getting a little gray? And what happens when, in a secret chamber deep beneath the city, Vic Sage meets his own end…and his new beginning?
Eisner-winning writer Jeff Lemire joins forces with the legendary art team of Denys Cowan and Bill Sienkiewicz to resurrect Vic Sage, only to destroy him all over again…and again…
There's also a Lemire Variant from TFAW and Pymccomics.com available for pre-sale. No cover art released as of yet.
---
Joe Hill is a great writer. I'm really looking forward to this Black Label series.

Basketful of Heads #2 (of 6) from TFAW
Basketful of Heads #2 from Pymccomics.com
Hunted to the point of exhaustion, June Branch struggles to outwit and outfight the home invader coming after her. He's armed with a .44 and a secret agenda; she's got a thousand year-old Viking relic and no way to escape.
The axe is about to fall in the topsy-turvy second chapter of the horror story with the sharpest edge in comics!
Fears escalate and a full moon rises over the HMS Havoc in chapter three of the 'Sea Dogs' backup tale, written by Joe Hill!
There is also a Card Stock Variant available but no cover art released as of yet.
Basketful of Heads #1 (of 6) is still available for pre-order along with the Card Stock Variant which is a pretty slick cover, just too bad it's on card stock and will cost ya a bit more.
---
Who doesn't like He-Man? Shame on you if you don't, especially if you grew up in the 80s. It's no longer Masters of the Universe, but now the Multiverse.

He-Man and the Masters of the Multiverse #1 (of 6) from TFAW
He-Man and the Masters of the Multiverse #1 from Pymccomics.com
The scourge of Anti-Eternia is unleashed on the Multiverse! Blazing a trail across the dimensions, he's devastating each version of Eternia and stealing its power.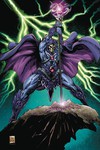 Now it's up to a ragtag team of surviving He-Men to recruit the one man in existence who might save them: Prince Keldor, the man who would be Skeletor! This all-new miniseries features the most iconic eras and beloved takes on the Masters of the Universe!
The variant cover by Fraga is pretty slick if you ask me. It's certainly a pickup for any He-Man fan.
---
I'm not sure why I love it but the thought of an Evil Shazam! is just awesome. Maybe because it's really a kid, a good kid who is now evil and with one phrase becomes evil with powers.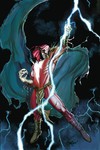 The Infected: King Shazam #1 from TFAW
The Infected: King Shazam #1 from Pymccomics.com
Billy Batson is a good kid. He helps his friends, loves his family, and tries to do the right thing.
But Billy is about to have a run-in with the most dangerous serial killer in existence, and the Batman Who Laughs wants Billy to be bad.
Spinning out of the events of Batman/Superman and 'Year of the Villain,' it's the tale of a hero whose soul has been turned black, and who has something to prove to the old guard. Buckle in for Shazam's journey to punch a bunch of so-called 'gods' in the face and show the establishment exactly what the future looks like…
You can still find Batman Superman #1 where this infection all took place online and likely at your local shops.
---
This one I'm buying just for the cover art. Great Mayhew cover.

Joker Harley Criminal Sanity #2 (of 9) (Mayhew Variant) from TFAW
Joker Harley Criminal Sanity #2 from Pymccomics
Jim Gordon and the GCPD have turned to profiler Harley Quinn for assistance. She's intrigued by the level of care and detail this new, depraved serial killer is putting into his crime scenes; there must be clues to his pathology in his artful staging.
His level of meticulous preparation is unusual, but will it lead to or help delay his capture?
There is also the Joker Harley Criminal Sanity #2 (of 9) regular cover available.
You can still pre-order Issue #1 from TFAW that includes another great looking Mayhew variant.
---
Besides clowns and kids, the other thing that really freaks me out are dolls. This next pick I'm looking forward to has doll in the name. Not about dolls but close enough for me..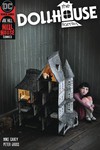 Dollhouse Family #1 (of 6) from TFAW
Dollhouse Family #1 from Pymccomics
On Alice's sixth birthday, her dying great-aunt sent her the birthday gift she didn't know she always wanted: a big, beautiful 19th-century dollhouse, complete with a family of antique dolls.
In no time at all, the dollhouse isn't just Alice's favorite toy…it's her whole world. And soon, young Alice learns she can enter the house to visit a new group of friends, straight out of a heartwarming children's novel: the Dollhouse family. But while the Dollhouse family welcome her with open arms, in the real world, her family life is becoming much more complicated…and deep within the Dollhouse's twisting halls, the black room waits, with an offer to Alice. The house can fix all this, the black room says. All she has to do is say the words…
Longtime collaborators Mike Carey and Peter Gross (Lucifer, The Unwritten) are joined by Vince Locke (The Sandman), to bring their most horrifying vision yet to Hill House Comics-a story that echoes into centuries past, into Alice's……
---
If done right, Freeze can be a great villain character in the Batman Universe. I love Sean Murphy's work so this is on the list of must check outs, as the artwork will be great and Murphy has proven to be not only a great artist but a great writer as well.

Batman White Knight Presents Von Freeze #1 from TFAW
Batman White Knight Presents Von Freeze #1 from Pymccomics
The world of Batman: White Knight expands with this standalone tale!
On the night of Bruce Wayne's traumatic birth, Victor Fries must intervene to save the lives of Martha Wayne and the future Batman. As the evening unfolds, Victor distracts Thomas with the incredible tale of his own father figures-one a Nazi, the other a Jew-and their complex connection to Wayne Laboratories.
As the Third Reich roars into power, the deep friendship and working relationship between the Baron von Fries and his research partner, Jacob Smithstein, is in crisis. Ordered by Himmler to speed development of their cryotechnology in service of world domination, Smithstein is forced to go into hiding and compromise his moral code in order to save his wife and infant daughter, Nora, from persecution and certain death.
When the S.S. ramps up surveillance over the project, young Victor begins to question his father's true allegiance. Both families are driven toward an impossible choice and a sinister standoff, and Victor makes a……
---
With Bendis writing, who know what could happen. He has his fans and followers as well. This next book is one to keep an eye on. Might start off slow but Bendis is known to do a build up of the characters and the twists he might throw in.

Legion of Super Heroes #1 from TFAW
Legion of Super Heroes #1 from Pymccomics
Welcome to the 31st century! Inspired by the acts of and lessons learned from the greatest heroes of all time, the Legion of Super-Heroes have gathered together to stop a galaxy from repeating its past mistakes.
The greatest lineup of heroes in comic book history returns with new, fresh, and reader-friendly stories!
Eisner Award-winning writer Brian Michael Bendis reteams with master artist Ryan Sook (Action Comics) for one of the most ambitious mainstream comic books ever created! Why have the Legion of Super-Heroes broken the cardinal rule of the United Planets and inducted Jon Kent, a.k.a. Superboy, into the Legion? What are they hiding? And what does it have to do with Aquaman's long-lost trident?
---
Jamal Campbell is a rising star in the art world of comics. So this next series should not be overlooked I think.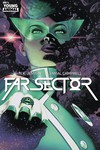 Far Sector #1 (of 12) from TFAW
Far Sector #1 from Pymccomics
N.K. Jemisin, the acclaimed, award-winning author of The Broken Earth and Inheritance science fiction trilogies, makes her comic book debut with bestselling Naomi artist Jamal Campbell as they thrust you into a stunning sci-fi murder mystery on the other side of the universe!
For the past six months, newly chosen Green Lantern Sojourner 'Jo' Mullein has been protecting the City Enduring, a massive metropolis of 20 billion people. The city has maintained peace for over 500 years by stripping its citizens of their ability to feel.
As a result, violent crime is virtually unheard of, and murder is nonexistent. But that's all about to change in this new maxiseries that gives a DC Young Animal spin to the legacy of the Green Lanterns!
---
What are you looking forward to from DC Comics from September Previews? Tell us here in the comments or on the forums.