Welcome once again to my spec and my drek. I pick what I think will be winners, not only if you make money by flipping but winners as in either a great read or just awesome art.
Then there's the pesky drek, the comic you should avoid altogether or not fall into the buying every variant trap.
NYCC 2019 is now in the past so now we go on with the regularly scheduled program.
I will say one thing, during the convention and days I'm in New York,  there's a lot of walking that I like to keep track of. From Tuesday Oct 1st to Sunday the 6th, I walked a total of 33.18 miles, which equates to a total of 80,792 total steps.
DC Picks
It's just too bad it's a card stock but it's a pretty sweet cover by JeeHyung Lee. Already sold out at Midtown but still available at TFAW.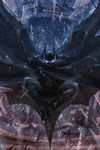 The Batman's Grave #1 (of 12) (Card Stock Variant)
The World's Greatest Detective must try to inhabit the mind of a murder victim to solve a case-without filling the empty grave next to those of his parents.
Can Batman imagine the life of a corpse with a half-eaten face without dying himself? Warren Ellis and Bryan Hitch, one of the most legendary creative partnerships of the modern age, reunite in this maxiseries about life, death and the questions most are too afraid to ask.
The other pick goes to Joker Harley Criminal Sanity #1 (of 9) which I hope ends up being a great read.
Marvel Picks
This is it, the end of the beginning with Hickman's new take on the X-Men.
THE INEVITABLE TRUTH. The revelatory tale of Mutantkind's fall comes to a conclusion that will lay the groundwork of the X-Men's stories for years to come!
Superstar writer Jonathan Hickman (NEW AVENGERS, FF, INFINITY) and rising star artist RB Silva (UNCANNY X-MEN) wrap the series that reveals everything! Rated T+
This next pick is the book every Spider-Man fan would love to own, so the Amazing Fantasy #15 Facsimile is the next best thing. It would only sweeten the deal if they were the same size as the originals instead of in current modern book size.
The last Marvel pick for me this week is the Web of Black Widow #2 1:25 Hans variant. It's just a sweet cover and I expect most shops didn't order 25 copies to qualify
for this one. There's already been a high sale of $50 on eBay for this one. Several others in the $30 range.
Buy low, sell high. Unless you're a Hans fan, then you tuck it away in your personal collection.
Indie and Small Publisher Picks
It's a rather smaller week for the small guys. But there's a few still on my radar to check out.
This first pick I highlighted a few months back in my Indie Outlook Spotlight. This has indie all over it, love when books give me that vibe from the really almost overlooked and unknown publishers.
From ages 10 to 20, Craig Thompson (the author of Blankets) and his little brother Phil, toiled in Wisconsin farms. Weeding and harvesting ginseng-a medicinal herb that fetched huge profits in China-funded Craig's youthful obsession with comic books.
Now, for the first time in his career, Thompson is working in serial form, in a bimonthly comic book series. Part memoir, part travelogue, part essay, all comic book, Ginseng Roots explores class divide, agriculture, holistic healing, the 300 year long trade relationship between China and North America, childhood labor, and the bond between two brothers.
The last pick goes to Gutt Ghost Til We Meet Again #1 2nd Printing. It might not see initial heat or any at all as you can now find the first printing for cheap again after it initially did well on the secondary market
---
Now on with the dreaded "avoid" pick, every writer and artist worst nightmare when it comes to selling their hard work.
Spawn #301. Yes, it's a record breaking issue but that means nothing to us normal people. Hopefully the hoopla is now over and Spawn goes back to the single covers as these issues from 299 to 301 went a little overboard with all the variants. Huge print runs will make these easy to get for years to come. Only the hardcore Spawn fans will be seeking these out or buying all the copies so if you're not a completist, just stick to the cover you like best.