Each week hundreds of new comics hit the shelves, each with potential. Some live up to the potential. We pick the ones we think have the best shot at heating up. Here are our picks of the week for delivery 10/9/19.
It is a pretty big week for new books. A lot of very interesting stuff. Will remain to be seen how the market reacts to them. Really big DC week.
New #1's
Joker Year Of The Villain #1 – John Carpenter, one of the masters of modern horror, writing Joker. That makes this an instant buy.
RWBY #1 – New book from Marguerite Bennett and Mirka Andolfo which ties in to the Rooster Teeth web series. Could be of interest.
Batmans Grave #1 – Warren Ellis and Bryan Hitch on Batman. Batman must try to inhabit the mind of a murder victim to solve a case-without filling the empty grave next to those of his parents. Can Batman imagine the life of a corpse with a half-eaten face without dying himself?
Joker Harley Criminal Sanity #1 – New Black Label series from Kami Garcia and artists Andrea Sorrentino and Mike Mayhew. The Suayan Variant sold out quickly at Midtown. Introduces readers to a Joker and Harley Quinn unlike any they've seen before, utilizing forensic psychiatry, behavior analysis (profiling) and psychological profiles to create a true-to-life take on these iconic characters that is more terrifying than any psychotic fantasy.
DC Books of Interest
Harley Quinn And Poison Ivy #2 Warren Louw Harley and Ivy Covers – Great looking covers in Louw's signature style.
The Record Breaking One
Spawn #301 – Spawn becomes the champ of Indy publishing with this issue. People are going nuts for Spawn (literally saw a woman in a wheel chair get knocked over at Image booth at NYCC from people trying to grab a Spawn Gold variant.) The 1:25 Variant could be a good pick up.
Reprint of the Week
Amazing Fantasy #15 Facsimile Edition – Fully reprinted version of first Spiderman. There have been multiple reprints of this but I am not sure they contained the whole book.
Cover of the Week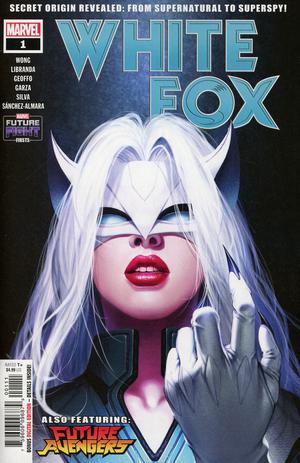 Future Fight Firsts White Fox #1 – InHyuk Lee does a stunning cover on this one. The incentive could be big.
The One to Watch
Buffy The Vampire Slayer Angel Hellmouth #1 – Lots of buzz on this. New Buffy books have been very well received lately. Already going to a second print.
The One to Read
Shoplifters Will Be Liquidated #1 – New Aftershock series. Imagine Judge Dredd working for Amazon, and you've got a hint of what you're in for. There is a 1:10 Variant on this one as well.
Small Press Pick of the Week
Dead Legends Premier Edition #1 – Cool looking small press book. A widow seeking revenge. A champion hellbent on losing. A world-class assassin second guessing her contract. The Dead Legends tournament contains a long history of pitting the best fighters in the world against one another, but this year, these combatants bend the rules and place the future of the tournament in jeopardy. A martial arts throwback series that hits harder than a kick to the skull!
Pick of the Week
Powers Of X #6 – Brings the whole reboot of X-Men to a close. This has been a great read. I have been surprisingly interested in this book (and HOX as well) and they have been selling well on the secondary market. So this is kind of a no-brainer.