Each week, hundreds of new comics hit the stands, each with potential Some live up to that potential. We pick the ones we think have the best shot at heating up. Here are our picks of the week for delivery 10/30/19

Teenage Mutant Ninja Turtles #99 – something is about to happen. Was thinking death but now have a strong suspicion it will be a rebirth. Higher price might make some stay away and some shops order less. Remains to be seen.
New #1's
Excalibur #1 – looking forward to this one. Betsy Braddock as Captain Britain.
Marvel Zombies Resurrection #1 – Another book I have been looking forward to and another one by Phillip Kennedy Johnson. Hopefully it brings back Marvel Zombies to the coolness of it's early days and away from the goofiness from the later days.
Red Goblin Red Death #1 – Red Goblin returns in this Absolute Carnage crossover. Some really cool variants for this book.
Tales From The Dark Multiverse Death Of Superman #1 – Lois Lane Eradicator. Cool looking Elseworlds book.
Last God #1 – New book from friend of the site Phillip Kennedy Johnson. THE LAST GOD tells the story of two fellowships of heroes struggling with the same threat…30 years apart. One group will doom their world, the other must save it.
Thirty years ago, a band of heroes traveled beyond the borders of creation and killed the last living god, saving the realm of Cain Anuun from an apocalyptic army of the undead. The legendary companions became the rulers of their world and ushered in a new era of peace and prosperity. But it did not last.
Now the foul legions of the Last God march once more, laying waste to all of Cain Anuun and revealing that the aging fellowship may not be the great heroes they claim to be. With the world burning down around them, a new group of unlikely champions must band together and accomplish what no other has done: kill the Last God, once and for all.
Basketful Of Heads #1 – Probably won't see huge growth but Joe Hill has a fan base and movies and tv shows have been made off his book. This could be a grab and hold book. There is a Middleton Cardstock Variant as well for this one.
Marvel Must Haves
Silver Surfer Black #5 – there are a bunch of cool variants for this, and some pricey ones at that, but the spoilers have been out there for a while. Not sure what Silver Surfer becomes at the end of the issue, not sure he is the fallen one at the end of the issue. We do know he returns on the cover of the upcoming Thor #1 by Donny Cates.
Cover of the Week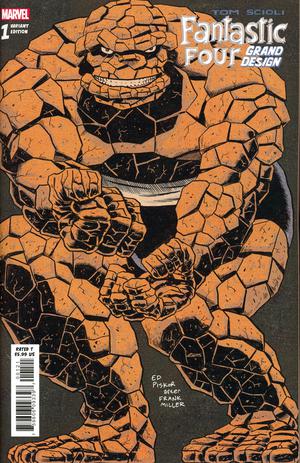 Fantastic Four Grand Design #1 – Ed Piskor doing Frank Miller style on this homage cover.
Small Press Gems
Wolvenheart #1 – New series from Mad Cave Studios, Led by the legendary professor Van Helsing, Wolvenheart is an organization dedicated to monitoring anomalies in the space-time continuum. After the group is infiltrated and decimated by a cabal of history's most infamous villains, led by the most notorious serial killer of the 16th century, Elizabeth Bathory, Sterling Cross, the organization's most prolific monster slayer, winds up trapped in an alternate reality where his only choice is to fight his way through time and change the course of history! For fans of Doctor Who, Castlevania, Penny Dreadful, and League of Extraordinary Gentlemen.
Plot #2 – Great new Vault book. The story has been really good and people have noticed the series.
Roku #1 – New Valiant series. Solo series focusing on the assassin Roku, (not the streaming box.)
Small Press Pick of the Week
Snow White Zombie Apocalypse One Shot – I have been excited for this one since I got wind of it. Snow White awakens to True Love's Kiss… twenty-eight days after the zombie apocalypse! With the Seven Dwarves dead, the quintessential fairytale princess must join forces with her polyamorous Prince Charming and his tough-as-nails paramour, Rapunzel, to wage a losing battle against death itself. Bound by love and driven apart by jealousy, can this unlikely trio find a way to put aside their differences, or will they be devoured by the reanimated denizens of their once enchanted kingdom? Based on the hit play by the same name, Snow White Zombie Apocalypse is a story of deep woods and old magic mixed with a healthy dollop of blood, sex, kung fu and gender politics. Y'know, fairy tales as usual. (Check Mycomicshop first)
Pick of the Week
Venom #19 – This one is a no brainer. There are some secrets revealed in this issue, some important ones at that. Don't forget that gorgeous Mary Jane variant.