Every week, hundreds of new comics hit the stands, each with potential. Some live up to that potential. We pick the ones we think have the best shot at heating up. Here are our picks of the week for delivery 3/25/20

Well, every week but the next couple of ones forward. We look forward to comics returning to the stands. Enjoy this last week's worth of books.
New #1's
Hellions #1 – Marvel launches a new mutants-centric title out of the Hickman relaunch. Mr. Sinister launches a new team featuring Scalphunter, Wild Child, Empath, Nanny, Orphanmaker, Psylocke, and Havok.
Kyrra Alien Jungle Girl #1 – Left for dead on an alien planet, Kyrra was taken in and raised by a primitive tribe of demon apes. She has no memory of her previous life and has assimilated to the ways of her adopted family, yet she still looks to the stars and wonders… Where did she come from? What's out there for her? On her 16th birthday she gets a clue to her origins and sets out for an adventure that will take her beyond the Alien Jungle Girl she knows. Kyrra is a combination of Tarzan and Planet of the Apes.
Hank Steiner Monster Detective #1 – The death of a monster would typically get swept under the rug by the human authorities, but that changes when Hank Steiner, Monster Detective shows up to investigate! The monstrous private eye investigator gets caught up in a dangerous cover up involved a local gang of Goblin thugs and Vampire floozies. The real threat, however, could spell doom for all monster-kind!
No Ones Rose #1 – Centuries after the fall of the Anthropocene, the last vestiges of human civilization are housed in a massive domed city powered by renewable energy, known as The Green Zone. Inside lives teenager Tenn Gavrilo, a brilliant bio-engineer who could rebuild the planet. But there's one problem: her resentful brother Seren is eager to dismantle the precarious Utopia. From the minds of Zac Thompson (X-Men, Yondu) and debut writer Emily Horn with artist Alberto Jimenez Alburquerque (Letter 44, Avengers ) comes a gorgeous and green solar-punk world filled with strange biotechnology, harsh superstorms, and divisive ideologies-ideologies that will tear Tenn and Seren down to their roots as they fight for a better Earth.
Reprints of the Week
Incredible Hulk #182 Facsimile Edition – Second cameo, third appearance, whatever, Wolverine is in the beginning of the issue. Makes a great set with the 181 Facsimile.
Covers of the Week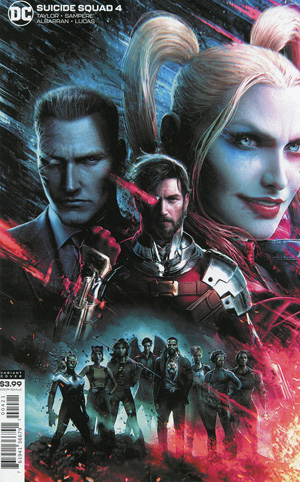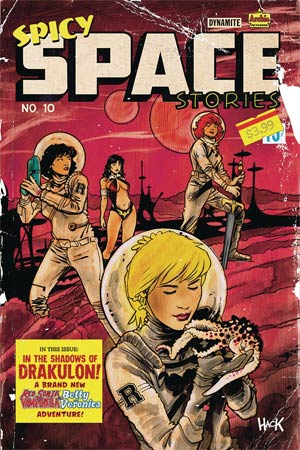 Suicide Squad #4 Jeremy Roberts Cover – Honestly do not know what it is but this one just catches my eye. Mel would say he had a feeling about this one.
Red Sonja And Vampirella Meet Betty And Veronica #10 – Man this is a great throw back sci fi cover. Spicy Space! Robert Hack is the master of these types of covers.
Star Wars Bounty Hunters #2 – Featuring cover art by Lee Bermejo, pretty sweet. As is the Phil Noto incentive if you can find it cheap.
Ones to Watch
Immortal Hulk #33 – This is hulks 750th issue celebration. It is a crazy issue, check out the spoilers later, with a lot of surprises
Transformers VS Terminator #1 – Two classic 80's franchises cross over for the first time.
Small Press Gem
Fuhrer And The Tramp #1 – The critically acclaimed, Eisner-nominated comic comes to print for the first time! Charlie Chaplin – comic, filmmaker, and raconteur – didn't become the world's biggest star by courting controversy, but when he comes face-to-face with the horrors of Hitler, he feels compelled to get off the sidelines and get involved. And then Charlie is approached by FDR himself with a special assignment. His mission, if he chooses to accept it: create a propaganda film to drum up public support for joining the war in Europe!
Small Press Pick of the Week
Cat S**t Vol 1 #1 – Renowned anthropomorphic war manga gets reprinted in single issues. Worth picking up, and I do not often say that about anthropomorphic animal or manga books.
Pick of the Week
Shriek Special Vol 2 #1 – Loving that Fantaco is bringing back horror anthologies that they are known for. Prepare to enter the terrifying and nightmarish world of British artist Paul Winter! It's a land where things are not exactly as they appear to be… or are they? Paul's art is unique: highly detailed and as dazzling as it is disturbing. Four horror tales fill this issue including a graphic and frightening tale delving inside the mind of Jack the Ripper.