Every week, hundreds of new comics hit the stands. Each with potential. We pick the ones we think will have the best shot at heating up. Here are our picks of the week for delivery 7/22/20.
Lots of new #1's. Small and medium size press keeping comics alive!
New #1's
Backfired #1 – Source Point Press. Hollywood has come calling, and they've given Wally McDermott five days to perfect the pitch for his comic, Backfire! If he can conquer writer's block, a relationship in disarray, and a villainous scoundrel of his own creation, he might just stand a chance… might… maybe… The odds in Vegas don't look good in this zany, very meta and very adult superhero comedy!
Power Rangers Ranger Slayer #1 – fan favorite character takes center stage in this one shot. Stores may not go heavy on a one shot with a high cover price.
Vlad Dracul #1 – Scout Comics. Again, a higher priced book, but from a small press company, could be under ordered. Vlad Dracul II, the Impaler, the Son of the Dragon, was a Warlord, a Voivod, a Guardian Warrior, an iconic historical figure who was able to successfully strike fear into the hearts of the fearsome Ottoman Empire. Vlad is an epic story of love and war, a historical ride with rivers of blood, tears, swords and love and a discovery of a man that was, perhaps, the most famous warrior of his era that inspired the Dracula legends. This is the story of the man behind the myth.
Xira #1 – Red 5 Comics. Awesome looking new series. Xira has been experimented on her entire life to help mankind create the perfect astronaut, making her smarter, faster, stronger. When Xira is allowed to have a baby who will also be experimented on Xira has had enough and will do whatever it takes to get herself and her child to freedom.
Bliss #1 – New Image series from the creative team that did the optioned Coyotes. Described as Breaking Bad meets Neil Gaiman's Sandman in an urban fantasy.
Chu #1 – I do not know why we didn't do a variant for this book. Lol. Chew returns to stands in a new series.
Returning Favorites
Canto And The Clockwork Fairies One Shot – Fan favorite clockwork knight returns for a one shot before the release of the second series.
Reprint Worth Grabbing
GI Joe A Real American Hero Complete Silence – awesome classic reprint of GI Joe RAH 21 (Silent Interlude) and GIJOE RAH 21.5
Cover of the Week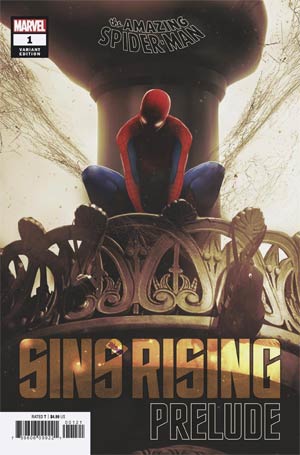 Amazing Spider-Man Sins Rising Prelude #1 Boss Logic Cover – Just a great looking cover. I am not hot on Nick Spencer's work, but this looks cool.
Notable First Appearance
Empyre #2 – Captain Marvel becomes an/the Accuser. At least for a short time.
Image Must Grab
Middlewest #18 Skottie Young Virgin Cover – One of the no brainers. Last issue of the series with an awesome virgin cover. You can try Mycomicshop first.
Small Press Pick o the Week
No Heroine #1 – New Source Point press title. Drugs. Vampires. Punk rock. Clawing her way to her 90th day sober, Kayla sets out to find her missing friend, Sid – the one person she knows can keep her on the straight-andnarrow. The only problem? The gang of heroine-dealing vampires that have him. From the writer of 2019's breakout indie hit Dead End Kids comes a story of a young woman's recovery journey and one hard truth: not everyone is cut out to be a hero. Check Mycomicshop first.
Pick of the Week
Strange Academy #1 2nd Printing – again, a no brainer. Selling for multiple times cover. Multiple first appearances in the book. Again, try Mycomicshop first.